Tampa Bay Lightning vs Detroit Red Wings 10/16/17 Preview
Tampa Bay Lightning vs Detroit Red Wings

Monday October 16th, 2017
Game Preview
The Tampa Bay Lightning will go for their fourth straight victory and continue their hot start as they play the Detroit Red Wings at Little Caesars Arena tonight. The Red Wings are playing their second home game this season in the new Little Caesars arena.
Tampa Bay is coming off a 3-0-0 homestand and will be playing their second road game of the season. Their one loss this season came in their previous road game, 5-4 against the rival Florida Panthers on Oct. 7.
Lightning forwards Steven Stamkos and Nikita Kucherov have been on a tear this season as they both lead the team in points. Stamkos has 7 points (1 goal, 6 assists) in 5 games while Kucherov has 8 points (5 goals, 3 assists) in just 5 games played this season. The two forwards look to continue their success tonight.
The Red Wings are going to try and cool down the red hot Lightning as the Red Wings are looking for their first 5-1-0 start since the 2011-12 season. They have won two straight games and went 3-1-0 on a four-game road trip.
Red Wings forward and captain Henrik Zetterberg has started the season on a well paced per points as he leads the team with 7 points (3 goals, 4 assists) in 5 games and looks to continue to produce big points throughout the season. The Red Wings are still looking for more production from the rest of the pack.
Injury Report:

Brayden Point missed the morning skate because of an illness but is expected to play for the Lightning. Luke Witkowski, who can play at forward or defense, will move into the lineup to provide depth on both ends of the ice. He had been scratched from the past two games. He signed with the Red Wings on July 1 after spending the previous three seasons with the Lightning.
Players to watch
Forward Nikita Kucherov has scored a goal in each of the Lightning's first five games. His recent success with linemate Stamkos have produced majority of the offense for the Lightning this season. He's the first player to score in the first five games of his team's season since Patrick Marleau of the San Jose Sharks in 2012-13.
Red Wings goaltender Jimmy Howard has won his first three starts of a season for the first time since starting 4-0-0 in 2011-12. He looks to continue his success and possibly get his 5th win of the season tonight.
Lightning projected lineup
Vladislav Namestnikov -- Steven Stamkos -- Nikita Kucherov
Ondrej Palat -- Brayden Point -- Yanni Gourde
Chris Kunitz - Cedric Paquette -- Ryan Callahan
Alex Killorn -- Tyler Johnson -- Slater Koekkoek
Victor Hedman -- Jake Dotchin
Mikhail Sergachev -- Anton Stralman
Braydon Coburn -- Dan Girardi
Andrei Vasilevskiy
Peter Budaj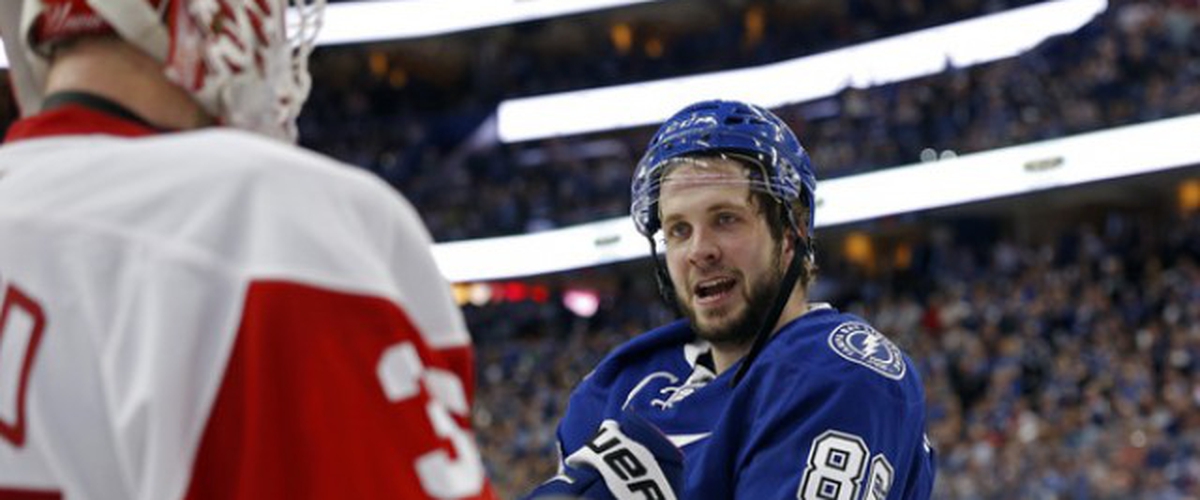 Scratched: J.T. Brown, Gabriel Dumont, Andrej Sustr
Injured: Erik Condra (back)
Red Wings projected lineup
Anthony Mantha -- Henrik Zetterberg -- Gustav Nyquist
Justin Abdelkader -- Dylan Larkin -- Tomas Tatar
Darren Helm -- Frans Nielsen -- Martin Frk
Luke Witkowski -- Riley Sheahan -- Luke Glendening
Jonathan Ericsson -- Trevor Daley
Niklas Kronwall -- Mike Green
Xavier Ouellet -- Nick Jensen
Jimmy Howard
Petr Mrazek
Scratched: David Booth
Injured: Tyler Bertuzzi (wrist), Evgeny Svechnikov(neck), Danny DeKeyser (lower body)