Can Fisher spark LA ? A 2019 WNBA Season look-ahead for the LA Sparks
I have a hard time finding good, solid critiques of WNBA players, teams & action - so I'm starting my own - with look-aheads for the 2019 season.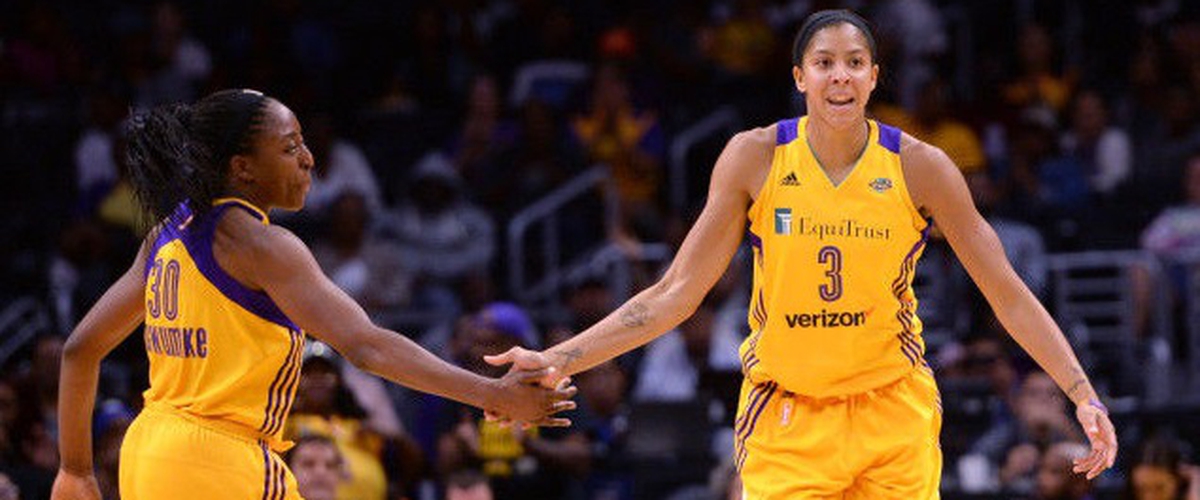 LOS ANGELES SPARKS (Will make playoffs, but after that - also rans? Legit title contenders? With this team, who knows?)
The Sparks are now 3 years removed from their win-against-the-odds 2016 championship. In the time since, they've:
-Lost the title to the team they'd won it from - the Minnesota Lynx - in Game 5 of the 2017 WNBA Finals
-Been embarrassingly eliminated in the second round of the 2018 playoffs, by eventual Finals runners-up Washington Mystics
-Lost their championship-winning coach Brian Agler to the Dallas Wings, following the 2018 season
Now here they sit, facing a new season with new personnel and new challenges. The core of the 2016 title team remains, but they're now that much older (defensive centrepiece Alana Beard 37 years old, do-everything superstar Candace Parker 33 years old) or that much more challenged (2016 MVP Nneka Ogwumike spent the 2018 season in and out of the lineup battling sickness). They've added some interesting pieces to the lineup, and the team certainly has the talent at many positions to go deep into the playoffs. But the most interesting aspect/subplot to their 2019 season has to be new-coach Derek Fisher, who flamed out as an NBA coach his first time around and got parachuted into this new role as a WNBA-outsider, with no experience coaching the women's game. He's already started doing things differently, but before we get to him let's look more closely at the team.
The truth is that Nneka has not got anywhere near her 2016 near-record breaking MVP numbers since that time. She continues to be a talented performer this season who can score from near or far, rebound and play defense - even though her inside scoring game so far doesn't appear to be what it once was.
Beard is another player who spent 2018 in and out of the lineup, and has now started 2019 injured. At age 37, despite all the defensive accolades and constant praise re her defense by pundits, we have to wonder how much Alana Beard has left in the tank. An exceptional perimeter defender when she's healthy, it's worth questioning whether the Sparks can successfully key their defense at a championship level without her performing at 100%.
Nneka is now joined on the LA starting frontline by her sister Chiney Ogwumike - a steal of a player (they merely gave up a 2020 draft pick to get an All-Star) who brings steady interior scoring, and who immediately helps fix their rebounding problems. Old faithful Candace Parker is on the tall side of a long career, and one wonders how long she will be able to score, rebound, assist, help run the offense and direct the defense, at a high level. Like Beard, she has also started the 2019 season injured, but Parker is LA's undisputed leader on the court.
The one starting player who keeps on trucking is shooting guard Chelsea Gray; a rare combination of power, speed and accuracy, Gray can handle the ball, score points in bunches, bag clutch shots, and generally create something from nothing when LA's offense stagnates. At point guard Tierra Ruffin-Pratt brings tenacious defense to the starting 5, but somewhat shaky shooting, as a free agent who signed from Washington.
Off the bench LA drafted NCAA championship winning big Kalani Brown; along with Teaira McCowan in Indiana, Brown is a bulky big who will be interesting in terms of how well her size and skill-set end up meshing with the women's pro game. How much will Fisher use the rook in his first season, knowing all eyes are on him as relates to any mistakes she may make?
In LA's first game this season Maria Vadeeva showed us flashes of what made her LA's high draft pick in 2018...right before she shipped off to represent her home country in this year's Euro Championships. Riquna Williams can usually help drive the offense and hit a few meaningful shots coming off the bench, but she had an interesting offseason to say the least. Sydney Wiese and Alexis Jones have limited experience from limited playing time in the league, and are still works in progress, whereas rookie Marina Mabrey is projected to be an excellent shooter...if she can consistently get the on-court time this season to get shots up in competitive situations. Shooters need to play to get/keep their rhythm, and that's a big question mark for Mabrey with this team's current setup.
But, the biggest question mark is Fisher. The LA team we've become accustomed to functioned with the foundation of a coach - Agler - who's been there and won it. The saving grace for Fisher is that the team is filled with vets who may be able to offer some guidance in pressure situations, but there's no saying how Fisher himself will respond when the pressure is on. LA interviewed no one else for the head coach position, and the image of Fisher pacing the sidelines looks strange to say the least. An ongoing spectacle worth watching at any time this season.
OUTLOOK: The real question is whether inexperienced Fisher will be able to harness the team's talent into performing as a cohesive unit, and at a championship level in one short season. If he can, LA certainly has the talent and the depth to be a top-3 contender in 2019's WNBA. If he can't, well, LA will still make the playoffs but sooner rather than later have their shortcomings exposed by a better organised ballclub. The continued health (and presence) of the team's core contributors will be the other major factor.