Legit contender, or pretender? A demystifying 2019 WNBA Season look-ahead for the Washington Mystics
I have a hard time finding good, solid critiques of WNBA players, teams & action - so I'm starting my own - with look-aheads for the 2019 season.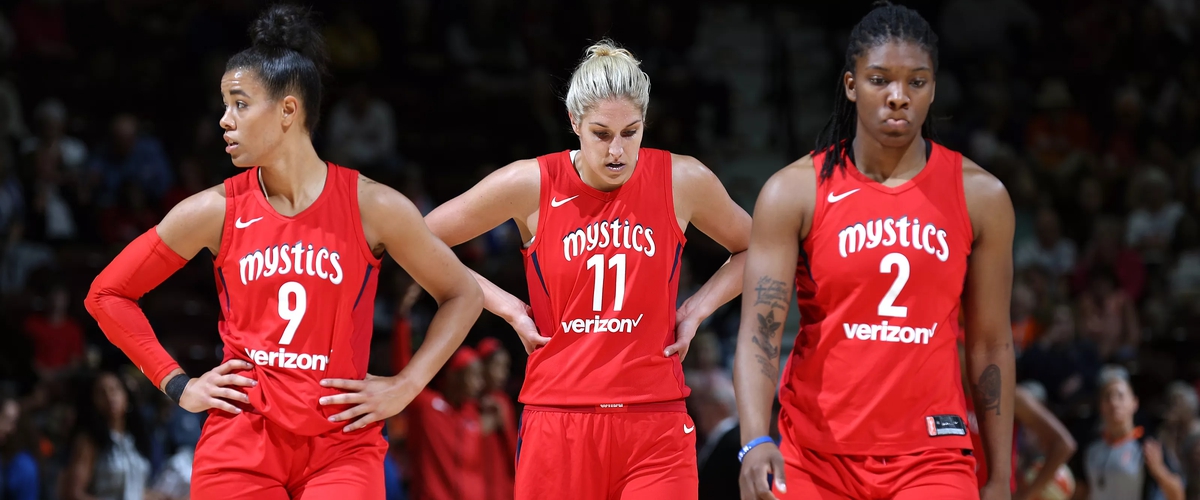 WASHINGTON MYSTICS (legit championship contenders)
Last but not least in my look-aheads, we have the Washington Mystics - Presumptive heirs to the WNBA throne.
Why?
Because they made it all the way to the championship round last season, only to be swept by the Seattle Storm, who - as we've discussed - are far from full-strength this season. So, all things being simple mathematically equal, the championship equation should read like:
2019 championship - Seattle Storm = Washington Mystics
And yet the Mystics will spend their 2019 season trying to prove that their trip to the 2018 Finals was not a fluke. Several teams - most notably Los Angeles, Las Vegas and Phoenix - have significantly upgraded their rosters this season, and one could argue that the Mystics would never even have made the Finals had the Atlanta Dream not been missing superstar Angel McCoughtry due to injury in the 2018 semis.
I'll be honest and say that, of the 12 WNBA teams, I was least inspired to write a preview/prediction for the Mystics - that is, until I saw them play. Of the teams I've now seen, Washington is easily sporting the best form. They played most flowingly from play to play, and from offense to defense, and not like a bunch of rookies on the court together for the first time - as many other teams that have been stuck in preseason form.
Elena Delle Donne is the team's star, and her greatest enemy is herself - ie. injuries, which have peppered her otherwise stellar career. Not a speedster, but a shooter who can drive to the rim with power, score with turnaround jumpers over either shoulder, or score from any spot-up position, EDD is the team's mainstay on offense.
Kristi Tolliver ranks 2nd in stardom, but...in reality is a 'tweener' (too short to be a shooting guard, but too much of a shooter to be a point guard). Kristi is as streaky as it gets - when her shot is falling the Mystics can simply blow opponents out of arenas. But her game is so dependent on making outside shots that she often goes games on a stretch without having a significant scoring impact on the offense. She's also somewhat undersized when guarding opposing shooting guards.
In 2018 Latoya Sanders usurped Krsytal Thomas in the starting lineup, and this is due to her mobility, the ground she covers on defense, her effectiveness in pick and roll situations, her passing, and her ability to hit mid range shots.
Much has been said about sophomore player Ariel Atkins and she is as good as advertised; her toughness is undoubtedly one of the qualities that led Washington to make her a surprise lottery pick in the 2018 draft, as her aggressiveness on offense and defense set her apart from other players at her position or in her draft class.
Still, it is the emergence of point guard Natasha Cloud that's helped elevate Washington to the next level; she also plays with toughness and grit, and can be trusted to trigger the team's offense. It's her transition from role player to major producer that's the X factor in Washington's continued success.
Otherwise Emma Meeseman may be starting the season on the bench, but is really a starter. I must confess that Meeseman is one of my favourite WNBA players to watch, as her offensive game is smooth like watching creamy peanut butter being spread on a slice of white bread. Fades, lean-ins, jumping off the wrong foot, shooting coming off screens, shooting coming off curls, you name it, "Meese" has a bit of it in her game. Her major shortcoming is having to spread her talents between the Mystics and her Belgian national team.
Coach Mike Thibault seems to be trusting guard Shatori Walker-Kimbrough with more playing time in meaningful game situations; her shooting was always there but she also seems to have matched the team's offensive ante with her aggressive off the ball play.
Tianna Hawkins can play harassing defense, hustle the ball down-court in transition, and shoot 3s. Aerial Powers is talented, but was a dribble-heavy player with her previous team Dallas, and now seems to be learning Thibault's way of preferring to do things. She can penetrate, create her own shots, shoot from near or far and is an underrated rebounder. Myisha Hinds-Allen is still trying to find a way to break into the lineup, with Thibault's style of play. Her lack of playing time is less an indictment of her skills and more an indication of the team's depth. Kim Mestdagh can provide outside shooting if she gets the playing time, but will likewise need to break into the lineup. Kiara Leslie seems to be out injured for the season.
OUTLOOK: Washington figures to be experiencing the biggest rollover effect from the WNBA's 2018 season, since they ended it playing at a high level, but unlike several other teams can boast having no major injuries or player movement to consider. The passing and ball movement the Mystics are able to play with so early in the season depend on trust between teammates, and confidence; it's obvious that the players are happy playing together when they get the offense rolling. How far they are able to go this season will depend a lot on how well other potential top teams are able to jell, as well as the Mystics' continued good health - and Tolliver's ability to consistently hit shots in games the Mystics must win. If these factors remain positive there's no telling how far Washington can go.
Can they win the championship? Maybe. They've got the talent, the system, the star power and the coaching to do it. But, like the 11 other teams, they'll still need a lot of things to go their way and to have lady luck on their side as they hope to win the last game of the season.
They should be able to finish the season with a top 2 seed, and from there win a semifinal playoff series with homecourt advantage. After that...we'll see.