Cricket Fraternity Pays Tribute as Dale Steyn Announces His Retirement
Dale Steyn Announces His Retirement: South African fast bowler Dale Steyn has announced his retirement from test cricket to prolong his career in the shorter format like ODI and T20.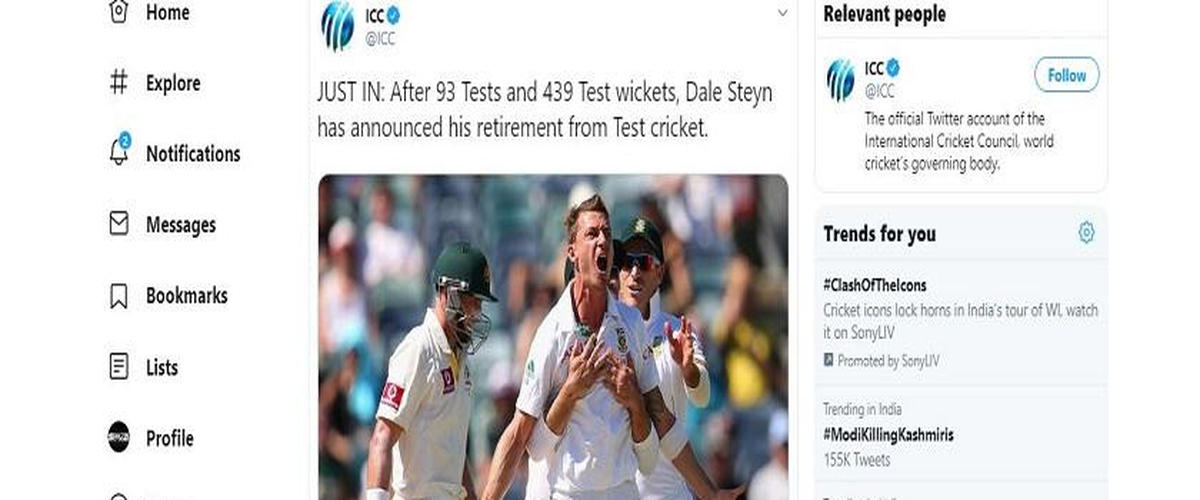 Dale Steyn was one of the fiercest fast bowlers in his prime and he continues to wreak havoc on the best of batsmen across the world with his sublime pace and unmatched accuracy. Steyn has over the years, bamboozled numerous batsmen with the ball and is regarded as one of the greatest fast bowlers to have played Test cricket for South Africa. He recently retired from the longest format of the game to focus on limited-overs cricket.
Remembering the time when one of Steyn's vicious deliveries, shattered Williamson's abdomen guard, the Kiwi skipper shared an autographed picture of the cricket gear. He also posted a farewell message for the South African great. "The box @dalesteyncracked back in 2013 – OUCH! Kind of him to sign it after the match though Congratulations on an incredible Test career mate #steyn#alwayswearabox," he wrote on Instagram.
Steyn's played his last Test match against Sri Lanka this year. He bid farewell to the format as South Africa's highest Test wicket-taker with 439 wickets in 93 games at an average of 22.95 and an economy under 4. He currently is the eighth-highest wicket-taker in Tests overall. The 36-year-old aims to continue playing in the shorter formats. His departure from Tests came as a huge blow for South Africa ahead of the start of their World Test Championship campaign against India.
"Today I walk away from a format of the game I love so much. In my opinion, Test cricket is the best version of this game. It tests you mentally, physically, emotionally. It's terrible to consider never playing another Test again but what's more terrifying is the thought of never playing again at all. So I will be focusing on ODIs and T20s for the rest of my career to maximise my full potential and ensure my longevity in this sport. I'd like to thank everyone in cricket, no one specific because everyone has been a part of my journey. And I look forward to continuing to play for the Proteas in the shorter formats," Steyn said in a statement.
---