Blackhawks' decision to trade Panarin is perplexing
Early Friday afternoon, the Chicago Blackhawks made a pair of Draft Day trades. First, they sent defenseman Niklas Hjalmarsson to the Arizona Coyotes for defensemen Connor Murphy and Laurent Dauphin. The second, and much bigger one, was dealing forwards Artemi Panarin and Tyler Motte to the Columbus Blue Jackets for forward Brandon Saad and goaltender Anton Forsberg.
The trade with the Coyotes was understandable; it was an opportunity to get two younger defensemen for the price of one older defenseman.
The Panarin-for-Saad trade? Hard to understand.
Panarin, 25, has been far more effective in two NHL seasons that Saad, 24, has ever been in his six NHL seasons. Panarin's 151 points in 162 career NHL games make him nearly a point-per-game player. Saad, meanwhile, tied a career-high in 2016-17 with 53 points. Panarin's 74 points in 2016-17 were three less than his rookie year total.
Panarin excelled largely from getting lots of playing time with Patrick Kane on the same line. With the numbers that the two put up for the last two seasons (Kane won the Hart Trophy as league MVP in 2015-16 then scored 34 goals in 2016-17), it was hard to argue them being one of the NHL's top lines.
This move is perplexing. Kane had his best NHL season in 2015-16 and then his second-best the next season. Why goof up that chemistry by moving Panarin?
Furthermore, why take on more money with Saad's contract? Panarin was a free agent after the 2017-18 season, and will make $6 million. Meanwhile, Saad is in the third year of a six-year, $36 million deal. It's not like Chicago is salary-strapped this coming season, considering that forward Marian Hossa will miss the entire season due to progressive skin disorder and the Blackhawks will receive salary cap relief from his contract.
Maybe we shouldn't be surprised that the Blackhawks are making bold moves. After being swept by the Nashville Predators in the first round of the Stanley Cup Playoffs, general manager Stan Bowman vowed changes, saying "April 22 is not the way we expected our season to end. And it's a complete failure when you measure it against the expectations that we have of ourselves. We did not come even close to reaching the standard we have set over the years here. And that's unacceptable."
We knew changes were coming, by why such a foolish trade like this? Acquiring Saad is a classic Blackhawks move under Bowman. After all, Saad is a former Stanley Cup Champion as a Blackhawk.
Saad was traded by the Blackhawks to Columbus in the salary-shedding summer of 2015 when Chicago also had to deal Patrick Sharp to the Dallas Stars.
Saad isn't the only former Blackhawk to win the Cup, leave and then come back. Defenseman Brian Campbell returned last summer after signing with Chicago as a free agent at 37. Campbell last played for the Blackhawks in 2011, when he was 32. Campbell is a free agent this offseason.
Bowman gave up an arm and a leg to reacquire former fourth liner Andrew Ladd along with forward Matt Fraser and defenseman Jay Harrison for forward prospect Marko Dano, a first-round pick in the 2016 NHL Draft, and a conditional pick in the 2018 NHL Draft from the Winnipeg Jets in 2016. Ladd went to the top line with Toews and Marian Hossa, only to post 12 points in 19 games, lose to the St. Louis Blues in the first round and leave as a free agent after the season to the New York Islanders.
Defensemen Johnny Oduya won Cups in 2013 and 2015 as a Blackhawk amidst parts of four season in Chicago before leaving as a free agent after 2015. This past February, Bowman acquired Oduya from the Stars for forward and a conditional fourth-round pick in the 2018 NHL draft. Oduya is a free agent this offseason.
Bowman has an odd penchant for reacquiring former Stanley Cup Champions with his club and he hasn't worked out in recent years. Bowman was right to begin shedding contracts after winning his third Stanley Cup in six years in 2015. The time had come and it was best to move on from folk heroes and instead prepare for the future.
Instead of doing that, Bowman continues to display an eye for the past and keeps bringing back former Stanley Cup Champions. Saad isn't the first and probably won't be the last one to return.
Instead of trying to recreate the past, Bowman needs to shape the future with younger talent. If he had made a trade like the New York Rangers did with the Coyotes perhaps it would have been understandable.
This shed salary and brought in young talent, a solid move for the future.
Was this Panarin-Saad move meant to be a move prior to another big one? Potentially.
Oshie is currently a free agent and scored a career-high 33 goals in 2016-17 while on the same line as Nicklas Backstrom and Alex Ovechkin. Again though, if Chicago is to sign Oshie, why would it take on the contract of someone like Saad, whose contract is higher than Panarin's? Additionally, why want Oshie to play alongside Kane instead of Panarin given Kane and Panarin's success together for the last two seasons and the age difference between Panarin (25) and Oshie (30).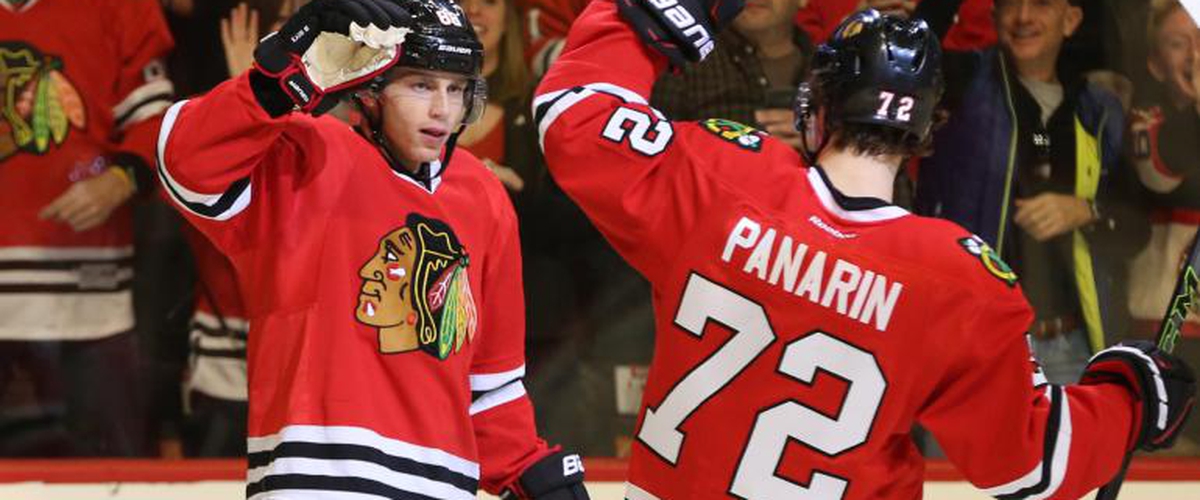 Giving up Panarin is a move that the Blackhawks will pay for down the road. Saad has proven himself an everyday NHL player, but perhaps not worth what his contract suggests. Perhaps the Blackhawks believe Panarin is a result of playing alongside Kane. His time in Columbus will prove otherwise.
---