What to Make of Padres Outfield Log Jam
The Padres find themselves in a very interesting position as we come close to heading into September. There is a major log jam in the outfield. With 5 guys currently on the 25 man roster that are listed as outfielders, naturally there isn't ample playing time to go around for everyone. Because of this, the Padres will have to make some tough decisions this off season.
Though having 5 outfielders that you want to see get playing time sounds like a good problem, and there are aspects to it that are good for sure, it also isn't great. Having a rotation of 5 outfielders that all deserve about equal playing time based off of production is not going to cut it for a good team. A good team that is looking to contend year in and year out does no doubt have competition, but they also have at least 2, probably 3 guys who have clearly proven themselves as must-haves in the lineup every single night. There are few exceptions to this rule, but in general, a contenders outfield has some clear cut stars that will be playing every day when healthy no question. Now lets delve into the guts of this situation for the Padres.
The five players currently on the active roster listed as outfielders right now are Wil Myers (however, Myers has been trying out 3rd recently), Manuel Margot, Travis Jankowski, Hunter Renfroe, and Franmil Reyes. I looked at every MLB teams leaders in WAR, and took the top 3 WAR totals for the outfielders and averaged it out. The Padres came in a tie for 22nd in Major League baseball in WAR for their outfielders using my calculation. So despite having 5 outfielders that fans think deserve playing time, the results aren't there to warrant that.
So with the current outfield being what seemingly is just a collection of mediocre players, who needs to go this offseason? Well, that is still quite complicated. The one player we can safely say is a lock to be with the team next year is Wil Myers. After that, I have trouble ranking the other 4 among themselves let alone even think that any of them are good enough to be guaranteed a starting outfield position next season.
Travis Jankowski has hit pretty well this season as a leadoff man, and certainly shown off his wheels (20 SB in 94 Games), but provides little to no pop (2 HR, 15 total extra base hits in 327 plate appearances, and can't hit lefties at all (.196 BA and a .286 OBP vs LHP this year). After a hot start to his season, he has also cooled down significantly, bringing his average down to .257 with a sub par .334 OBP for a leadoff man. All said, though I like Jankowski and the excitement his speed brings to the table, there really isn't much statistical evidence to support that he should be given a starting outfield spot on opening day 2019, especially given that he is already 27 whereas the other options are much younger.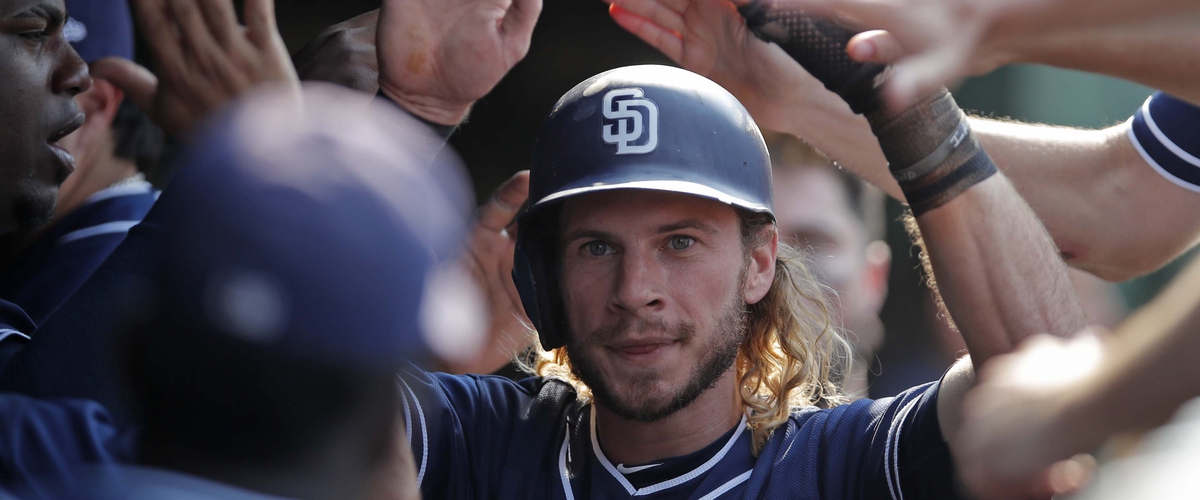 The next average Padre outfielder we will examine is Hunter Renfroe. The once highly regarded Padres youngster does not have much going for him any more these days since then: He isn't that much of a youngster anymore (will be 27 by the start of next season), he has never been able to consistently produce at the major league level, and he strikes out too much. Lately he has been on a bit of a surge however, getting his season total in homers up to 15. Despite that, he is still only batting .244 with a quite low .305 OBP and a dreadful 76/23 K/BB rate. I think his ability to get hot and provide potential 25-30 homer pop in a full season gives him a bit of trade value, but the way I see it is the writing is on the wall for Hunter Renfroe, his time as a padre is over wether that means trading him somewhere this off-season or just plain cutting him lose. There are more intriguing, younger options for the Padres to consider, he should only be a 4th outfielder next year at most.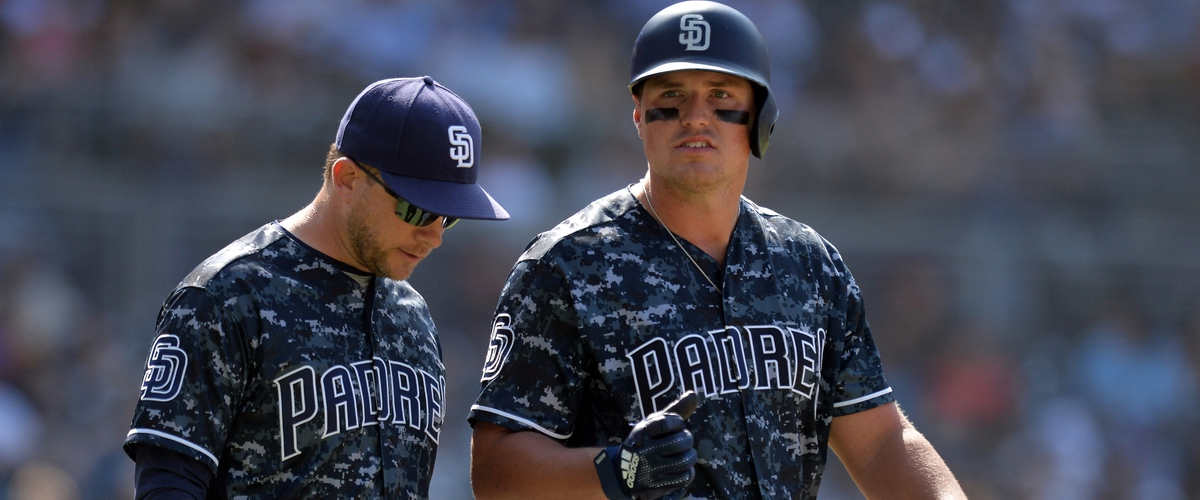 Next we have Manuel Margot. Once upon a time, Manny was the centerpiece returning to the Padres from the Red Sox in the Craig Kimbrel trade. His incredible defense in Center and his electric speed draw us all in, but in reality, time is running out for him as a Padre. He had a decent rookie season last year, which was encouraging, setting up this year to be a breakout year of sorts to officially announce himself onto the scene. However, this season he has taken a step back. His numbers have dropped significantly across the board, a big cause for concern for the Padres and the fans. Since he'll only be 24 for all of next season though, he definetly still deserves a shot, as he's got some time. Based on that and the talent we know he possesses, Margot should be roaming Center again come opening day next season. But if he doesn't show improvement from the past two years in the first half, his job could be in jeopardy.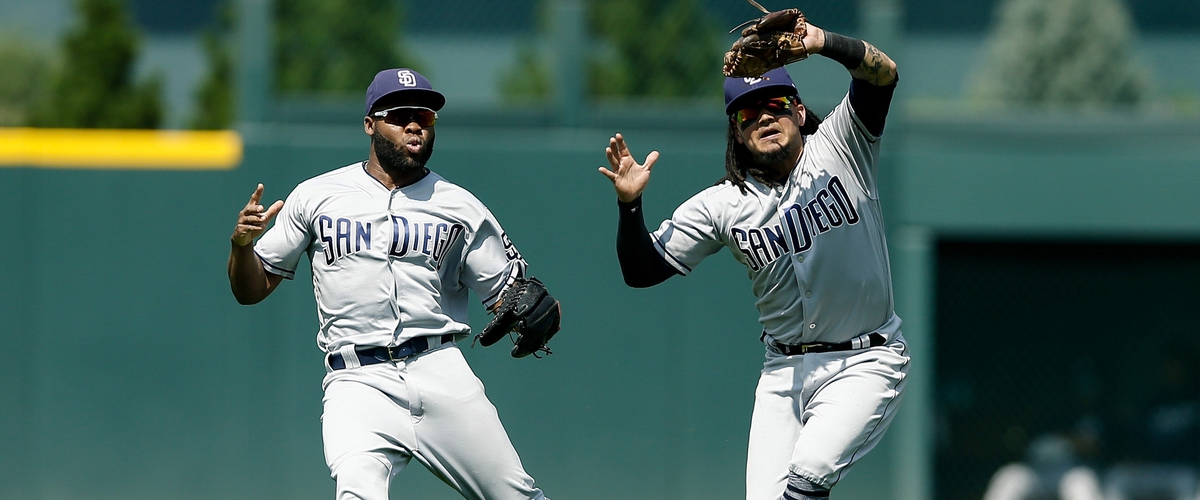 The last of the 5 is Franmil Reyes. Franmil confuses me a little bit. On one hand, he's got immense power, and seemingly the ability to hit for some average based on the hard contacty he makes when he puts the ball in play, but also has tons of swing and miss in his game. In 151 At Bats this year he has 54 strikeouts, which is way too many. I think it is too early to call on this 23 year old, but I like what I've seen from him so far this season. I think he probably starts in AAA next season, but if he continues to rake down there he will definetly be able to put some pressure on the Major leage outfielders and he will eventually get his chance.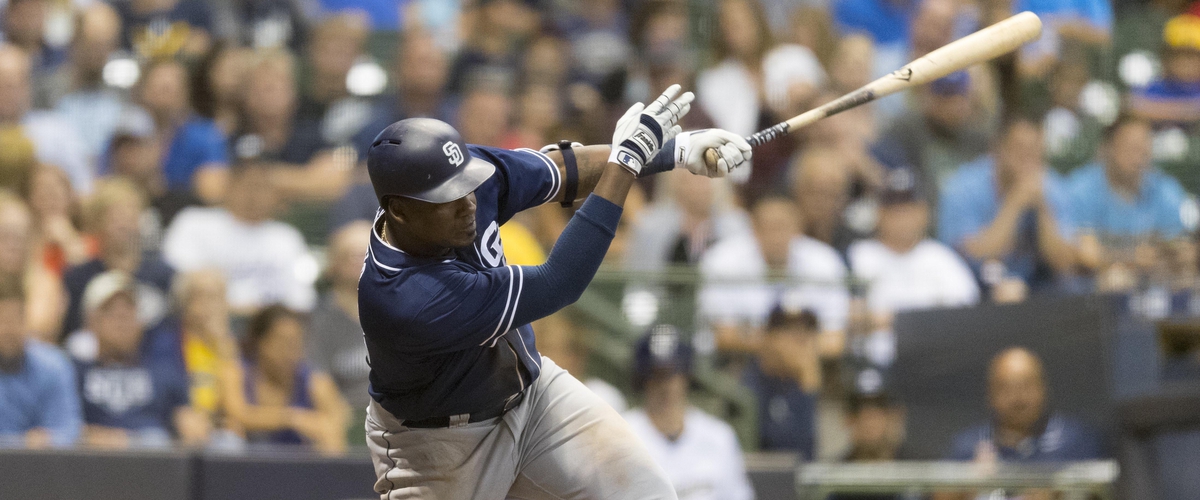 Lastly, we have the injured players and the prospect. Franchy Cordero has been out for most of the season, and he figures to be right back into the mix next season for the Friars. His ability to do everything, run, hit for power, hit for average, and play all three outfield positions essentially guarentees himself a spot on the roster next year, but potential new signings and spring training performances as well as performances for the rest of this season will greatly affect the role Franchy plays on this team next year. Also worth mentioning is prospect Buddy Reed, who is currently at Double A. His good size and great wheels are both encouraging and he has an ability to hit for average and power. He has yet to show that yet in Double A, but if he continues to develop he could be forcing the clubs hand soon as well.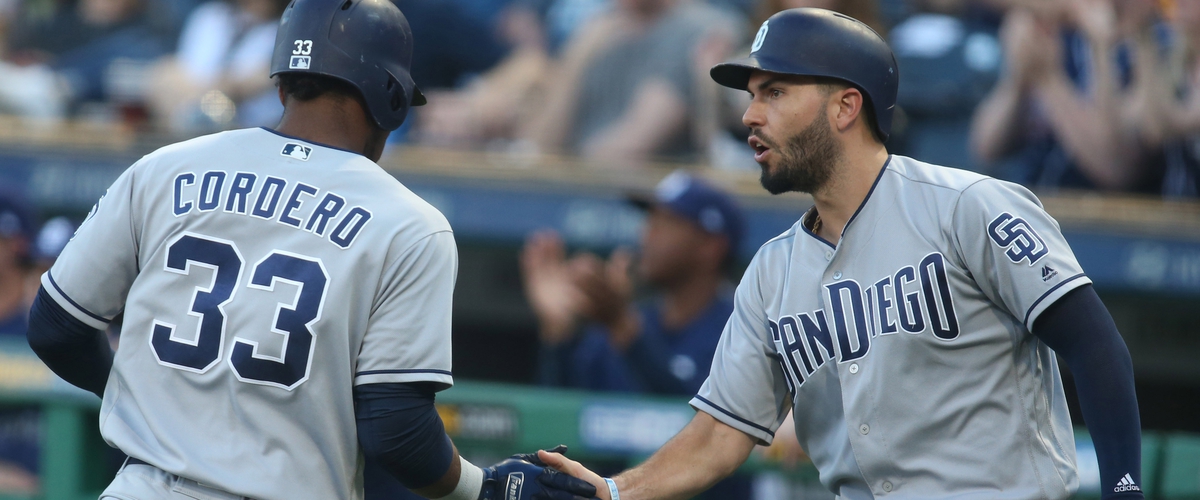 With the Padres loaded farm system and need to protect guys from the Rule 5 Draft, there could be some tough roster decisions coming up. But one thing is for certain: the outfield needs to improve for this team to get any better. That will require some current outfielders to just have better seasons next season, but will almost certainly require some sort of signing or trade in the offseason as well if the Padres want to significantly improve the unit. After examining these guys, we have clearly seen that there needs to be some significant improvement.