Sportsmatik - World's first platform for all major sports
Sportsmatik heartily welcomes all who want to excel in sports. Athletes, their guardian, coaches, physiotherapists, athlete-managers, sports-officials, schools, colleges, clubs, academies, corporates, sports agencies, merchants, sponsors and sports enthusiasts (and more to come). Everyone can be a part of sportsmatik and groom together as a sports community by linking with one another. It also provides business and advertisement services to sports merchants and individuals who want to showcase or sell sports paraphernalia. Sportsmatik also aims to educate people about various sports played around the globe. People can also explore various things related to sports like technologies, awards and recognitions, uniforms and equipment, various competitions conducted at magnificent sports venues. Users can also perk up themselves with our amazing blogs.
We hope you will make the best use of this digital platform to form a sports community where all can excel in sports either individually or as an entity and transform from a sports-loving nation to a sports-playing nation.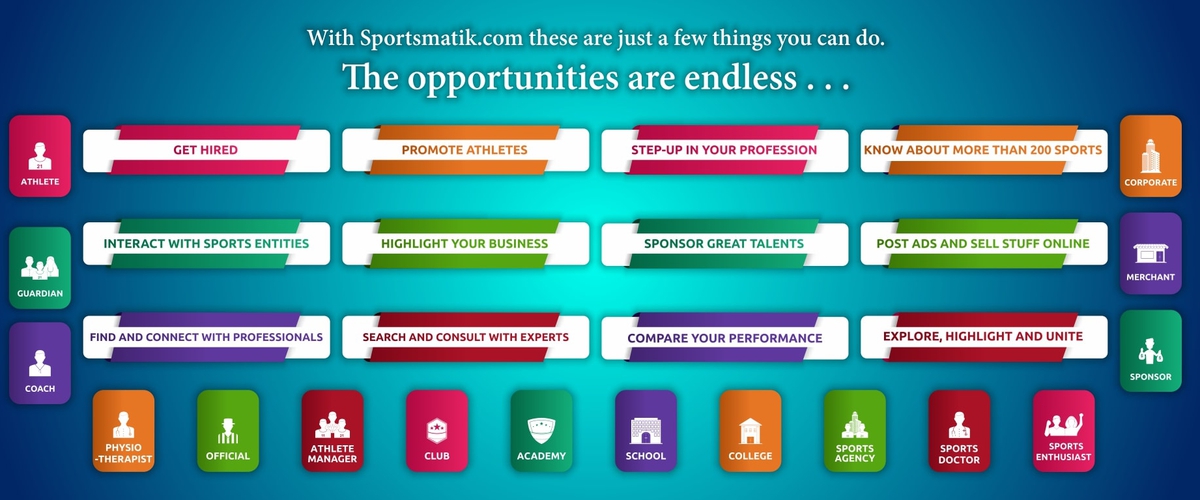 In the present era, sports are widely considered as a career in many countries. It offers a golden chance to represent one's nation at international stages and make it more proud. You also have an opportunity to become a sports sensation if you chase your passion with all your strength. We have already seen lots of athletes in different sports serving a role model to millions of people around the globe because people can relate with their hard work, dedication, will and sacrifice they put to perform consistently at the highest level. Each sport is an opportunity to excel, and that's why they all should be valued.
At present, India is also donning its colours at various sports stages, and the government is giving their best efforts to support our athletes. Athletes are also performing well to bring medals for the country in major as well as not so popular sports played here like luge, fencing, motorsports etc. but we need to focus on other genres of sports as well. But do all our sports champions get their fair share of appreciation? We have raw talents that have potentials to master their game, but they need proper opportunities, training facilities, infrastructure and world-class coaching. Also, financial dependence is one of their major concerns as many of our athletes need sponsors to continue their passion; some get the opportunities while others have to quit.
Lack of interconnectivity amongst sportspersons and related entities is another major concern due to which they all suffer. Athletes don't get proper coaching facilities, adequate treatment from professional physiotherapists, funding from sponsors, and lacks in connection with good sports entities likeclubs, academies etc. Coaches, on the other hand, are not getting proper opportunities to train athletes and to work with great sports associations. Sports associations such as clubs and academies have to go through time and cost-intensive scouting process to get professional coaches and players. Educational entities like school and colleges need to work with sports entities like clubs, academies etc. to promote their athletes.
To overcome all these impediments, we have made a digital sports platform to build-up proper networking amongst sportspersons and entities so that there will be no more communication gap. You can search or contact other sports personalities, view their profile, compare them with others and more. You can also find sports entities like clubs, academies, schools etc. and get connected with them. We are trying to connect the sports ecosystem so that they all can come up as an integrated sports community. We hope you will surely participate in our digital sports revolution to unite all sportspersons and entities for their mutual growth. So, come on! Be a part of this sports revolution.
Play, resolve, live in sports…..like never before…..
Register Now - sportsmatik
---