Storm Report: Status of the Canes
With 27 games in the books for the 16'-17' NHL season, the Carolina Hurricanes are looking better than skeptics believed they would at this point in the season. There's no doubting that the Canes have had their ups and downs this season; a season that includes multiple two and three goal leads that turned into losses. Interestingly enough, that describes the season thus far. While I don't have the exact number in my head, I would be willing to bet that the Hurricanes have had a third period lead in a third of the games they have lost. If the Canes could finish games and also pull out wins in overtime/shootouts (which six losses have come from), they would be a playoff contender. Still, the Canes somehow find themselves in the hunt as they are back only five points of a wild card spot. If the Canes plan to make a run that leads them to the playoffs there are a few things I expect to happen.
The first thing I expect to happen is the defense to remain one of the best in the East. I understand the idea that Canes do not have a great defense, or even great defensemen; however, they have all the right pieces that mesh together in all the right ways to play a competitive hockey game. Noah Hanifin, Brett Pesce, and Jaccob Slavin have become household defensive names in the Carolinas. Add that to the list of Hainsey, Faulk, and Dahlbeck, and you get one heck of a defensive core. Sure, Hainsey is old and Faulk has been down the past two years, but the young guys are studs and will only get better as time progresses. There haven't been many games this season that were lost at the hands of the defense. Rather, the lack of offense has been much of the issue, which leads me to my next point.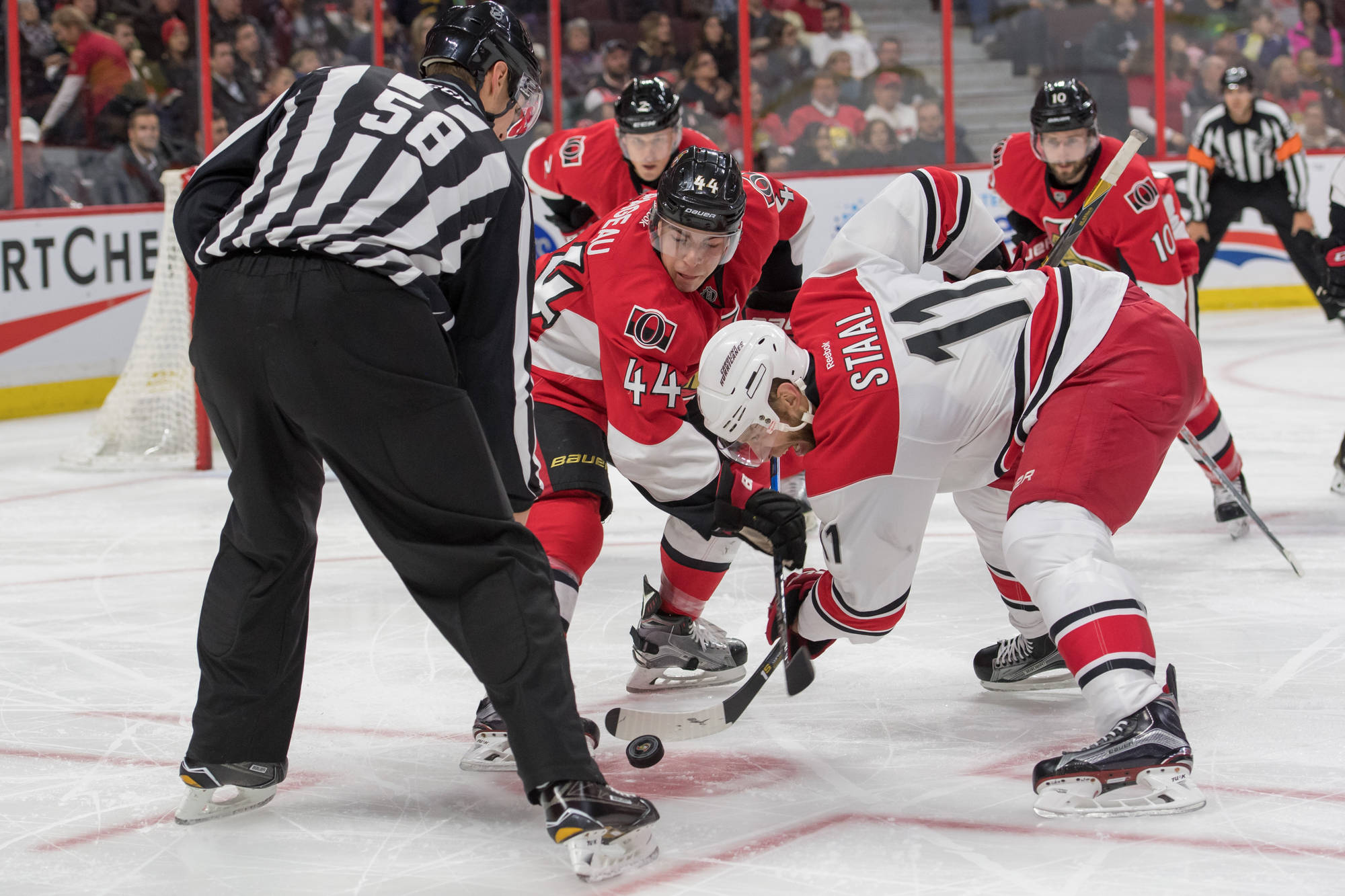 Jordan Staal taking the faceoff against the Ottawa Senators. He has missed a few games now and the Canes cannot wait for his return.
Marc DesRosiers-USA TODAY Sports
If the Hurricanes plan to progress the offense at all, then they need change. I understand one of the main guys, Jordan Staal, is currently on injured reserve and that plays a huge role, especially at the faceoff dot. But I also understand that the offense has had problems the entire season, well before he was injured. The problem the Canes have on offense is that they have too many guys that like to set the goal up; they are sometimes too unselfish and give up the open shot. Jeff Skinner comes to mind when I think of this. Not only does he have the incredible skating ability to weave and avoid hits, he has the stickhandling and puck control to make something out of nothing. I know he leads the Hurricanes in goals and assists so far this season, but he could have more of both if he would shoot more and if he had some finishers to pass to when he passes. When I think of expectations from certain players, Lindholm comes to mind. He should be in the top three goal scorers for our team but has had an extremely slow start this season. He needs to pick it up if the Canes want to be successful. All in all, the Hurricanes need to do some moving around of players to generate some more offense.
My proposal for switching players around might be a bit far fetched, but may be similar to what they have done in the past too. Since last season, I have been hoping that the Canes would deal Justin Faulk somewhere in return for an offensive guy. I know I said the defense is fine the way it is, but it was fine on nights even when he was scratched this season. Nevertheless, he has been on the decline for a while and I think they should pull the plug while his trade stock is still relatively high. As far as offensive lines go, here's what I would love to see (healthy lineup, lines in no particular order):
Nordstrom - Rask - Lindholm

I know this shakes things up a bit, but Victor Rask and Joakim Nordstrom have been playing amazingly this season. Nordstrom has been much stronger on the puck this season and his forecheck has greatly improved as well. I think putting the Swedes together would build chemistry due to the previous style of hockey they have all played. This could kickstart Lindholm and help him Produce.

Teravainen - Staal - Aho

This had been a line for a while now, before Staal went to IR and they were hot. I expect nothing but for this to be a line again upon his return.

Skinner - Ryan - Mcginn

This line would be an interesting combination because they are all playmakers. I think that would help each player though, because they would be able to set each other up. The defense would also have to pay more attention to the others so they would not be able to put emphasis on one guy. This opens up the ice for the great skating ability and speed of Skinner. May not work, but I would love to see it get a shot.

Stalberg - Mcclement - Stempniak

This would be my fourth line, but with such a great faceoff winner and two wings that can net some goals it would feel like a good third line. Stalberg has proved lately that he can score some pretty nice goals; on the contrary, Stempniak has cooled off tremendously after his early four goal start to the season.

All of this is speculation and what I may or may not believe will help the Canes make the playoffs, or at least spark some guys to kick start the offense. These ideas could potentially hold the key to success or the key to demise, but I do think the Canes need to get something done as far as the roster situation goes if they really want to bring the playoffs back to Raleigh. That's all for now! Hope you enjoyed! If you want to share your thoughts or ask me some questions, feel free to contact me on Twitter @spencethemince.
---