Is losing Josh Huff big for the Eagles?Will Bryce Treggs be good?
Josh Huff was recently arrested on Tuesday, November 2nd.He was released soon after and two days later he was cut by the Eagles.
It's not like Huff was a superstar but he was very dynamic on kick returns. Wendell Smallwood will be the replacement but it's not a guarantee he will be as good as Josh Huff was on kick returns.
To add on to this, Huff was a pretty decent screen player, being thrown to on multiple screens this season.His Wide Receiver replacement will be Bryce Treggs.

If Bryce Treggs ends up being good, then screw Josh Huff the Eagles just got a good receiver. Treggs can run really, really fast.He ran a 4.39 in the 40 yard dash. That's REALLY fast.
This guy could become the next Desean Jackson. But if he isn't good than losing Josh Huff will be bigger than people thought.
Some people might think how would he be bad if he is that fast?
Well one of the main reasons the Eagles aren't 7-0 is because no one on this team knows how to catch a ball.Like nobody.
Jordan Matthews has been decent recently but he still drops a lot. Green-Beckham has potential to be great but he drops too many easy catches. Nelson Agholor talks about how he is tired of hearing that the receivers drop too many passes when he doesn't know how to catch. Malcolm Jenkins is a great safety but has like 20 dropped interceptions.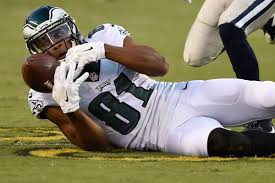 Carson Wentz should just throw to himself, he almost caught that one pass.
Anyways if Treggs can catch Josh Huff getting cut is great. if he can't then losing Josh Huff sucks.
---