Looking At The Future
After a horror season full of empty promises and disappointing results South African rugby administration still has not mapped out the way forward.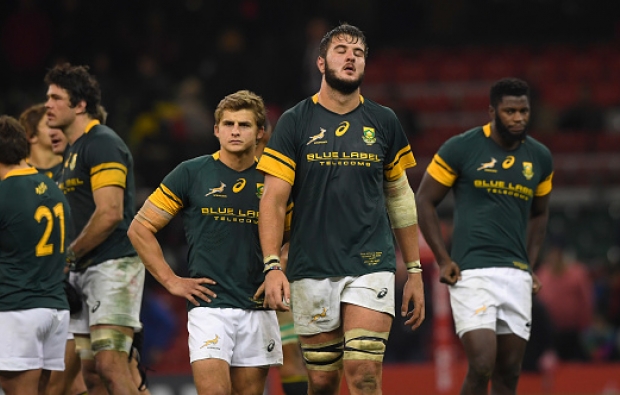 Image courtesy of SA Rugby Magazine
It can be seen as another instant where the springbok administration shoots itself in the foot. Right now south African rugby is like an alcoholic. To create positive progress there needs to be acceptance that there is a problem first. However it seems there's a chorus of whistling and shifty looks when they are asked how they are going to deal with this debacle of a season. Elsewhere Coetzee and his merry band of staff would have been given the boot earlier on in the season. Coetzee seems to not understand that the multitudes are not just troubled that there were no wins. It's also the fact that even in taking several losses the players looked like they were getting on that field with no clear indication of what was expected of them. No discernible game plan and the squad selection didn't even warrant a guess on what strategy Coetzee had hatched up if there was one to begin with.
The new president of SARU, Mark Alexander needs to develop a thick skin in regards with the decisions to be made in the next couple of weeks. He has announced an additional two indabas scheduled for December. The last time one of those was staged there were cries of how it was a success and one wonders if it was to just buy time for Coetzee. Mr Alexander has also pointed out that an overhaul of the rugby administration is part of the agenda. The bok machine is in dire need of an engine overhaul but it would not be shocking to see it being treated to a minor oil change. Whatever decisions are going to be made need to be based on reality. Allister Coetzee is not good enough to be a test coach. He never was but was given a chance and has proven that people were right to doubt him as such. He failed to inspire a squad, his selections made little sense if any sense and he could not even take responsibility of any one of the eight defeats suffered this year. Every post match interview was now obvious with the rehearsed words of 'it is my darkest day'. His coaching staff needs to follow him out the door as well. In a competitive test scene it does not pay to appease those who would impose political agendas on the team at the expense of qualified coaches who would rather lead the Springbok brand to greater heights. The SARU administration needs to be rid of the inept decision makers who saw it fit to appoint Coetzee. Everyone is aware that the head coach did not appoint himself. These are the greatest enemies of progress as they are will fight to keep him there because a step in the right direction will mean they get to be shown the door as well.
If the future will really be considered there needs to be a realization that the meetings meant to benefit the team need to actually include people from the team. It would make sense if a select group of senior players were to be part of the indaba. After all the planning and plotting has been done by the coaches and administration they will now expect the squad to put it in action. Why not create a better way of communication than let the team hurtle towards an unwanted destination. Captaincy is another element that has not been taken seriously. The springboks require a captain who will lead from the front and has long term aspirations. Adrian Strauss laboured in 2016 and will go down as the most unsuccessful springbok captain. He tried but he just wasn't much of a presence on the field. There are other aspects that need to be addressed. There is a South African obsession with youth that will be ready to throw the newest twenty year old who just made decent steps in Super Rugby and discard senior team players. Coetzee is proof that a balance between experience and youth needs to exist. When youth was required he went for a team full of veterans and in the last match of the season- the game against the Welsh showed that some experience would have saved the team some flack.
2017 can become worse than 2016 if the problems faced are not resolved. Only realistic thinking and resolve will help heal the Springboks from this self inflicted would.
---