College Football Playoff Teams Midseason Review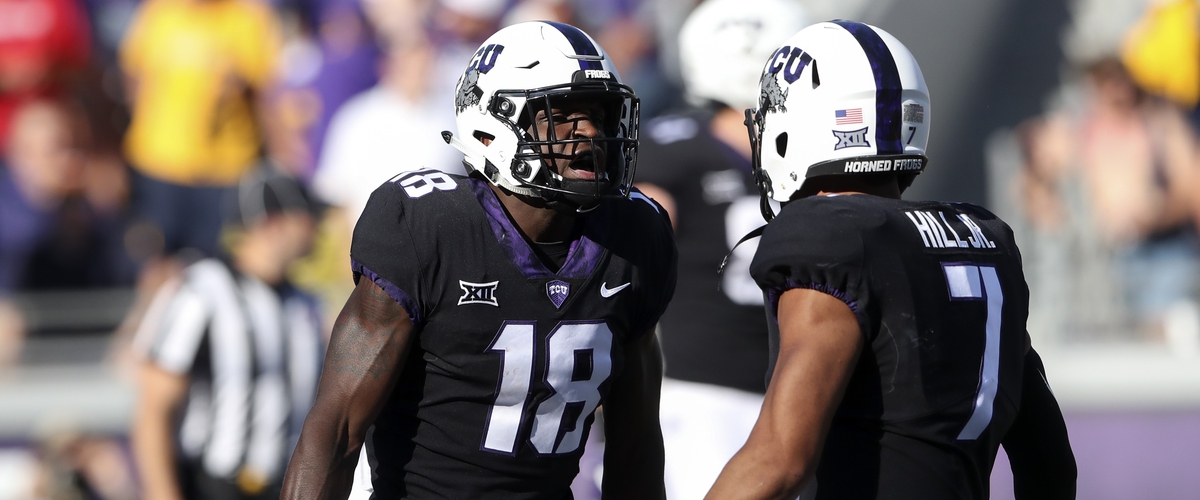 Like the Group of 5 teams, we take a look at each conference (this time, we mean literally EVERY conference) and see who still has a chance at the College Football Playoff. We will start with the six teams who are at the top right now, and look at which teams from each conference still have a chance.
RELATED ARTICLES: G5 TOP 4, GOPHERS UPDATE, W7 PREVIEW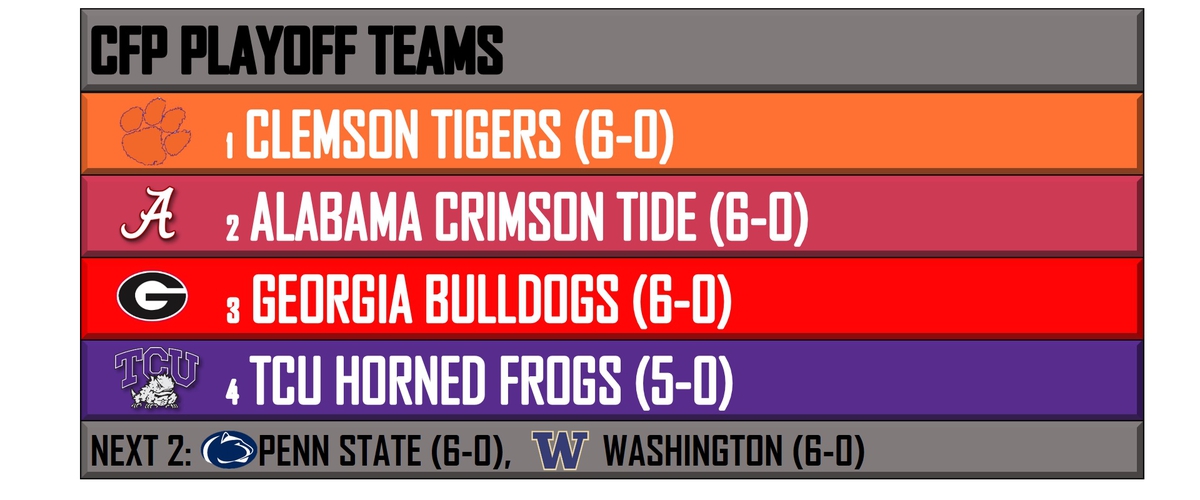 CLEMSON
W, Kent State 56-3
W, #13 Auburn 14-6
W, at #14 Louisville 47-21
W, Boston College 34-7
W, at #12 Virginia Tech 31-17
W, Wake Forest 28-14
Clemson has the most impressive resume to this point, beating three top fifteen teams in the country thus far. Quarterback Kelly Bryant appears to have settled in to his role as Deshaun Watson's backup, and the defense has been outstanding.
ALABAMA
W, #3 Florida State 24-7
W, Fresno State 41-10
W, Colorado State 41-23
W, at Vanderbilt 59-0
W, Ole Miss 66-3
W, at Texas A&M 27-19
Yet again, Alabama continues to roll, but there have been some concerns along the way. Still, they're a team coached by Nick Saban, so betting against them remains a poor decision.
GEORGIA
W, Appalachian State 31-10
W, at #24 Notre Dame 20-19
W, Samford 42-14
W, #17 Mississippi State 31-3
W, at Tennessee 41-0
W, at Vanderbilt 45-14
This is the surprise team thus far. Georgia's defense has been incredible, and the offense continues to churn out yards behind Nick Chubb and Sony Michel. Quarterback play has been solid despite concerns after Jacob Eason's injury. Eason is back and Jake Fromm has done well in his absence.
TCU
W, Jackson State 63-0
W, at Arkansas 28-7
W, SMU 56-36
W, at #6 Oklahoma State 44-31
W, #23 West Virginia
Gary Patterson has his team back at the top of the conference, and it didn't take long for them to recover. Now that the Big 12 has a conference championship game, there shouldn't be anything, or anyone, that leaves the Horned Frogs out of the playoff if their success continues.
PENN STATE
W, Akron 52-0
W, Pittsburgh 33-14
W, Georgia State 56-0
W, at Iowa 21-19
W, Indiana 45-14
W, at Northwestern 31-7
No wins against ranked teams is why the Nittany Lions fall out of the Top 4, but they can easily get back in after the next three games. #17 Michigan, #9 Ohio State, and #21 Michigan State are up next.
WASHINGTON
W, at Rutgers 30-14
W, Montana 63-7
W, Fresno State 48-16
W, at Colorado 37-10
W, at Oregon State 42-7
W, Cal 38-7
Quietly, the Huskies have started 6-0, but we're not exactly surprised. They won't crack the top four teams unless someone above them loses, and their schedule doesn't get difficult until November.
Let's be honest for a second, the Group of 5 teams don't have a chance of making the playoff because of their perception by traditionalists. While teams from these conferences may finish undefeated or with just one loss, they don't play the schedules that give them a chance. We still will consider them for the playoff, but don't get your hopes up too much. We also take a look at the other conferences (and independents) and discuss who is still in the running.
AAC
UCF (4-0) could be a major threat in a New Year's game, but they won't be considered for the playoff. USF (5-0) has started the season slow, and their schedule won't allow them to get in. The Bulls are still dangerous, however, but have to fend off the Knights. Navy (5-0) also has a weaker schedule, and the conference slate won't help them either.
ACC
NC State (5-1) is the only team that has a chance to win the Atlantic outside of Clemson, but do you really expect the Tigers to slip up? November 4th will be a good test for them. Miami (4-0) has their traditional swag back, but will the wins follow? Georgia Tech (3-1) has the intriguing triple option offense and Virginia Tech (5-1) showed they're still a contender. And don't look now, but Virginia (4-1) is improved in Bronco Mendenhall's second year. Louisville (4-2), Wake Forest (4-2), and Duke (4-2) all need help.
BIG 12
This conference is still wide open, and that fact alone is scary and could hurt this conference's chances of making the playoff. Oklahoma State (4-1), Oklahoma (4-1), and Texas Tech (4-1) are the only remaining playoff contenders at this point.
BIG TEN
Ohio State (5-1) only has one loss to Oklahoma, but that looks worse with the Sooners loss to Iowa State. Michigan State (4-1) has bounced back from a dreadful year, and just beat another contender in Michian (4-1). Wisconsin (5-0) is the only playoff contender from the West.
CONFERENCE USA
Every team has at least two losses except Marshall (4-1) and UTSA (3-1). This conference won't see a playoff team, but they might have a ton of bowl-eligible teams.
INDEPENDENT
Notre Dame (5-1) has only lost to Georgia, so they're in good shape right now. The other three have a combined 5-13 record.
MAC
Toledo (4-1) and Western Michigan (4-2) had opportunities to beat Power 5 opponents, but couldn't hang on long enough to win. Of the 12 teams in the conference, 10 of them are within the two to four win range.
MOUNTAIN WEST
San Diego State (6-0) has defeated two Pac 12 teams, but won't be considered as a playoff contender. They'll make for a tough New Year's bowl game opponent, though.
PAC 12
Washington State (6-0) already notched a win over USC (5-1). Utah (4-1) struggled mightily against Stanford (4-2), and this conference might not get a team in unless the Cougars or Huskies excel even more going forward.
SEC
It's really just two teams at this point, but Auburn (5-1) is still hanging around. Their only loss was to Clemson by eight, which isn't a bad loss at all.
SUN BELT
Hey, Troy (4-1) beat LSU, and that's pretty frickin awesome. That's about as close to the playoff as this conference will get unfortunately.