Why Do Devils Fans Hate Jacob Josefson (and Why You Shouldn't)
First off, I wan to say that Jacob Josefson is a lot nicer in person than let's say hmmmmm.. Adam Larsson. I had the pleasure of getting my Adam Larsson Jersey signed at an event last winter. Larsson's signing partner was Josefson and after what it felt like years on line, I finally was face to face with the two Swedes. I told Adam he was my favorite player and he kind of sighed and rolled his eyes, hardly the reaction I would have If someone told me I was their favorite writer. He begrudgingly signed my jersey and waved the next person along not even giving me a further response. Josefson chit-chatted with me cracking a joke and a smile, even if the interaction lasted the length of him signing my scrap piece of paper. Don't get me wrong, I don't hate Larsson, nor hold any grudge against him for blowing me off, but the contrast between the two players shows what a friendly guy JJ is and can be.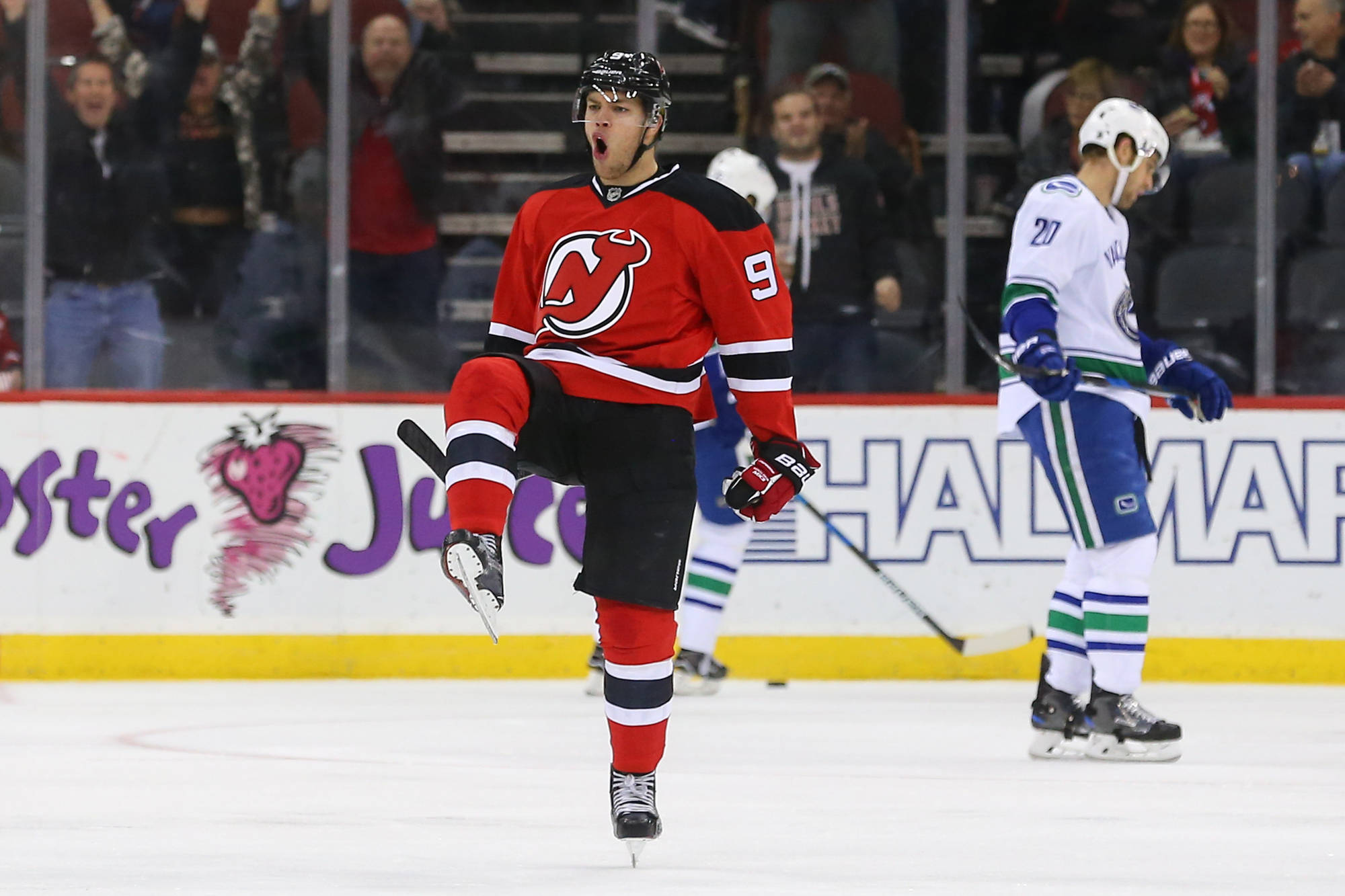 Taylor Hall celebrating after a goal against Vancouver
Ed Mulholland-USA TODAY Sports
Off ice- personalities aside, Josefson catches TONS of flak from fans based on his "inability" to score. Every season there are several scapegoats which get blamed for the Devils woes. You name them, Merrill, Josefson, Severson etc. I can't tell you how many people I've come across who are angry because Josefson is consistently on the bottom of the score sheet. Now, when encountering those negative Neds and Nancys, I try to use logic and statistics. To put things into perspective, Josefson has played in 19 games tallying 24 shots. Admittedly, that is far from impressive, but for comparison Taylor Hall has 119 shots in 36 games. Josefson has approximately 1/4 the shots Hall has in just about 1/2 the games. So take Josefson's lack of scoring production with a grain of salt.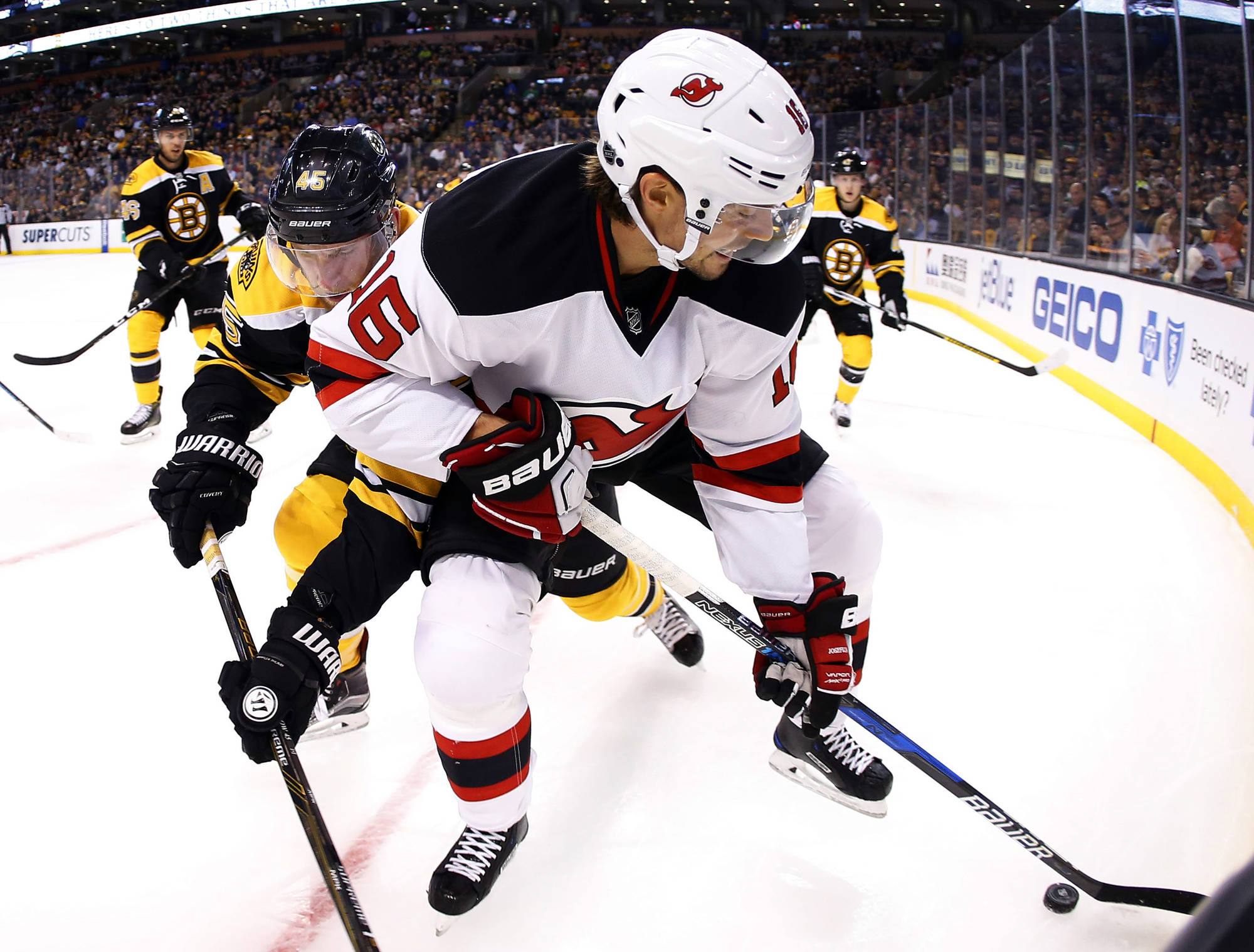 Josefson shielding the puck along the boards.
Winslow Townson-USA TODAY Sports
One of the excuses some fans use when trying to explain why Josefson sucks and/or why they hate him, which is he doesn't generate any offense. JJ was a product of former GM Lou Lamoriello's defensive minded scheme and drafting style. Josefson was drafted with defense in mind, never scoring in massive volumes since his junior career, producing roughly at a PPG pace his last year in U-18 and first year in Junior. Josefson was never meant to score goals, he was meant to follow the scheme and play his defensive forward game, get into gritty areas possessing the puck in the offensive zone, just like fellow Devils Travis Zajac and Adam Henrique. Josefson may not rack up points but he's exceptional in the face-off circle, posting a 54.2%, sandwiched between Vern Fiddler and Travis Zajac, who are some of the best in the league, for best on the Devils. His high clip of winning face-offs is probably why John Hynes trots him out primarily for defensive zone face-offs as his splits are, 36.5% oZS% (percent of face-offs taking place in the offensive zone while the player is on the ice), and 63.5% dZS% (% of face-offs taking place in the defensive zone while the player is on the ice). This season Josefson's CF% (shots for while on ice vs shots against while on ice) isn't up to his career par (47.7% for the season, 50.7 for his career), it is still good for 7th on the team for players who have played in at least 10 games or more. This is higher than Zacha, Cammaleri, Henrique, and Palmieri. All these players except for Zacha are top 6 players on this Devils team. You have to hand it to Josefson, for a guy who spends over 60% of his face-offs starting in the defensive zone, he sure is generating more offense than some of the big names and fan favorites. So, cut this guy a break and let him play his game.
*** All stats retrieved from hockey-reference.com***
Follow me on twitter: @SteveGinterNHL
---