4 Young NBA Teams to Look Out for in 2016-17
At the start of every season, we are able to identify the NBA teams with great potential. There are many teams loaded with young talent, but a few stand out. Here are 4 NBA teams to watch this year:
Minnesota Timberwolves 2015-16: (29-53) 13th in the Western Conference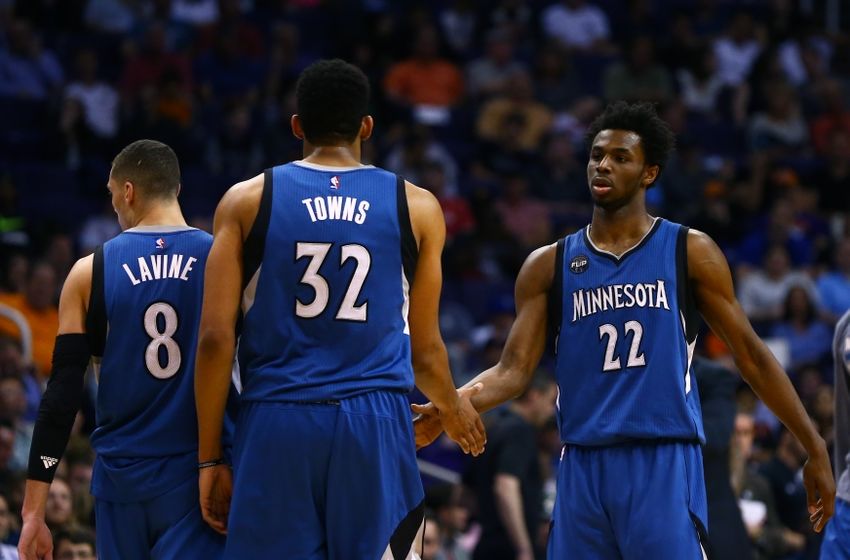 Zach LaVine, Karl-Anthony Towns, and Andrew Wiggins (Mark J. Rebilas/USA TODAY Sports)
The T'Wolves showed flashes of greatness last season, but ultimately finished towards the bottom of the West. Led by their young stars Karl-Anthony Towns and Andrew Wiggins, Minnesota looks to make an impact in the uber-competitive Western Conference this season. Minnesota features a lineup with great length and athleticism. In the front court, 2015-16 unanimous Rookie of the Year Karl-Anthony Towns will build on his stellar first season in the NBA where he averaged 18.3 points per game and 10.8 rebounds per game. High-flying guards Andrew Wiggins and Zach LaVine provide great firepower finishing at the rim and beyond the 3-Point line. The T'Wolves also added PG Kris Dunn in the draft this year. The Providence College product will play some key minutes early on with oft-injured Ricky Rubio already banged up. Minnesota has great young talent with loads of potential. They could very well contend for a low-seed Western Conference playoff spot this year.

Portland Trailblazers 2015-16: (44-38) 5th in Western Conference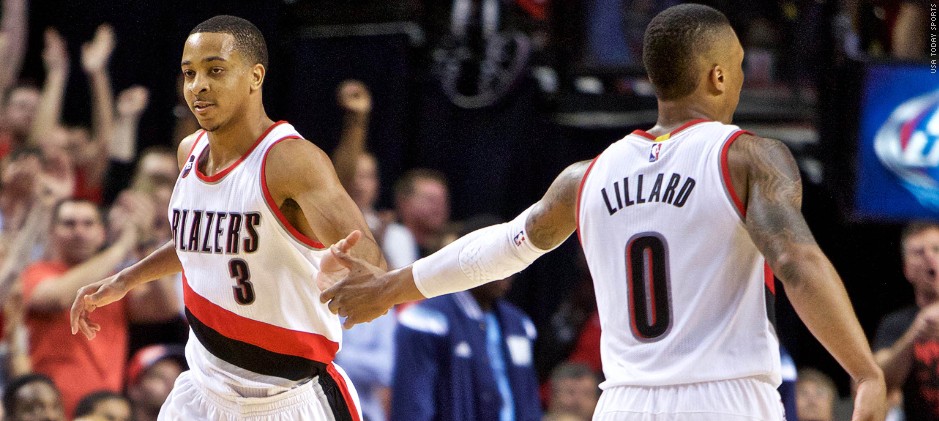 CJ McCollum and Damian Lillard (USA TODAY Sports)
Portland took the league by surprise last season. They earned the #5 seed in the playoffs and defeated the #4 Los Angeles Clippers in 6 games before facing the Golden State Warriors. The Trailblazers played the Dubs tough, but were ultimately defeated in 5 games in the Western Conference semi-finals. Damian Lillard and CJ McCollum make up one of the most talented backcourts in the NBA. They are able to dominate opposing teams with their explosive scoring and deadly outside shooting. Former Cal Bear G Allen Crabbe also provided some key buckets off the bench throughout the Blazers' playoff run last year. He could be a surprise contender for the NBA's 6th Man of the Year award in 2016-17. With the acquisitions of C Festus Ezili and F Evan Turner, Portland's starting lineup instantly becomes more formidable entering this season. Portland reminds me a lot of a young Warriors squad that shook up the Western Conference a few years ago. They fearlessly play at a fast pace and put up big numbers offensively. If they are able to play solid D and rebound, they will have lots of success. Don't be surprised if they repeat as the #5 seed or even higher in the playoffs.
Los Angeles Lakers 2015-16: (17-65) 14th in the Western Conference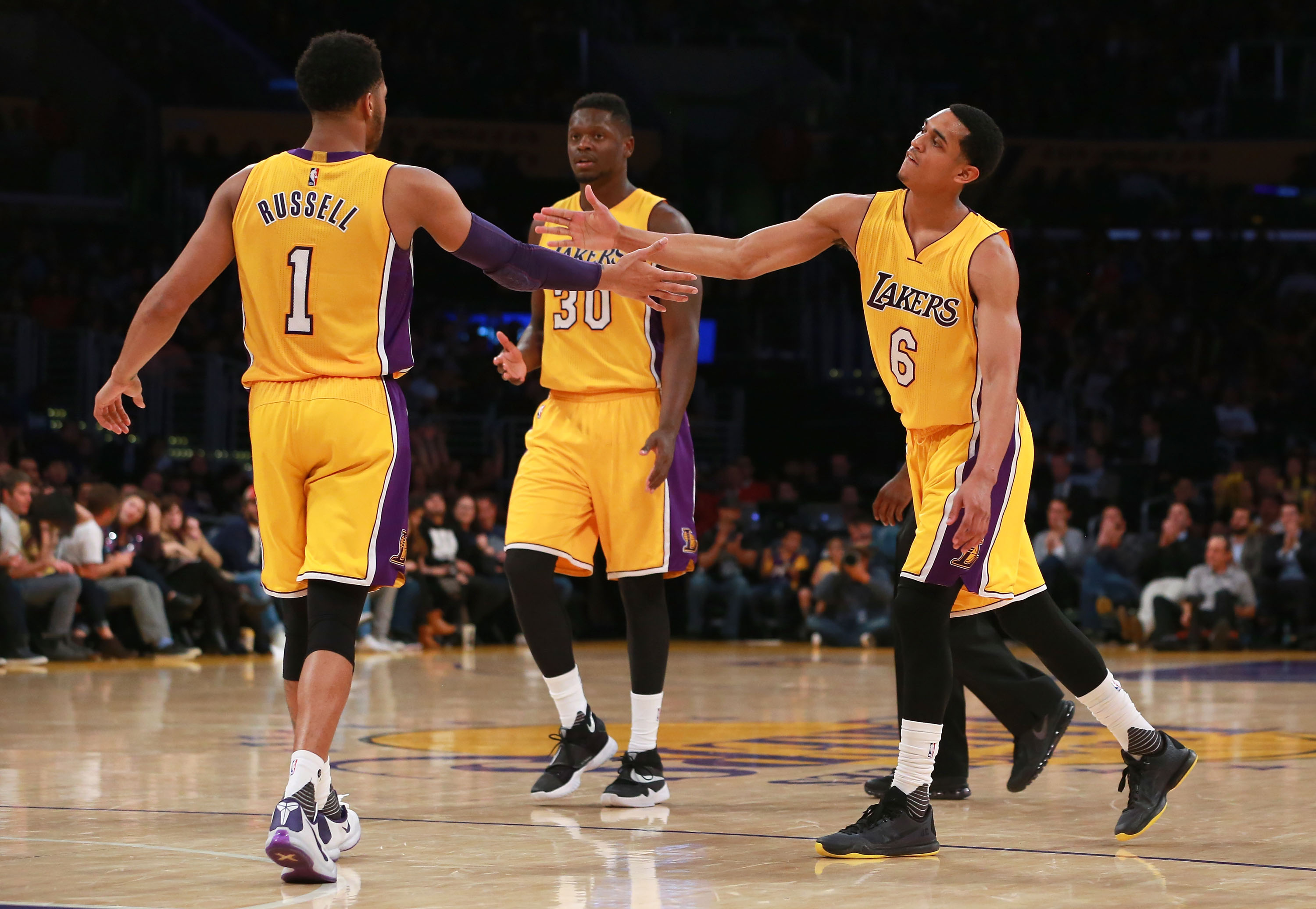 D'Angelo Russell, Julius Randle and Jordan Clarkson (ESPN Photo)
In Kobe Bryant's farewell season, the Los Angeles Lakers were bad. Really bad. They won just 17 games and finished dead last in the Western Conference. With new head coach Luke Walton, Los Angeles will grow as their young core continues to gain NBA experience. The Lakers selected former Duke F Brandon Ingram with the #2 overall pick in the 2016 draft. He adds solid length and scoring to the talented Laker squad. Guards Jordan Clarkson and D'Angelo Russell shined for the Lakers last season as the only bright spots of 2015-16. Russell, the #2 overall pick in 2015, showed off his superstar potential with a smooth lefty jumper, quick handles, and nifty passing. The Los Angeles frontcourt consists of forwards Larry Nance Jr. and Julius Randle. Randle serves as a bruiser down low and provides LA with the physicality that every team needs. Larry Nance Jr. is a tremendous jumper who creates lots of excitement around the rim. The Lakers may be a few years away from seriously contending, but they are stacked with a talented crop of youth. They will surely be fun to watch this year.
Utah Jazz 2015-16: (40-42) 9th in the Western Conference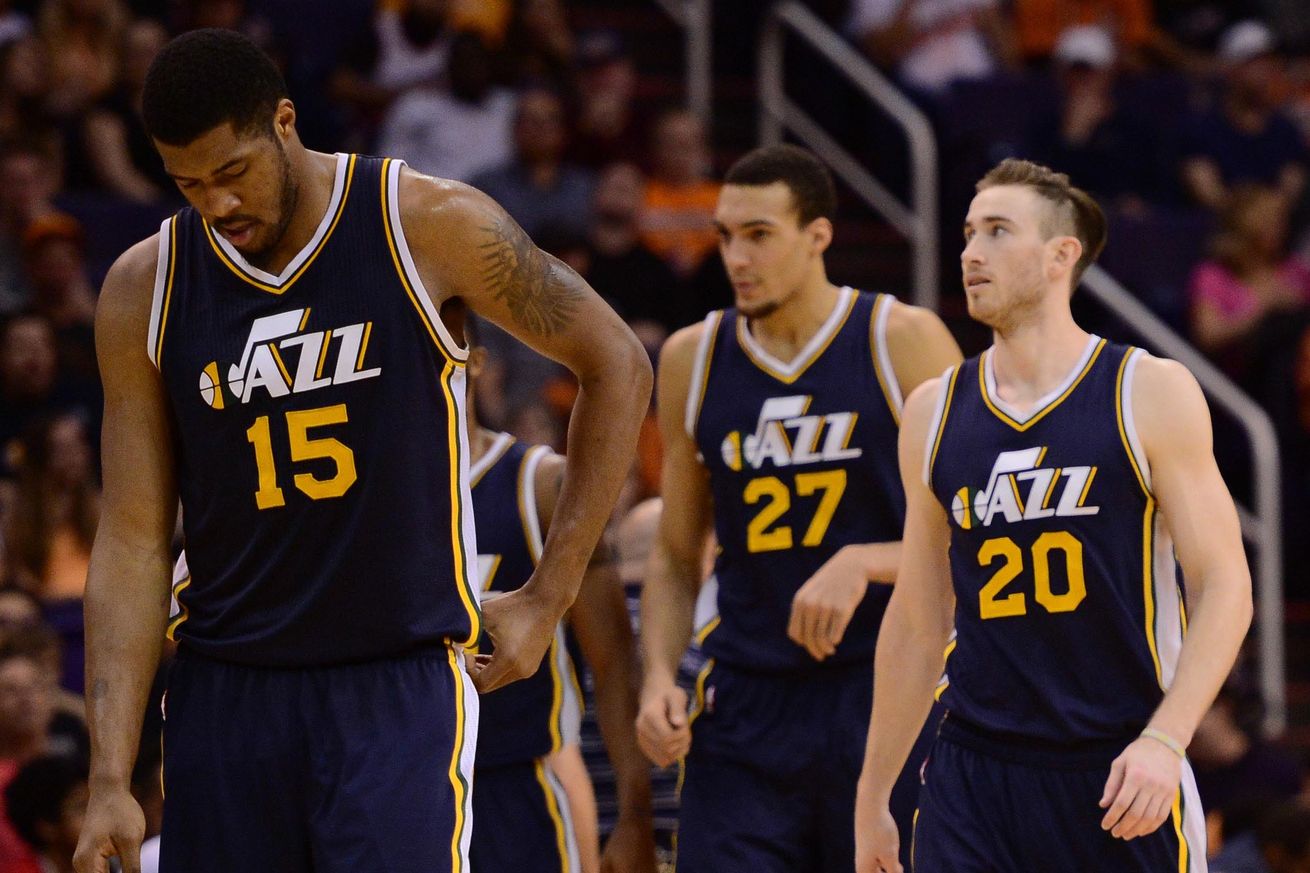 Derrick Favors, Rudy Gobert and Gordon Hayward (Joe Camporeale/USA TODAY Sports)
On the final day of the regular season, Kobe Bryant dropped 60 points on the Utah Jazz and eliminated them from becoming the 8-seed in the Western Conference playoffs. Although they were unable to reach the playoffs in 2015-16, the Jazz had a successful season. Swingman Gordon Hayward continued to excel as Utah's main offensive threat, averaging nearly 20 PPG. Hayward will get his backcourt buddy back from injury. 2014 first-rounder Dante Exum missed the entire 2015-16 season due to a torn ACL. Exum is a talented 21-year old point guard from Australia. At 6'6'', he uses his length to score inside against smaller guards and is an excellent on-ball defender. With the solid backcourt of Hayward and Exum, the Jazz sport a very impressive core 4 with Derrick Favors and Rudy Gobert holding down the frontcourt. Favors has been one of Utah's most consistent players, averaging around 16 points and 8 rebounds in back to back seasons. Rudy Gobert is Utah's athletic, high-flying center who grabs rebounds and blocks shots with ease. He and Favors combine to create a defensive nightmare for opposing bigs. The Jazz have the most established group of core players on this list. They've played together for the past 3 seasons and have developed a great team chemistry. Utah will rock and roll into the playoffs this season.
---