Iguodala, Thompson Shine in Warriors' Victory
OAKLAND -- In a playoff-like atmosphere, Memphis played Golden State tough, but the Dubs were able to pull away down the stretch. The Warriors held a 2-point lead heading into the 4th quarter. Thanks to Andre Iguodala and Klay Thompson, the Dubs outscored the Grizz 23-13 in the final frame to secure their 59th victory of the season.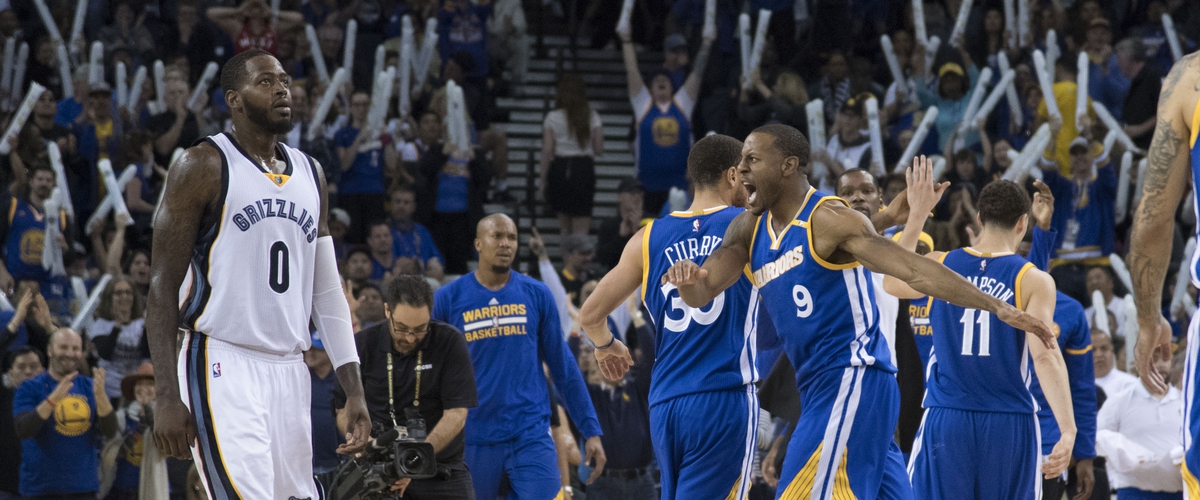 The Warriors are now 16-0 when Andre Iguodala scores 20 points in a game. The veteran swingman played one of his finest games of the season. Iguodala recorded 20 points, 7 rebounds and 4 assists and provided key minutes in crunch time. Iggy seemed to have some young spring in his step as he drove to the rim for several impressive dunks.
In a relatively quiet night from Steph Curry (20p, 11a, 4r), Klay Thompson led all scorers with 31, including 21 in the second half. Thompson knocked down 7 of 11 threes. He found his stroke in the second half and went on a tear of 9 straight makes in a row. Thompson continues to prove that he is arguably the deadliest shooter in the league when he is hot (see: 60 point game & 37 point quarter). Steph Curry played the roll of facilitator tonight with 11 assists, and also played a great game on D with 4 steals.
The Warriors have found their groove without their star F Kevin Durant. They stumbled a bit when KD first went down, but have now won 7 in a row. Klay Thompson and Andre Iguodala have played brilliantly in KD's absence and have helped carry the load for the Dubs. Their is much less pressure on the Two-time MVP when his two leading mates Thompson and Iguodala are on top of their game. The Warriors won the first game of their tough week. They now head to the Lone Star State to play Houston and San Antonio, then are back home to play the Rockets again. With 9 games remaining in the regular season, the Warriors must keep their foot on the gas in order to secure the #1 seed.
---