The Big 4
In 2007, Kevin Garnett and Ray Allen joined Paul Pierce in Boston, creating the first of many 'Big 3's' in the NBA. In 2010, the Miami Heat signed LeBron James and Chris Bosh to compliment Dwayne Wade. The 2007 Boston Celtics and 2010 Miami Heat set an example for the rest of NBA franchises to follow. Teams have attempted to assemble their own 'Big 3' but the Golden State Warriors have created a different beast.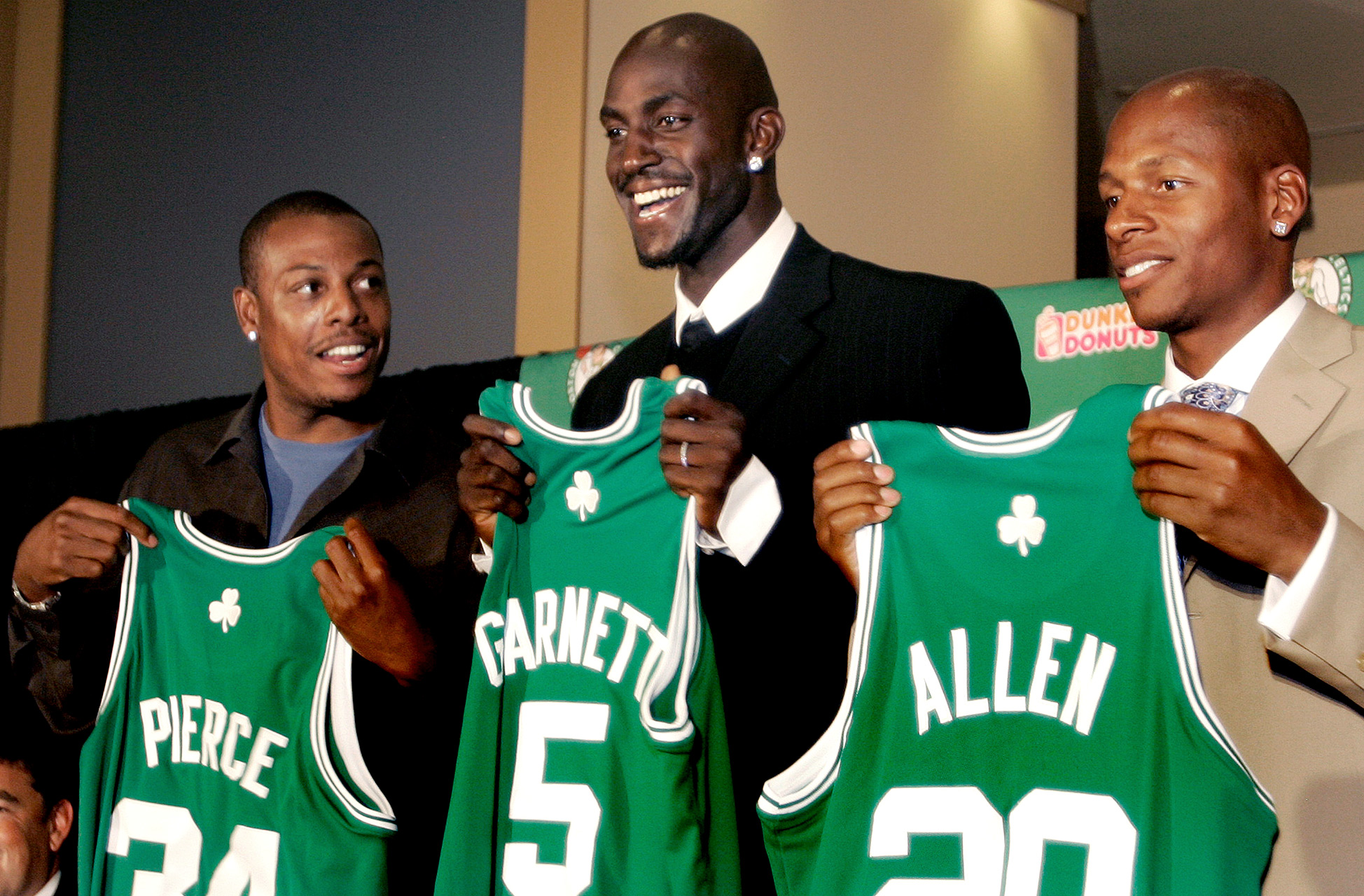 Paul Pierce, Kevin Garnett, and Ray Allen were the original 'Big 3' (Charles Krupa/AP Photo)
The Warriors were defeated by the Cleveland Cavaliers in the NBA Finals last year after being up 3 games to 1. There were several factors that contributed to their collapse like the untimely suspension of Draymond Green and Steph Curry's health. They enter this season with a chip on their shoulder and one of the world's greatest talents added to their roster. This offseason, former Oklahoma City Thunder forward Kevin Durant agreed to a 2-year/$54 million dollar deal with the Warriors. GM Bob Myers has added Durant to Steph Curry, Klay Thompson, and Draymond Green, creating the leagues' first-ever 'Big 4.' With the bitter taste of defeat in their mouths and superstar Kevin Durant on their squad, Golden State is poised to make another run at the Larry O'Brien Trophy.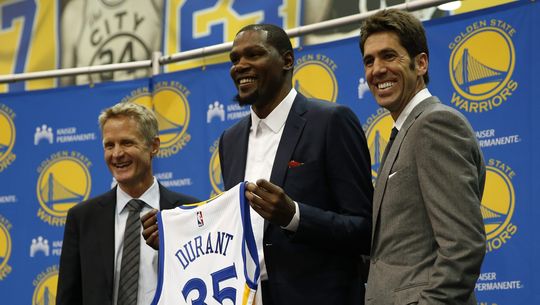 Head Coach Steve Kerr and Bob Myers welcome Kevin Durant to the Warriors. (Kyle Terada/USA Today)
Kevin Durant brings explosive scoring and versatility to an already stacked Warriors lineup. At 6'10'', Durant provides great length on the defensive side of the ball as well. When the Warriors go small or 'stealth' (as they like to call it), he can also serve as a rim protector against big men. The 2014 MVP has averaged 27.4 points per game in his 9 seasons in the NBA. His ability to knock down 3's and run the floor fits in perfectly with the Warriors' offensive scheme. Golden State will be an absolute nightmare to defend when all 3 marksmen are on the floor at once (Curry, Thompson and Durant).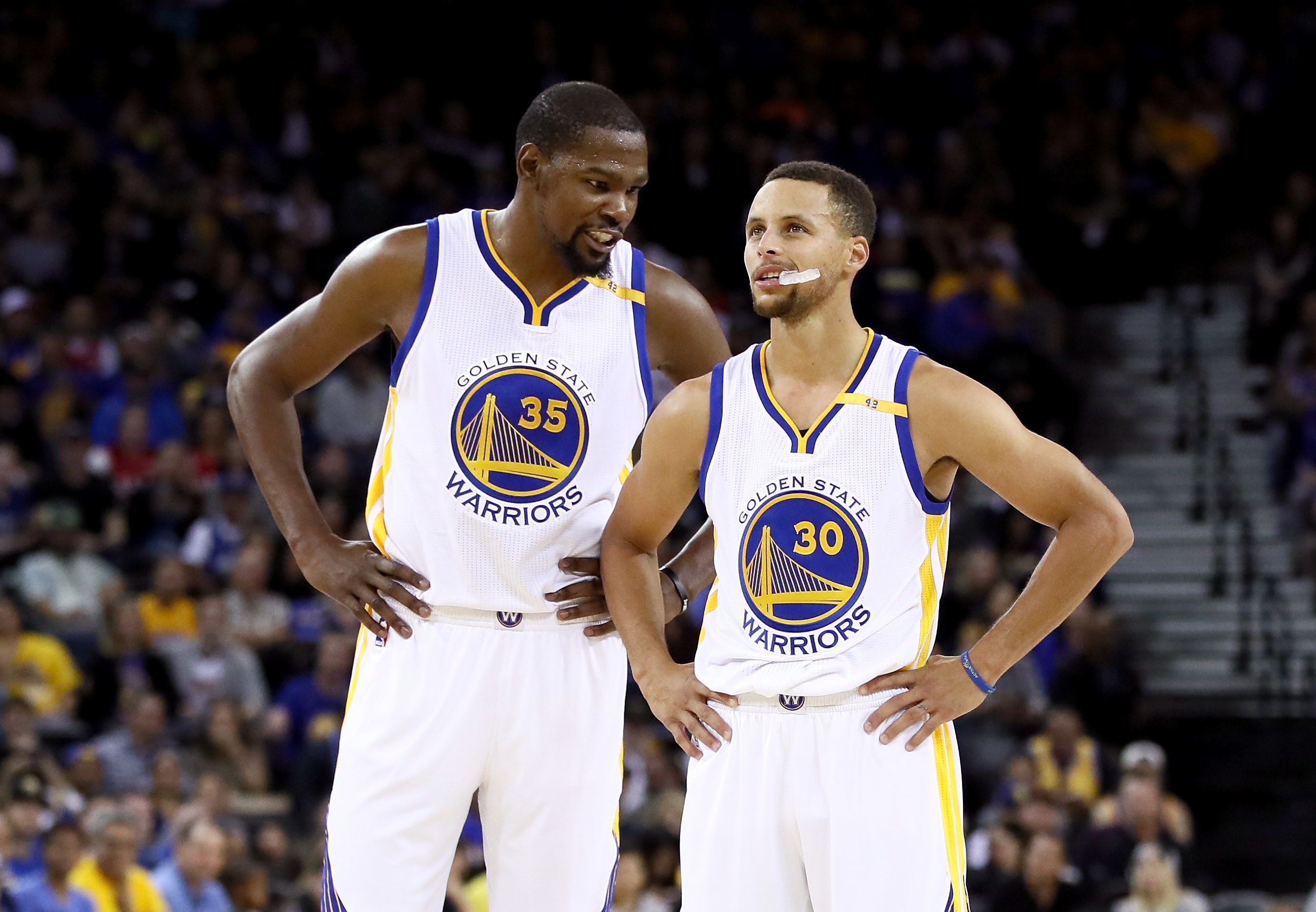 Curry and Durant chat during a preseason game (Ben Margo/AP Photo)
Last year, Steph Curry led the NBA in scoring with a dazzling 30.1 PPG. He also drained 402 3-pointers in 2015-16, breaking his own NBA record for 3-Pointers made in a single season. He shimmied and shook his way to his second consecutive MVP award. This year, he will take on a slightly different role. With the acquisition of Kevin Durant, Curry will not be relied on as the main offensive threat for the Dubs. The dominant 1-on-1 scoring threat of Durant will allow Curry to be more of a facilitator for the Warriors' offense. He'll have two of the world's most premier shooters to pass to. Formerly known as the (2) Splash Brothers, Steph and Klay have added a 3rd brother to the gang.
The 3rd member of the 'Big 4' is sharpshooting guard Klay Thompson. Coming off the best year of his career, Thompson looks to continue his dominance as the best 2-way guard in the NBA. Klay is not only a cold-blooded offensive threat, but he can lock down the opponents number 1 guard. Throughout their playoff run last season, Thompson was tasked with defending James Harden, Damian Lillard, Russell Westbrook and Kyrie Irving, 4 of the league's top guards. It will be interesting to see how Klay's role changes with the arrival of Kevin Durant, but don't expect a shortage of fireworks from Klay Thompson in 2016-17.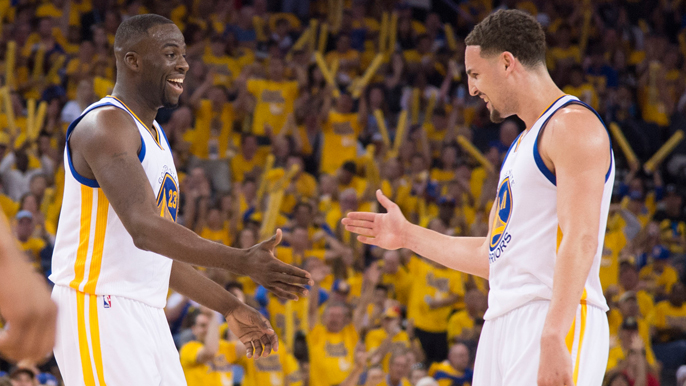 Klay and Dray celebrate during the playoffs last year. (KNBR Photo)
And then there's Draymond Green. Green is arguably Golden State's most important player. While Steph Curry has won the last 2 MVP awards, Draymond brings many intangibles to the Warriors lineup that cannot be found anywhere else. Although Green is listed at 6'8", he plays power forward for the Dubs, and routinely matches up with big men much taller than him. Draymond's strength and toughness allow him to shut down big men in the low block. He uses his quick hands and sound defensive technique to give opposing players fits. Not only did Green excel defensively for the Warriors last season, but he lead the team in assists, averaging 7.4 a game. 7 assists per game is almost unheard of for a forward in the NBA. Those assist numbers will only rise now that Green has one more elite scorer to pass the ball to. If Draymond is able to keep his emotions and actions in check this season, he will continue to add to his legacy as one of the most versatile players in NBA history.
The Warrior's 'Big 4' are poised to give teams fits on the defensive end. With 3 of the league's best scores on the floor at once, Golden State is going to put up big numbers every night. Steph Curry, Klay Thompson, Kevin Durant, and Draymond Green will look to lead the Warriors to their second championship in three years.
This is going to be fun to watch.
---