Tony Romo Named as Cowboys Backup QB
On Tuesday, a despondent Tony Romo addressed the media in an impromptu press conference. He did not answer any questions, but simply issued the following statement regarding his role going forward:
Romo, 36, suffered a compression fracture of an L1 vertebrae in his back during the preseason. Since then, Cowboys 4th-round draft choice Dak Prescott has led Dallas to a sparkling 8-1 record, the best in the NFL. All season long, there has been talk of what the Cowboys would do when Romo returned. A healthy Romo has been activated to the 53-man roster and Dallas had a decision to make: Do they go back to the veteran QB or stick with the hot hand? On Monday, Cowboys Owner and GM Jerry Jones told the media that Tony Romo would serve as Prescott's backup going forward.
The rookie QB out of Mississippi State has not played like a 23 year-old. Dak Prescott has shown great poise and confidence in the pocket and has made plays when it counts. Prescott has thrown 16 TD's and only 2 interceptions so far this season while sporting a 106.2 Passer Rating, 4th among all NFL starting Quarterbacks.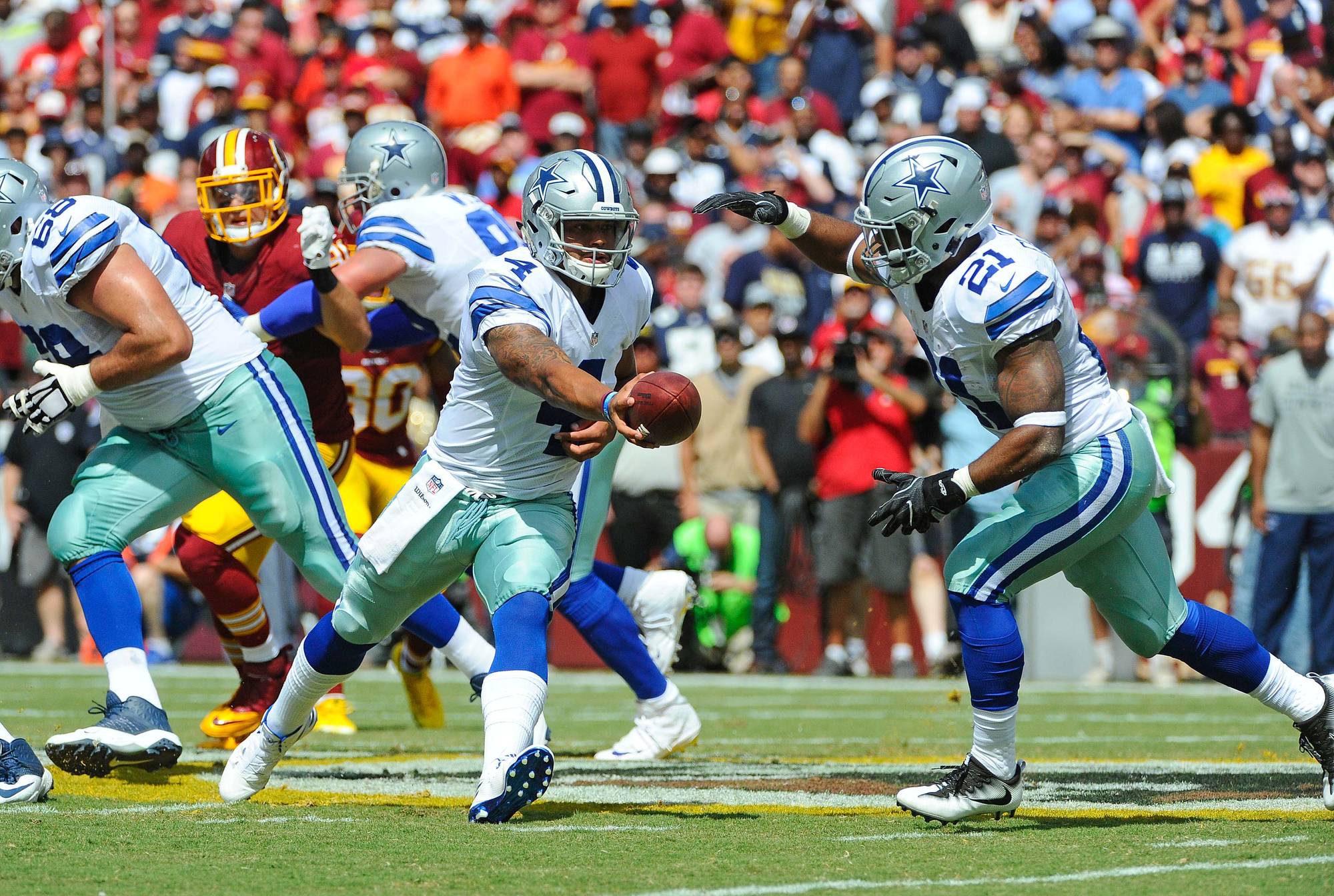 Prescott hands off to Ezekiel Elliott against Washington earlier this season.
Brad Mills-USA TODAY Sports
With fellow rookie Ezekiel Elliott along side him in the backfield, Prescott and the Cowboys have cruised to a commanding 4-game lead in the NFC East. Elliott has rattled off a league-leading 1,005 rushing yards and 9 TD's behind the Cowboys stellar offensive line. 'Zeke' is easily the frontrunner for the Rookie of the Year award, and is even considered a viable candidate for MVP. Led by their two rookie stars, the Dallas Cowboys have finally lived up to all the hype we've been hearing about for the last few years. This year's Cowboys squad is young and physical and looks primed to make a run in the playoffs. It will certainly be fun to watch their two rookies lead them down the stretch.
---