Football Talks in Moroccan Cafes
Why everyone is so fond of football in Morocco? I was amazed when I reached a local café for coffee and found some young Moroccans making arrangements to watch the football match on tv to support their team. I came across talking with them while having coffee in the same café to explore their craze for the sport. Mohammed, one of the boy told me that here in Morocco, nobody watches Soccer at home, there is a culture to watch soccer in cafes together. But why is it so? This is a very unique aspect of Moroccan culture to discover. I got a good package of Morocco holidays 2020 and was there to enjoy every moment Morocco had to give me. It was like it embraced me in its arms and welcomed me at any step I took in Courteous Morocco. Such a wonderful journey, full of splendid memories I could gather during my trip.
Botola Pro football competition
Understanding the culture of football in Morocco I got to know about the Botola football festival annually held in a country. The intra-level competitions are there in Botola pro where more than sixteen teams compete with each other. At the end of the series of the match, the winner and the runner up teams are sent to take part in the African champion league. But how do the kids know about this all?
They converse about it. Moroccans spare time to have talked every day and share the ideas. But what they talk about? Sports, particularly football remains the dominant topic of discussion. I have heard that Moroccans were never so outspoken on criticizing and protesting against their national football team in the past, but now they show their anger in protesting against anything they don't accept. They came out to streets of Casablanca protesting against their football team, coach and the officials of the national football federation. He tells us how attached are they with the football support and love it to be better. So as football becomes part of politics as well, football politics is so famous in Morocco.(www.viriksonmoroccoholidays.co.uk)
I then had to experience myself how it feels to sit among Moroccans to enjoy the environs of the match. Many local coffee shops and cafes show national and international matches including the top club matches of the world. But the connectivity with Spain is more than others so whenever Barca is on the ground, there is less possibility of the English or other matches to be tuned by Moroccans.
It was Café Arabe in Marrakech where I headed to have an Italian meal, to watch the match along with that was important. For me, it was easy to get the seat because my Riad helped me reserve my place already. The restaurant was jam-packed. Café Arabe shows the matches on a big screen with the world-class tastes and quality beers for the tourists visiting Morocco.
Every individual talk turns to the global recognition of their beloved team and favorite players. You can feel the moments of applaud and excitement in the cafes of Morocco when FC Barcelona is on the forefronts to dodge the goalkeeper. The whispers turn into the whoops and shouts when there comes a crucial moment during the match. The demand for coffee, tea, and cigarettes increases in the final moments of the match. My trip was full of all these experiences for which I was there.
One thing I heard from the football fan watching a match in Rabat is that Soccer fans if not sound with the language, especially improve their Arabic language to listen to the Aljazeera sports reporting. This much craze for football? Amazing!! People also like to read sports pieces in the newspapers, web-based sports news outlets.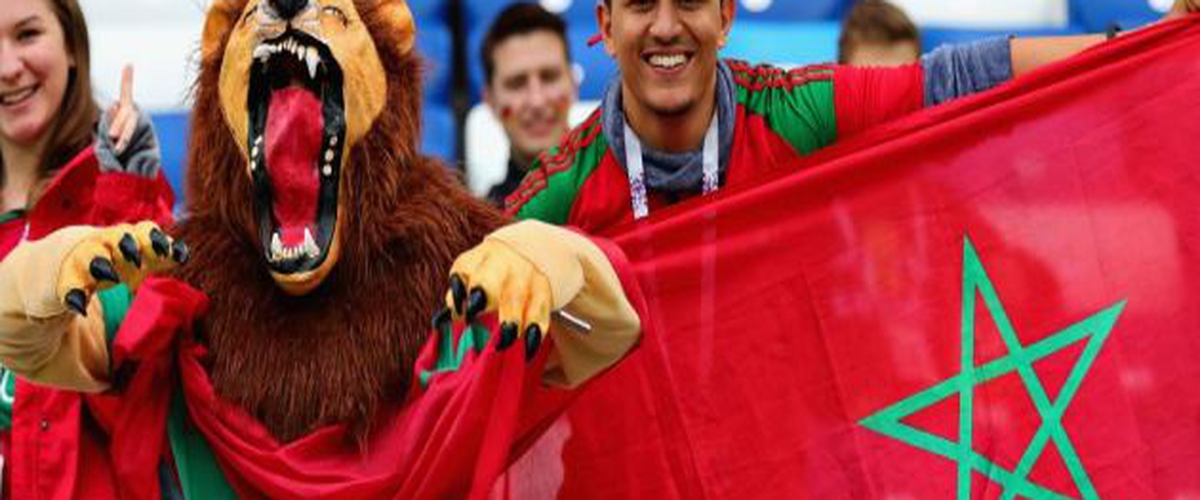 The interesting thing to know is that Morocco is a country of people having many ethnic, religious differences, with smooth relationships. The culture and traditions keep them one. Football bridges those minor cultural differences and supports the exchange of cultures by let them sit together and support their team. In a country having conservative traditions, people living in illiteracy and ignorance, football creates the space to unstress the tensions. The patriarchal norms are also been soften by the football narrative. Today there is a Women Football team of Morocco that exists.
Moroccan Football team for Women
Tolerance increased in Morocco with the awareness of women empowerment through games and different sectors of life. Patriarchal ice is still breaking and society is growing towards the norma which accepts gender-equality. As football has its influence on everybody regardless of age group or gender or profession, at least changed the perspective of the locals and aided for the tolerance of women playing football. Now in Morocco, women can opt for their own profession and interest to go and represent her country with a good name in the world.
I could see that, in general, Sports in Morocco are not only for the locals but for the vacationers as well. In Modern Morocco, there are a lot of grounds for Camel and horse riding, hiking on Atlas as a sport, and golf on the vast green grounds. Head towards the sea if you want to Ski in high or medium waves. You can take swimming classes and many more to do on the heavenly beaches and resorts in Morocco. If you think there is something more to add, you are welcome to write us back about your experiences.