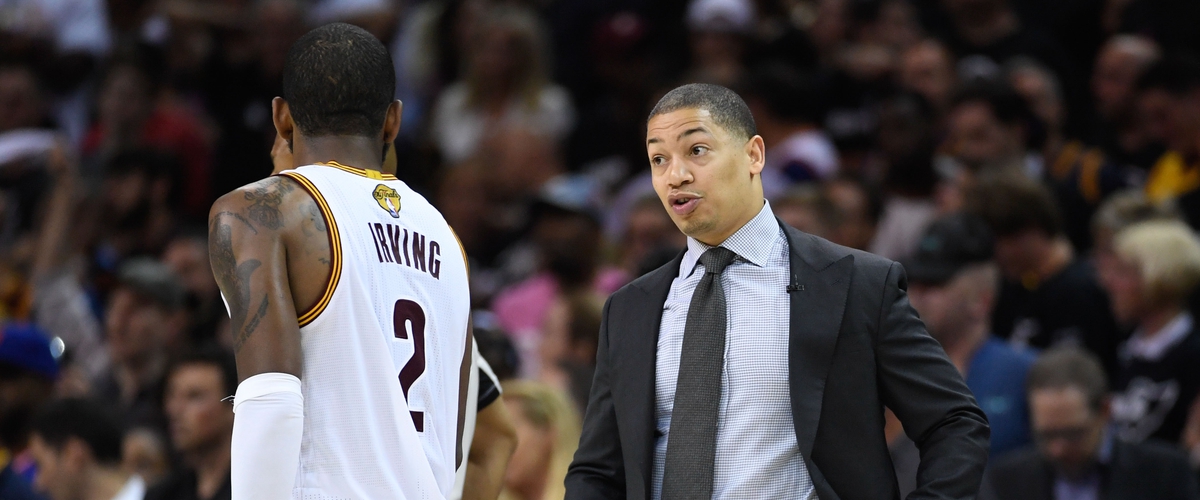 Kyrie Irving .... Why? And What Next?
Kyrie Irving, guard for the Cleveland Cavaliers, had quite the surprise for the sports world this past week. Not only fans, but even the Cavaliers organization. Including his current (soon to be former) teammate, LeBron James. He completely blind sided the NBA Finals runner-ups when he announced that he wishes to be traded. Not only did he say that he wishes to be traded though, he gave many hints that it is because he no longer wants to play along side 4X NBA MVP teammate, LeBron James. Wait, what? Who wouldn't want to play with a player of that kind of caliber? Not to mention that he has been to eight straight finals. Many sport analyst, including myself (self-proclaimed analyst) believe that one of the main factors is because of the way LeBron desires to run a team. He has never only been a leader on the court, he wishes to be a leader in the front office of his team as well. When he needs a certain player that he believes will complete his teams puzzle, he goes into the front office and demands it. The entire Cavaliers organization runs through LeBron James, in his mind anyways. And can we blame Kyrie for getting tired of that? I wouldn't. Whenever the cavaliers came up short or made mistakes, you never saw LeBron James take the blame, you saw his finger pointing at his teammates. So I believe Kyrie has had enough, not only does he want to move on from the huge shadow that LeBron casts on him, but he wants to create his own legacy himself. He knows that if he stays with the Cavaliers, whenever his career is looked back on in the future, everything he accomplished will be associated with LeBron, and he just doesn't want that. He wants to be the franchise player that he knows he can be.
We have covered the why, now what about what's next for the young all-star? He has made it public that his desired landing spots are the San Antonio Spurs and the New York Knicks. One makes perfect sense to me, the other though ... not so much. Let's think about why he would want to go to the Spurs and what would happen if he did. Well first of all, nobody can blame him for wanting to go to a franchise with such a successful history and present. If he were to be traded to the spurs, he would be paired up with Kawhi Leonard, who finished third in MVP voting this past season. The two of them would form one of the greatest backcourts, maybe ever. So imagine having the two of them in your guard spots and then factor in having Coach Pop as their coach ... the possibilities would be endless. Now some may ask why would he want to go play with another super star if he's tired of playing with one right now? Well Kawhi and LeBron couldn't be more different, Kawhi may be the most humble and quiet all-star in the history of the game of basketball. If Kyrie joined him, Kawhi wouldn't try to dictate him and the team, which is what Kyrie wants to happen. So the spurs would be a great option, but who knows how that trade would work out, considering the spurs don't have someone to send to the Cavaliers to fill the massive hole Kyrie would leave. Now what about the Knicks? Considering the Knicks star, Carmelo Anthony, is most likely leaving this offseason. I am not too sure what Kyrie sees in the Knicks organization. They do have a young star in Kristaps Porzingis, but even the two of them paired up together still probably wouldn't be enough to make the playoffs. The Knicks are a team that could make the trade happen, but why Kyrie wants that or what would come of it, is still very blurry.