What Will the Mets Lineup Look Like in 2020?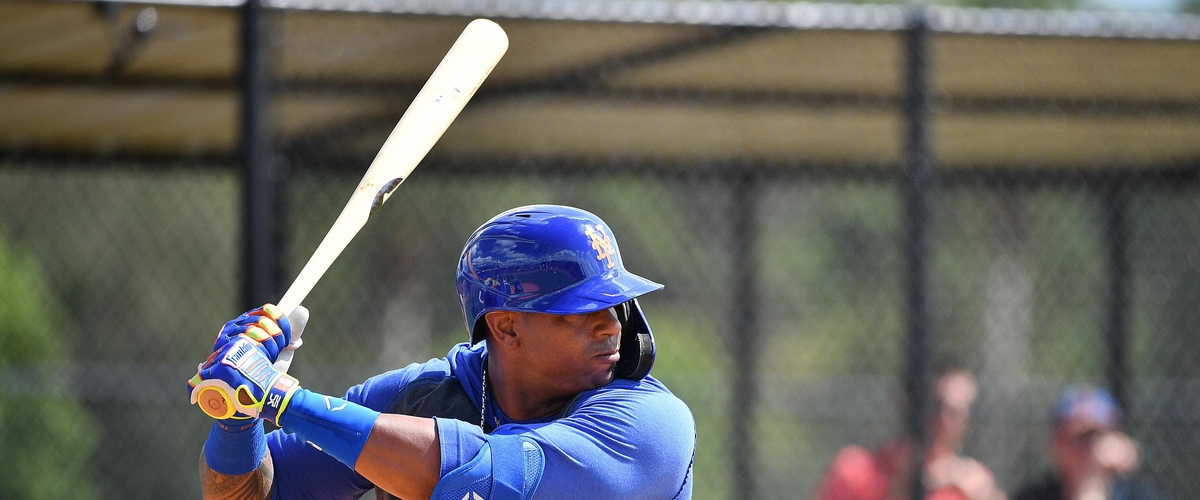 Opening Day is less than a month away. This season will be unlike any other season, with the biggest difference being just a 60 game schedule in 2020. Although its not a whole lot, I'm sure many fans will take anything they can get at this point. Another big change is the implication of the universal DH. Although as a baseball fan, I'm generally opposed to the DH, I think this can really help the Mets who have an overflow of talent in my opinion, and give rookie manager Luis Rojas more options to work with. That being said, here are five lineup possibilities that I think could work best.
Option 1: Cespedes at DH
Nimmo CF
McNeil 3B
Alonso 1B
Cespedes DH
Conforto RF
Cano 2B
Davis LF
Ramos C
Rosario SS
Yoenis Cespedes is the one player who should benefit most from a DH. Cespedes has not appeared in a game in nearly two years due to multiple injuries. As we saw in March, he seems to still be capable of swinging the bat, with his defensive capabilities still in question. Although he is known for his cannon of arm, the DH will allow the Mets to get the most out of his offense without risking injury in left field. Even though Pete Alonso will most likely lead the Mets in home runs this season, I would prefer Pete in the 3-hole with Cespedes hitting cleanup, because I feel as though Cespedes has more natural power. An argument can me made about whether to hit Michael Conforto in front of Yoenis, but I like the idea of the pitcher still having to face Conforto incase Cespedes cannot get on base. Another question left unanswered in spring training was who is the leadoff hitter. Personally, I like Brandon Nimmo at the top mainly because he can get on base and draw a ton of walks. I think Jeff McNeil would thrive best in the 2-hole as well as Amed Rosario in the 9-hole. I noticed that most AL teams usually have a speedster in the 9-hole, and I think Rosario would fit that role perfectly. Assuming Cespedes can stay healthy which is a big if, I think that this is the lineup Rojas should pencil in almost every day.
Option 2: Dom Smith gets a start
Nimmo CF
McNeil 3B
Conforto RF
Alonso 1B/DH
Cano 2B
Davis LF/DH
Ramos C
Smith 1B/DH/LF
Rosario SS
Although Cespedes is expected to be ready to go for Opening Day, there are never any guarantees in terms of his health. Even if healthy, I don't think Rojas would even want to run him out there every single day. In this case, the Mets next best option to fill that spot would be Dom Smith. Last season, Smith was blocked at first base by Pete Alonso. However, Dom still provides a good bat that the Mets could still find a way to use to their advantage. With the DH, he and Alonso could alternate between the DH and first base. The Mets have also used him in left field in the past, so another possibility is to alternate him JD Davis between the DH and left field, as neither has proven to show outstanding defensive qualities. In this lineup, Michael Conforto would move up the 3-hole, as I noticed the team performed better last season when he hit in front Pete Alonso. Even if he isn't in the lineup everyday, Dom Smith should still receive a number of chances to contribute in 2020.
Option 3: Cano at DH
Nimmo CF
McNeil 2B
Conforto RF
Alonso 1B
Cano DH
Davis 3B
Ramos C
Smith LF
Rosario SS
If the Mets want to get the most out of Robinson Cano's bat, it might be best if they give him some days off from playing second base as he heads into is age-37 year, and dealt with multiple injuries last season. This season, Rojas has the opportunity to put Cano in the DH slot on occasion. If this were the case, McNeil could play 2nd, which is his more natural position, Davis could play 3rd which he is more familiar with, and Smith could get another opportunity in left field, as I don't think Cespedes should play the field at all this season.
Option 4: Ramos at DH
Nimmo CF
McNeil 3B
Conforto RF
Alonso 1B
Cano 2B
Davis LF
Ramos DH
Rosario SS
Nido/Rivera C
Wilson Ramos will be the starting catcher in 2020, but it is almost certain that he will need a day off here and there from catching. However, his bat is too good for Mets to afford to lose. With a 30-man roster set to be in place for the first two weeks of the season, there is a good chance that both Tomas Nido and Rene Rivera will make the team, with at least one if not both remaining on the active roster going beyond that point. If Rojas determines that Ramos needs a break, he could use him at DH, and have either Nido or Rivera catch. Ramos has also been criticized for his defense at times, so either one of his backups should provide an upgrade behind the plate.
Option 5: Marisnick in CF
Rosario SS
McNeil 3B
Alonso 1B
Cespedes DH
Conforto RF
Cano 2B
Davis LF
Ramos C
Marisnick CF
One of the moves the Mets made this offseason was trading for Houston Astros' centerfielder Jake Marisnick. Although Brandon Nimmo is expected to start in CF, the Mets haven't always started against tough lefties. He also isn't considered a natural centerfielder, with the team mainly relying on him for his bat. Marisnick on the other hand, is much more known for his defense than Nimmo, and despite not being much of a hitter, Rojas might prefer him against a tough lefty. In this case, Rosario could hit leadoff, and Marisnick could hit ninth. I wouldn't expect this lineup to be used a whole lot, but don't be surprised if Marisnick gets inserted here and there as a late-game defensive replacement.
These are simply suggestions. I wouldn't be surprised is Luis Rojas uses a lineup that looks nothing like any of these. Either way, I think as long as the right players are in the lineup, the order in which they hit shouldn't make much a difference. Now with a DH, I think Mets fans have a lot to look forward to for the 2020 season.
---