One Year Rental or Dynasty: Brook Lopez to LA Lakers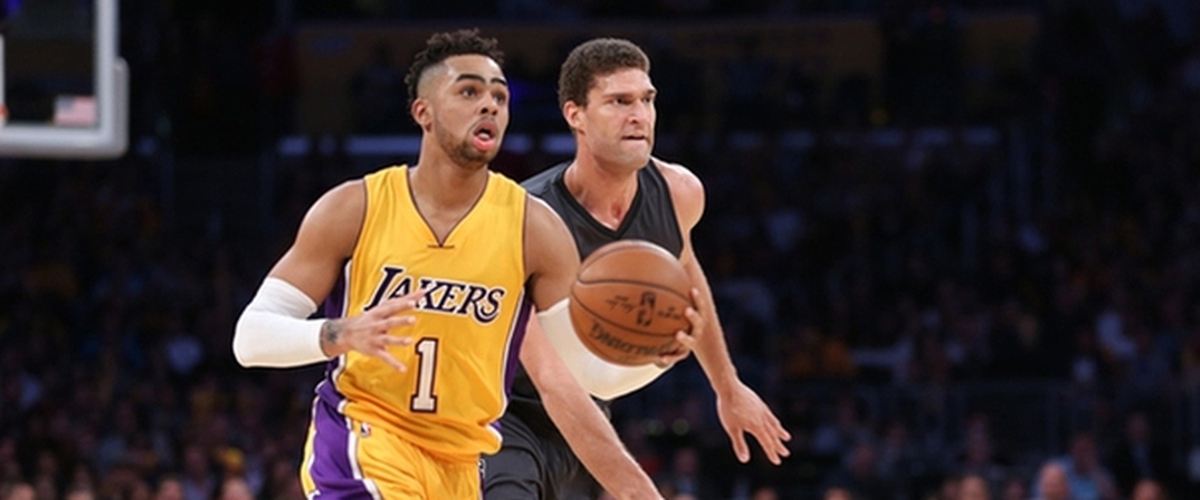 The Los Angeles Lakers have made its first trade since Magic Johnson was named President of Basketball Operations. Now that the NBA Draft is getting near, there were a lot of trade rumors which involved a possible trade regarding the Lakers' starting point guard and former 2nd overall pick D'Angelo Russell. Most of the rumors were regarding the Indiana Pacers star Paul George, who have expressed its desire to play in Tinsletown. Many have speculated that Lakers' front office would offer some of its young developing stars for a chance to get George. But nobody expected that the Lakers would trade D'Angelo Russell for Brook Lopez.
There are pros and cons regarding this unexpected trade but I do believe it benefited both the Los Angeles Lakers and Brooklyn Nets. The Lakers have successfully dumped the unnecessary large contract of big man Timofey Mozgov, it cleared the Lakers' bulk in cap space and could potentially sign more top tier free agents in the offseason. The cons for the Lakers is that they gave up a promising young star in D'Angelo Russell that has proved his progress in the past two seasons, he also had big games last season that showed glimpses of his potential as a future star in the NBA. Now, that he is a new member of the Brooklyn Nets, he could prove his worth by being the franchise player that could lead his new team into playoff contention but I honestly think that it might take a little longer for the losing franchise to be contenders in the mere future. On the other hand, the Lakers' newest member of its roster might not be a good fit. Brook Lopez in the past few seasons was hampered by injuries and did not play in competitive basketball due to his former ball club's lack of wins. The other concern is that Lopez's contract is only due at the end of the season and he might eventually sign with another team if he's not satisfied with the Lakers. This means that the Lakers might have just traded their promising point guard in the future for a one year rental of Brook Lopez.
Assuming that the Lakers draft Lonzo Ball in their second pick, I hope that Lonzo would turn out to be the player that is written in various scouting reports with his "Magic Johnson" like skills and court vision. With that being said, the Los Angeles Lakers after this off season could eventually wind up with a starting lineup of Ball, George, Ingram, Randle(if not traded to Indiana), and Lopez if ever they get Paul George, forming a new dynasty that could eventually compete for a playoff spot next season.
---