NFL Top 10 500-Yard Passing Games: No. 6 Matt Ryan (503 Yards vs. Panthers, 10-02-2016)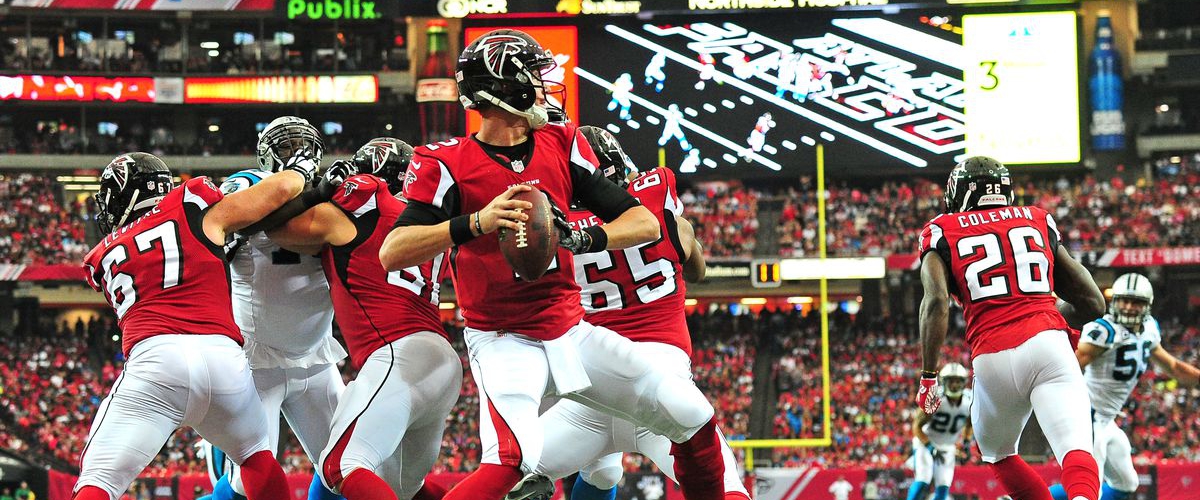 Hosting the defending NFC Champions Carolina Panthers in Week 4 of the 2016 season, Matt Ryan and the Falcons mercilessly declawed them for 503 yards passing and four touchdowns in a 48-33 shellacking.
Wide receiver Julio Jones accounted for over half of Ryan's passing total with 300 receiving yards and one touchdown on 12 receptions. Jones became the fourth player in NFL history to record 300 or more receiving yards in a single game. Ryan and Jones also became the first QB-WR duo in NFL history with 500 passing yards and 300 receiving yards in the same game.
Atlanta's 571 total yards of offense also set a single-game franchise record. The main victim of Matty Ice and Julio's onslaught was third-year cornerback Bené Benwikere, who was torched for 184 yards, including Jones lone touchdown that went for 75-yards. Benwikere's perfromance was so disastrous that he was cut days after the game.
Jones also recorded 98 more receiving yards against rookie corners James Bradberry and Daryl Worley. Panthers simply had no answer, and the loss of All-Pro cornerback Josh Norman to free agency was certainly felt. It was only the second time a defending conference champion allowed a 500-yard passer in the ensuing season.
Ryan emerged as the leading M.V.P. candidate after his record-setting performance, and would bag both offensive player of the year and league M.V.P. honors following the season, while leading the Falcons to a 11-5 record and an appearance in Super Bowl 51. Ryan became the third quarterback in last five years to win both OPOY and M.V.P. in same season.
Though Ryan failed to cap his historic season with his first Super Bowl crown after Atlanta infamously blew a 25-point lead against the New England Patriots in the Super Bowl, Matty Ice's 2016 campaign finally cemented himself as one of the games most elite passers after years of inconsistency and underwhelming in the postseason. And it all started on that October afternoon at the Georgia Dome when Ryan evolved from Ice to Fire.