NFL Top 10 500-Yard Passing Games: No. 7 Warren Moon (527 Yards vs. Chiefs, 12-16-1990)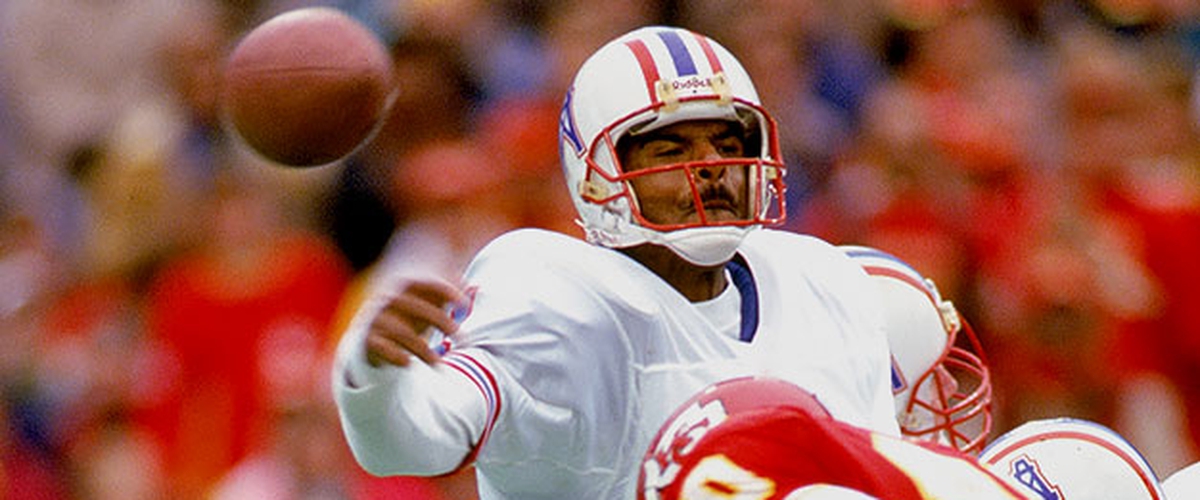 Coming off the heels of a 58-14 drubbing over Cleveland Browns, the 7-6 Houston Oilers traveled to Kansas City to face the vaunted Chiefs at Arrowhead Stadium in an effort to keep their playoff hopes alive.
The 9-4 Chiefs boasted one of footballs toughest defenses, highlighted by three Pro Bowlers (Derrick Thomas, Albert Lewis and Kevin Ross). Chiefs entered the game leading the NFL in takeaways (39) and sacks (53). They also ranked third in fewest points allowed (199). They finished the 1990 season ranked fifth in total defense.
And then there was the Arrowhead factor. In the 1990s, Arrowhead Stadium was one of the toughest places for opposing teams. The Chiefs only other home loss in 1990 was a one-point loss to the Seahawks 17-16 despite 7 sacks from Derrick Thomas. In the entire decade of the 1990's, the Chiefs were 63-17 at Arrowhead, best home mark in the AFC, and second in the entire NFL only to the San Francisco 49ers (64-16).
The Oilers offense were just as daunting as the Chiefs defense. Houston entered the matchup ranking first in NFL in total yards (4,928), passing yards (3,786), passing touchdowns (30), and third in points scored (324). Oilers QB Warren Moon came into the game leading the NFL in passing and rated as the No. 2 quarterback in the NFL behind Buffalo Bills QB Jim Kelly.
This game was truly one of footballs best examples of the phrase "The irresistible force meets the immovable object." But as Ace Ventura once famously said, "Unfortunately in every contest, there must be a loser."
Houston quarterback Warren Moon speared his way through the vaunted Kansas City defense, finishing with 527 yards -- the NFL's second highest single-game passing total in history, three touchdowns and no interceptions in a 27-10 rout over Chiefs. It was Kansas City's worst loss in terms of point differential all season (17), and their worst at home in three seasons.
The Chiefs were left completely shellshocked and in utter disbelief. Cornerbacks Kevin Ross and Albert Lewis, both Pro-Bowlers, in particular were practically speechless.
"It's shocking," Ross said. "We blitzed him. We played zone. We played man. He saw everything today. And those guys made plays for him. What more can you say?"
"That's a pretty awesome display of skill," Lewis said. "What can you say? The man threw for 527 yards."
Chiefs head coach Marty Schottenheimer added, "I would have bet my house that Warren Moon wouldn't throw for 500 yards against our defense. I'm glad I didn't."
Chiefs All-Pro linebacker Derrick Thomas offered praise and admiration of his adversary's performance: "One of the most unbelievable, incredible, awesome displays any quarterback ever put on."
Moon easily erased the Oilers single-game passing mark of 464 yards, set by George Blanda against the Buffalo Bills in 1961. Receiver Haywood Jeffires exploded for 245 yards and one touchdown on nine receptions. Even after the team was renamed the Titans in 1999, the yardage total still stands as the second single-game highest in franchise history. Jeffires 245 yards was also at the time the second most in a 500-yard passing game in NFL history.
"I want to thank Warren," Jeffires said, "for the day he gave me."
The Oilers would finish the 1990 season 9-7, earning a wild-card berth. Warren Moon arguably had his finest season, leading the league with 4,689 yards and a single-season career high 33 touchdown passes.
But perhaps the most awe-inspiring footnote in Moon's earth-shattering 527-yard performance was his claim that he could've had even more. "When I watched the game, I think the next day, that was the first time I thought we had a chance to throw for 600 or 650 in that game," Moon said.
Moon, the product of the Canadian Football League, cites this game as the moment he earned the respect and validation of his peers around the National Football League in which for many years, he yearned for.
"When you beat a really good team in their place, with all the conditions going against you, I think you earn the respect, if not with fans around the league, then definitely with players and coaches around the league," Moon said. "They understand how difficult it is in this league to do things well. You put those types of numbers up against that type of football team, that really gave me a lot of respect.
"And it gave our offense [Run-and-Shoot] a lot of respect. They thought it was some gimmicky thing and that it was not a viable, legitimate offense in the NFL. That game was huge for dispelling that notion."
Much like the famous moon landing of Neil Armstrong back in 1969, Warren Moon became a pioneer on his own merit, of starting a revolution of wide-open offenses that is currently employed in today's NFL.
Moon's heroics at Arrowhead in 1990 was truly "One Giant Leap For Mankind."