Blues steal game 2 In Boston Wednesday Night.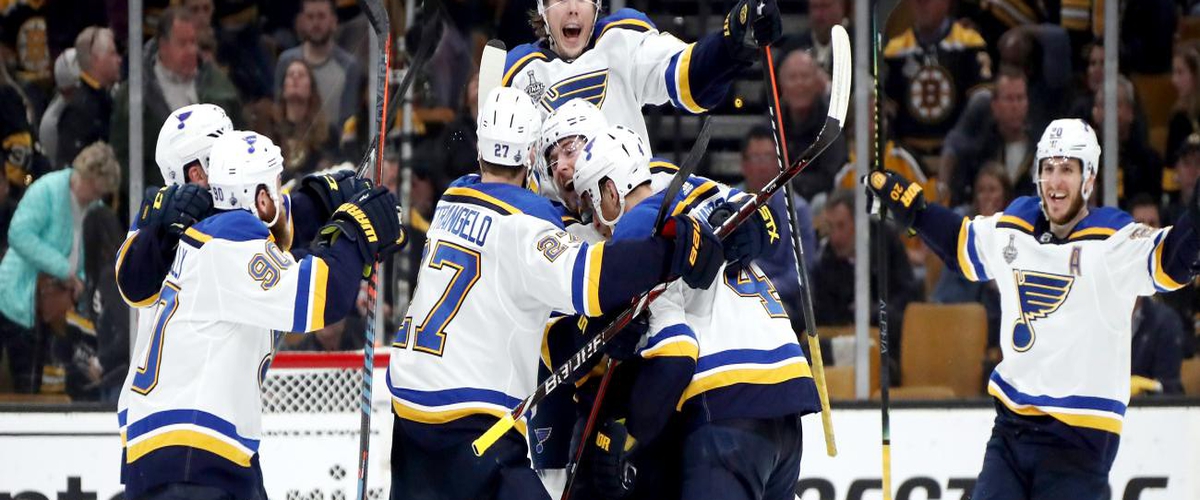 Blues win in OT
BOSTON, MA- The St Louis Blues have won their first Stanley Cup Finals game in team history in a hard hitting game 2 in Boston. A 3-2 win In OT evens the series going back to St Louis. As a Bruins supporter, this was a heartbreaker for Boston.
Bruins forward and Massachusetts native Charlie Coyle drew first blood 4 minutes and 44 seconds into the first period on a power play goal one timer through the five hole of Jordan Binnington. The pumped up Boston crowd roared with excitement as the B's took the lead. A stupid interference penalty on St Louis forward Sammy Blais led to the early lead for Boston. However, there was a too many men on the ice that was not called on Boston. Bruins 1-0 Blues 15:56 1st
About 5 minutes later, a deflection in front of the Boston net evened the game. Defenseman Robert "Ya Know" Bortuzzo was credited with the goal. Bruins 1-1 Blues 10:23 1st
40 seconds after a fluke St Louis goal, the Big Bad Bruins regained the lead on a goal from Nordstrom. In incredible backhand pass by Sean Kuraly set up this goal giving Boston the lead back. Bruins 2-1 Blues 9:43 1st
In the final 5 minutes of that high scoring first period, St Louis wingers Jaden Schwartz and Vladimir Tarasenko broke into the Boston zone on a 2 on 1. The initial shot from Schwartz was saved by Rask, while a rebound attempt by Tarasenko was also stuffed by Tuukka's skate, kicking the puck away. Tarasenko regained possesion of the puck and flicked it past Rask on the backhand evening the game. Ending a very high scoring and entertaining 1st period. Bruins 2-2 Blues 5:05 1st
Later in the first period, Bruins Defenseman Matt Grzelcyk was injured on a controversial hit by Blues centerman Oskar Sundqvist. Oskar Sundqvist is facing possible suspension. Heres the link to a video of the controversial hit courtesy of SportsNet https://www.youtube.com/watch?v=g1DlMYqUQdE
60 minutes was not enough to decide a winner. We would need overtime to find a winner in Boston.
"BOOM! BOOM! GUNNARSSON!!!! BRING OUT THE ZAMBONI!!! THE BLUES WIN GAME 2!! 3-2 THE FINAL, THEY'RE COMIN' HOME TIED AT 1!!!!"-Blues announcer John Kelly's call of Carl Gunnarsson's overtime winner. With a delayed penalty coming up on Boston, the Blues brought out the extra skater. Gunnarsson ripped one from the bluemline over the blocker of Rask. Heres the awesome audio of Kerbs' call on that overtime winner courtesy of KMOXSports:
https://twitter.com/KMOXSports/status/1133938840706715648
The St Louis Blues take the series back home even at 1.
Highlights of last nights thrilling game 2 courtesy of NHL: https://www.youtube.com/watch?v=lw3TXHKaro4&feature=onebox
What are your thoughts on last nights game?
Email me or one of my podcasts at blakefollansbee@icloud.com or isleswireweekly@gmail.com