Week 5 NFL Picks - Points Galore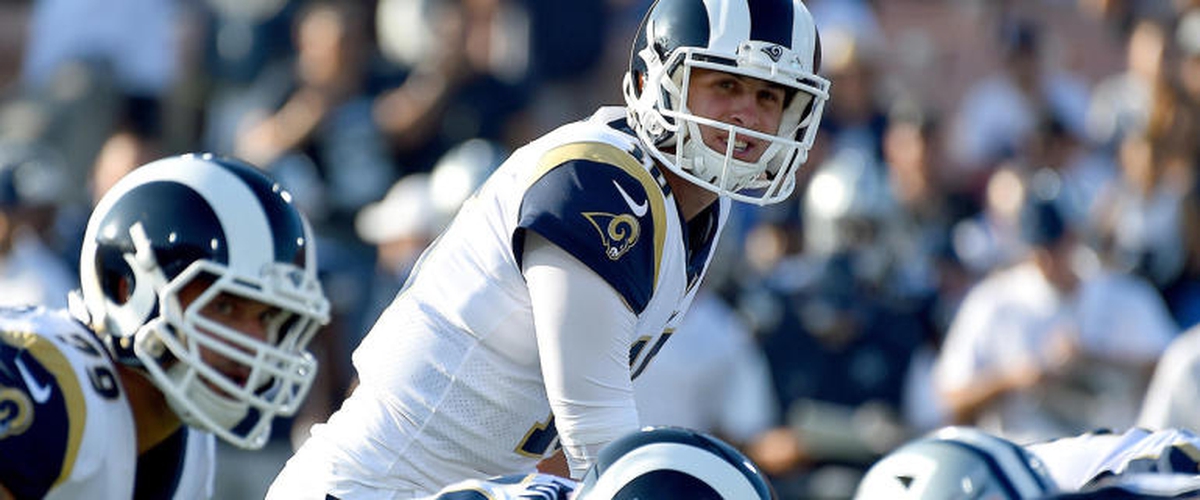 We're a quarter of the way through the NFL regular season - what a ride! The amount of parity thus far in the season has been insane; it's bringing a whole new meaning to the phrase "Any Given Sunday." Considering how wild the season has been, I'm fine with my 9-7 record on last week's picks. With 4 teams on bye weeks (Saints, Broncos, Falcons and Redskins) there will be 14 games played in Week 5. This slate of games starts tonight when the struggling Patriots travel to Florida to play the 2-1 Buccaneers. Enough premise; let's get to the picks!
New England Patriots @ Tampa Bay Buccaneers (Thursday, 8:25 PM ET)
Tom is going to get his high five this week. After losing a heartbreaker to the Panthers last week, Belichick and Brady don't want to make it back-to-back losses. The Pats simply don't do that very often. Since 2001, New England is 40-11 (.784) coming off a loss. Tampa Bay has wins against the Bears and Giants, neither anywhere near as good as the Pats. New England should have no problem with this one.
The Pick: Patriots 35, Buccaneers 21
New York Jets @ Cleveland Browns (Sunday, 1:00 PM ET)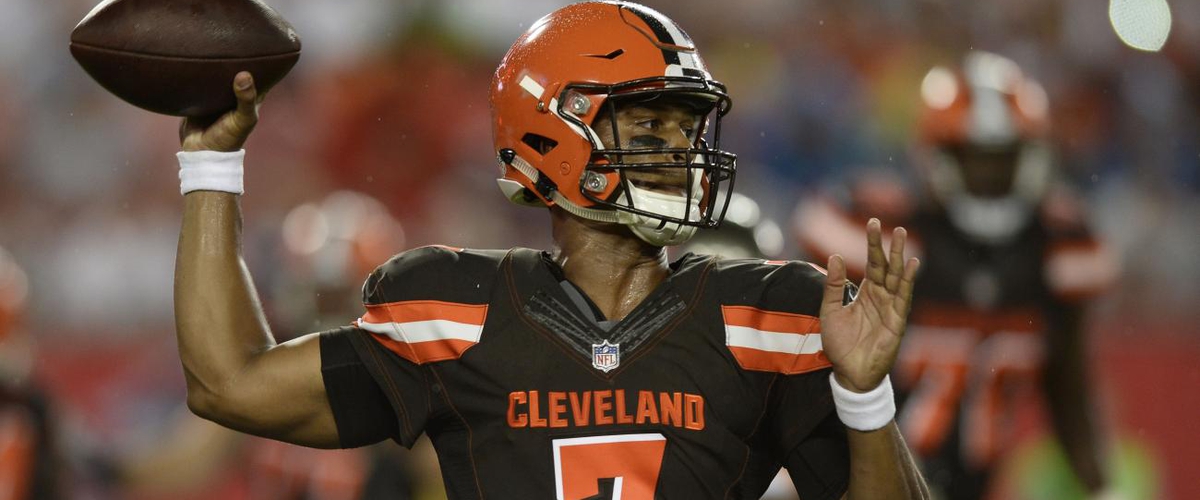 51% completion percentage, 3 touchdowns, 8 interceptions. You've got to feel for DeShone Kizer. Cleveland is the hardest place to learn how to play QB, by far. Kizer's not progressing as I expected him to but I'm keeping faith in him: especially this week. The Jets have a decent defense but in a game where points may be hard to come by, Kizer may flip the script and thrive. Both teams will score a couple of touchdowns, Cleveland wins by a field goal.
The Pick: Browns 20, Jets 17
Carolina Panthers @ Detroit Lions (Sunday, 1:00 PM ET)
Last week, I called Cam Newton out and said his MVP alter ego wouldn't show up against the Patriots. Naturally, MVP Cam did this in the first half:
He's back. This game against Detroit should be a close one. The Lions only managed 14 points against a Minnesota team that (albeit having a great defense) shouldn't have given up just two touchdowns to one of the most explosive offenses in the NFL. Carolina will prove its legitimacy this week, but in a loss. The Lions will go back to their old selves on Sunday, in a good way.
The Pick: Lions 31, Panthers 28
San Francisco 49ers @ Indianapolis Colts (Sunday, 1:00 PM ET)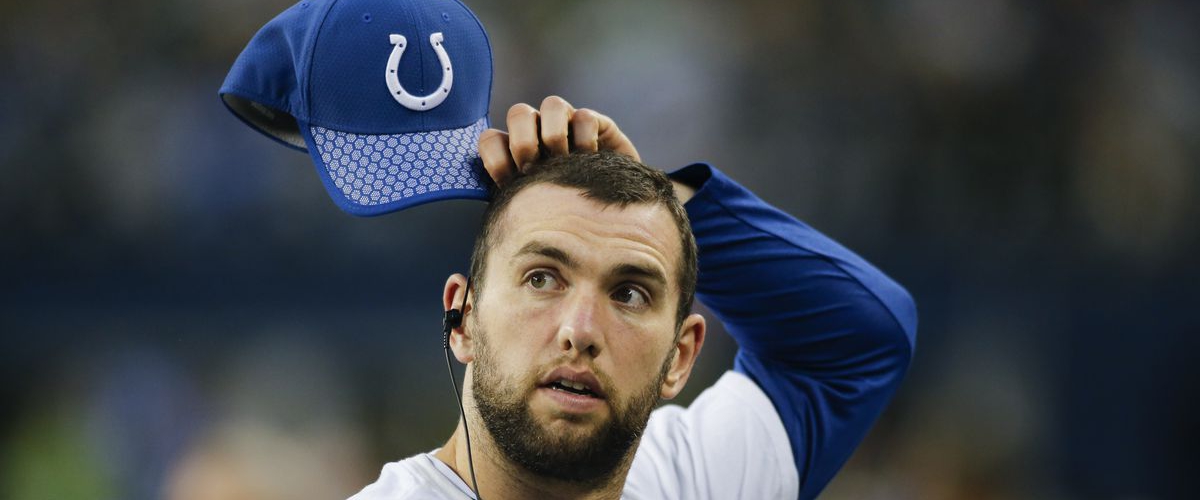 Good news for the Colts: Andrew Luck has started throwing at practice.
Bad news for the Colts: Andrew Luck isn't playing this week.
The 49ers are due for a win. Very due. Aside from one good game vs. the Rams, Brian Hoyer has been bad for San Francisco. Expect a solid game from him this week. The matchup to watch is how each defense plays, a matchup that the Niners have the clear advantage in. You're finally going to get a win, San Francisco!
The Pick: 49ers 21, Colts 17
Tennessee Titans @ Miami Dolphins (Sunday, 1:00 PM ET)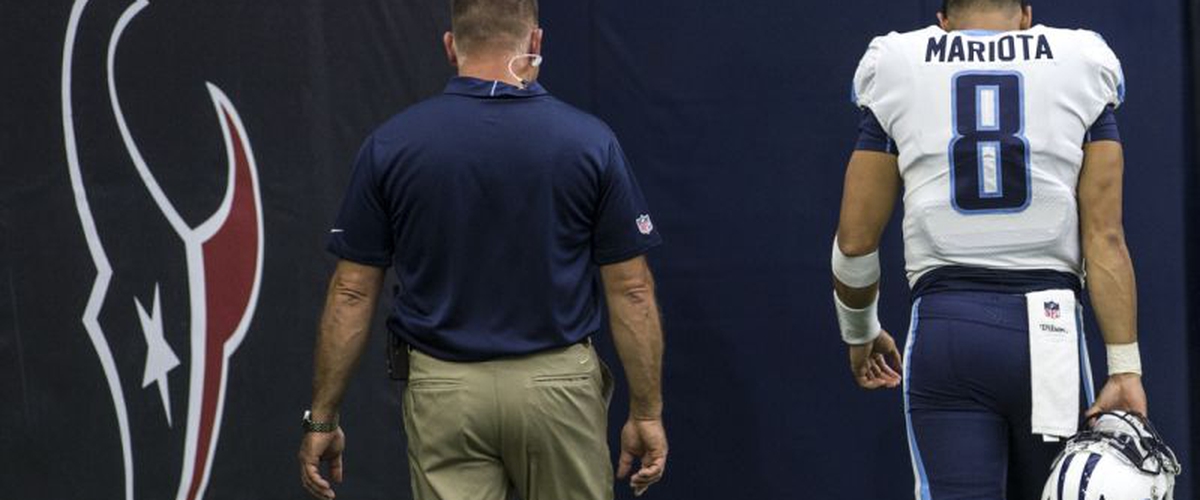 This pick is contingent on whether or not Marcus Mariota plays on Sunday. He's listed as "day-to-day" in the injury report, but was a limited participant in practice Wednesday. If I were to bet on it, I'd say he'll play Sunday. If he does, expect Tennessee to get back on track with a 3-touchdown performance. If Mariota can't go, Matt Cassel is a significant downgrade: 14 points seems fair. Miami has been a tough team to watch the past couple weeks, I'm giving them a moral boost with Mariota being inactive or just two touchdowns if he is playing. Mariota's presence is definitely felt on both sides of the ball.
The Pick: Dolphins 24, Titans 14 OR Titans 24, Dolphins 14
Buffalo Bills @ Cincinnati Bengals (Sunday, 1:00 PM ET)
The Bills look legit. They're in a lose-lose situation this week when they travel to Cincinnati to play the Bengals. A convincing win won't be very convincing due to the quality of their opponent but a loss will be a very convincing loss to non-believers of the Bills. Andy Dalton has played well recently for Cincinnati, but a strong performance from him and AJ Green won't be enough to beat what is arguably the best defense in the NFL right now. Live on, Buffalo.
The Pick: Bills 31, Bengals 17
Los Angeles Chargers @ New York Giants (Sunday, 1:00 PM ET)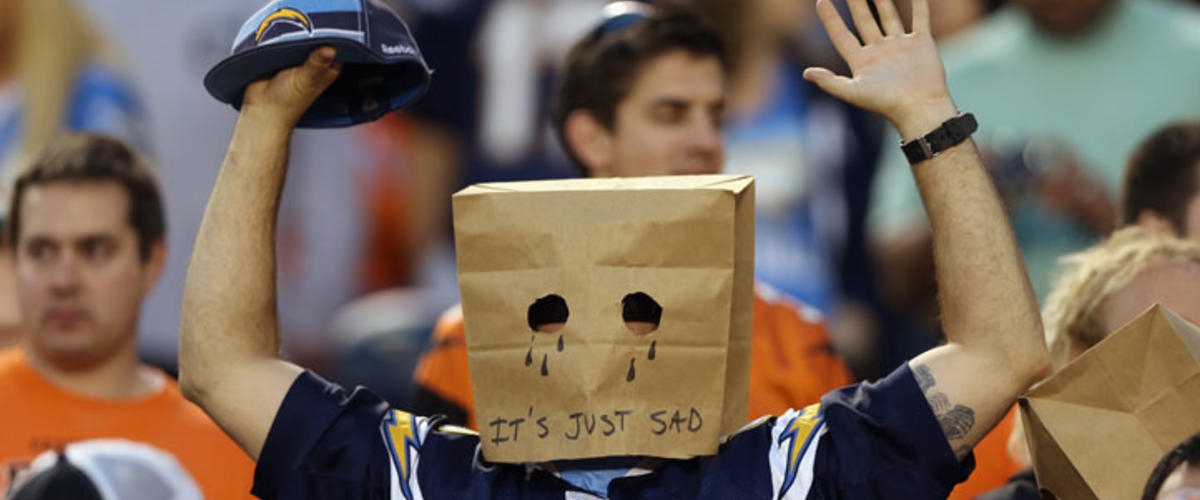 This one is going to be ugly. Both teams are looking for their first win of the season. Both teams are coming off close losses to teams that are much better than they are. Both teams are bad. Okay, we've got what these two have in common out of the way. The sad thing is, they're not that different. LA has a history of bad luck, Eli gets a narrow win.
The Pick: Giants 21, Chargers 20
Arizona Cardinals @ Philadelphia Eagles (Sunday, 1:00 PM ET)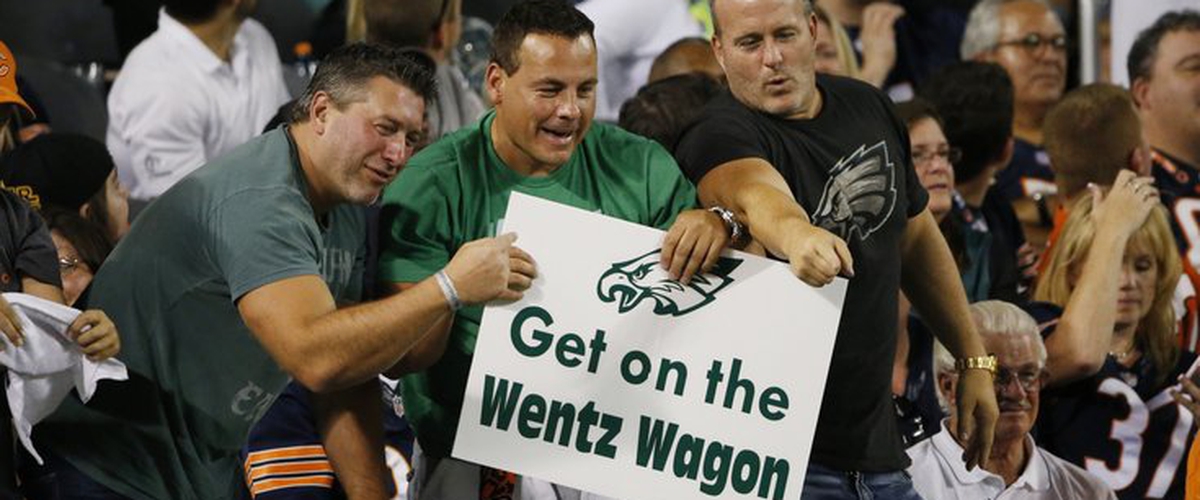 It's not too late to hop on the Wentz Wagon, seriously. The Eagles are one of the best teams in the NFC and the Cardinals aren't going to slow them down. Last year, Philly started 3-0 and proceeded to go 4-9 the rest of the year. This season is different. Carson Wentz has taken his game to a whole new level and LeGarrette Blount brings another dimension to this offense. The Cardinals nearly lost to the 49ers last week; this one speaks for itself.
The Pick: Eagles 27, Cardinals 13
Seattle Seahawks @ Los Angeles Rams (Sunday, 4:05 PM ET)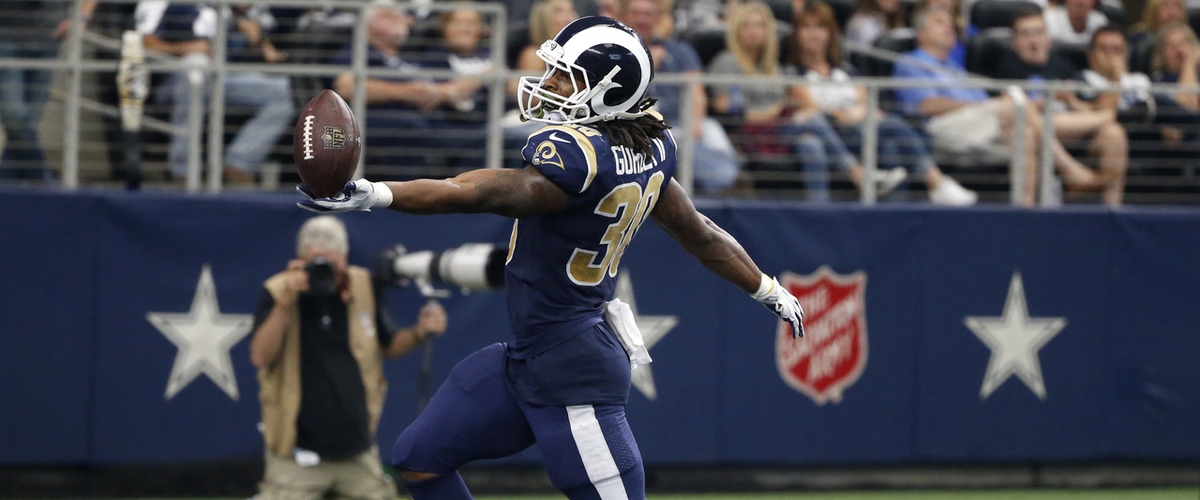 This Rams team is so, so, so much fun to watch. The defense has yet to live up to its potential, meanwhile the offense is averaging 36 points a game. The Seahawks dropped 46 on the Colts last week, but the Offensive Line is still dangerous to bet on. The Rams face a big test with the LOB on the horizon this weekend, Goff and Gurley are going to rise to the occasion and the defense will play a good game against a good opponent.
The Pick: Rams 31, Seahawks 21
Baltimore Ravens @ Oakland Raiders (Sunday, 4:05 PM ET)
"Derek Carr's back" is usually a phrase that makes Raiders fans rejoice. Not this time. Carr is out for 2-6 weeks with a spinal fracture, resulting in the entire offense on the injury report for 2-6 weeks. Maybe not? EJ Manuel has a chance to prove he's worth a starting spot somewhere in this league and Marshawn Lynch is built for 20+ carry games that are likely headed his way. Joe Flacco has not looked good this year (4 TD, 6 INT), so the Raiders might be able to steal one against a bad opponent.
The Pick: Raiders 20, Ravens 17
Green Bay Packers @ Dallas Cowboys (Sunday, 4:25 PM ET)
This is a game between two teams who aren't in the same division, but still have a storied past and a fun rivalry to look forward to when they play each other. Dallas lost to a hot Rams team last week, while Green Bay rolled over the Chicago Bears in Lambeau. This should be one of the more entertaining games of the week. Both Green Bay and Dallas should bring their A-Game, and it's hard to pick against Aaron Rodgers when he brings his.
The Pick: Packers 34, Cowboys 27
Kansas City Chiefs @ Houston Texans (Sunday, 8:30 PM ET)
This is my game of the week. Alex Smith and the Chiefs are coming off a thrilling win against the Redskins and DeShaun Watson is coming off the game of his life vs. the Titans. Both teams possess explosive offenses and (sometimes) dominant defenses. I'm giving the Chiefs the edge in this one due to the fact that they're averaging 13.5 points per fourth quarter and because Alex Smith > DeShaun Watson (for now). This will be a shootout and likely the most fun game of the week to watch.
The Pick: Chiefs 42, Texans 35
Minnesota Vikings @ Chicago Bears (Monday, 8:30 PM ET)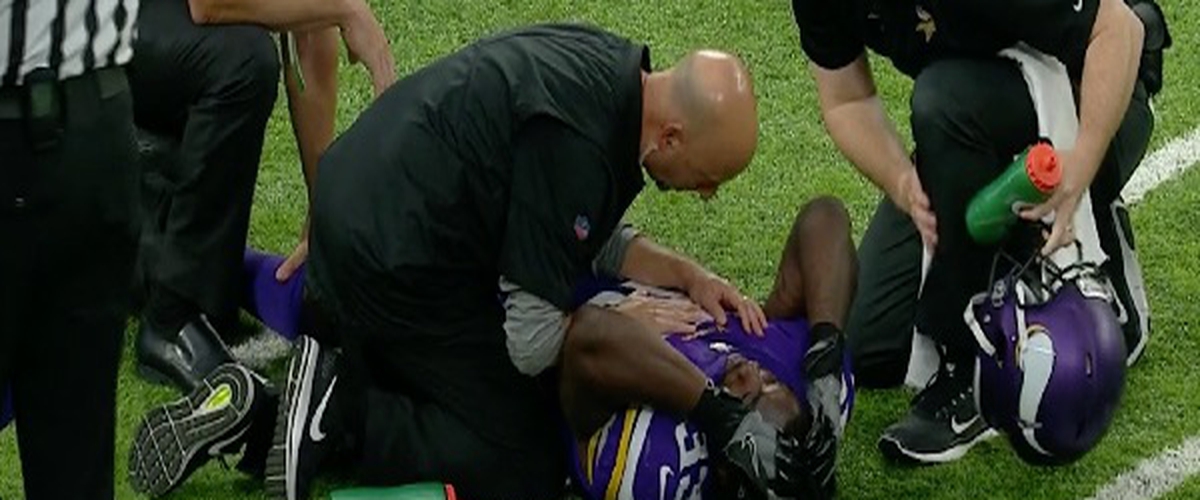 When Dalvin Cook was taken off the field last week due to a broken leg, the Vikings' offense may have went with him. Latavius Murray is a good replacement for the rookie, but Minnesota was only able to muster 7 points in the entire game last week against the Lions. Case Keenum should be starting again this week. When your backup QB and RB are starting for you, things don't tend to go well. I'm going with the upset here, I think Mitchell Trubisky is going to make his impact known this week in his debut and the Vikings won't be able to score as many points as Chicago.
The Pick: Bears 17, Vikings 10
That's it for this week's picks! Thanks a bunch for reading, I hope I can improve on my 9-7 mark from last week. Let me know if your picks are different! I'd love to chat about it.
This is your reminder to put your Best Foot(e) Forward in everything you do today. Be the best you possible, others will want to do the same!
As always, if you'd like to get in touch with me or follow my social media accounts, you can find them here:
Facebook: https://www.facebook.com/TheBestFooteForward
Twitter: https://twitter.com/TheBestFooteFWD
Instagram: https://www.instagram.com/thebestfooteforward
Email: bestfooteforward17@gmail.com