Everyone Loves Gifts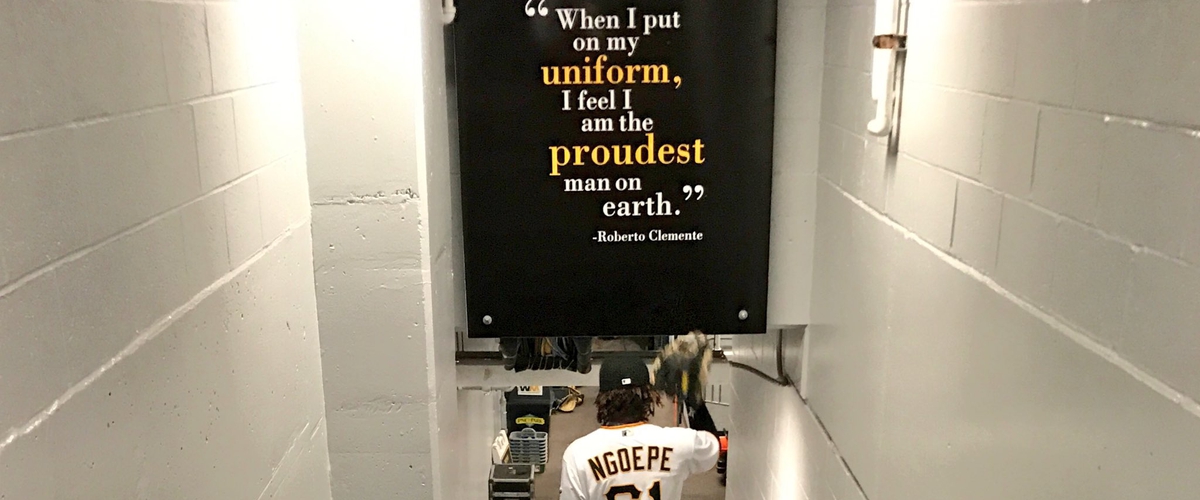 (Photo Courtesy: Pittsburgh Pirates Twitter)
Sooner or later, a certain part of history was going to be made in Major League Baseball. History can be made on any given night, and in many different ways. Whether it's no-hitters, perfect games, a player hitting for the cycle, or a representation of a country for the first time at the major league level.
The latter is something that is not too common, but it does happen on occasion. This occasion occurred last night at PNC Park in Pittsburgh. The first ever African-born Major League Baseball player took the field. South African Gift Ngoepe made his major league debut for the Pittsburgh Pirates amidst their 6-5 triumph over the defending World Series Champion Chicago Cubs.
The 27-year-old South African is now 27 years of age. He's spent about 8 ½ years with the Pirates and his time finally came on Wednesday evening. Ngoepe was signed in September of 2008 by former Pirates scout Tom Randolph. The Pirates have concerns over David Freese due to his hamstring soreness, which paved the way for the Pirates to make the call to AAA-Indianapolis and recall Ngoepe.
Ngoepe, known more for his defense than his offense, had a solid night at the plate. Ngoepe was called upon in the top of the fourth inning upon the exit of Pittsburgh starter Tyler Glasnow. In three plate appearances, Ngoepe went 1-for-2 with a single. His approach at the plate was something to watch, especially considering he hit just .241 for the Indianapolis Indians through Sunday. The Indians had each of their games postponed against Pawtucket on Monday and Tuesday respectively.
Ngoepe's defense may be so highly touted due to his love for the game of baseball. Ngoepe's mom was a clubhouse manager for a South African baseball team, which influenced his love for the game. Ngoepe would throw balls against a wall to learn how to field back in his hometown of Randburg, South Africa. He told sports radio 93.7 the Fan "I used to do it on cement, on grass and I would get different kinds of bounces." He adds, "I really worked hard on my hands and my feet working together, and that's helped me a lot."
Ngoepe's mom Maureen passed away back in 2013 after a battle with double pneumonia. However, he has now honored his mom, as he long promised her that his moment in the major leagues would one day arrive. On Wednesday night, Ngoepe's promise came through and he talked with Robby Incmikoski following the Pirates victory. He spoke of his mom and how she was watching him from up above in heaven.
As if the story could not get any better, Ngoepe also has a brother who the Pirates assigned to the Gulf Coast League Pirates. When Gift received the news of his call-up ahead of Wednesday's game, his brother Victor was the first person he called to share it with. 19-year-old Victor ran around the whole Pirate City complex and shared the news with everybody that his brother was finally being called up, according to Gift.
In what has been an up and down first month of the season for the Pirates, Ngoepe's story is one of the brighter one's on the young campaign. In fact, it's one of the best stories in all of baseball and it's hard to not get behind a kid like Gift. If his brother Victor would make it to the majors, well, that would be the greatest gift Maureen could have ever asked for.
---