The Breakdown : Josh Allen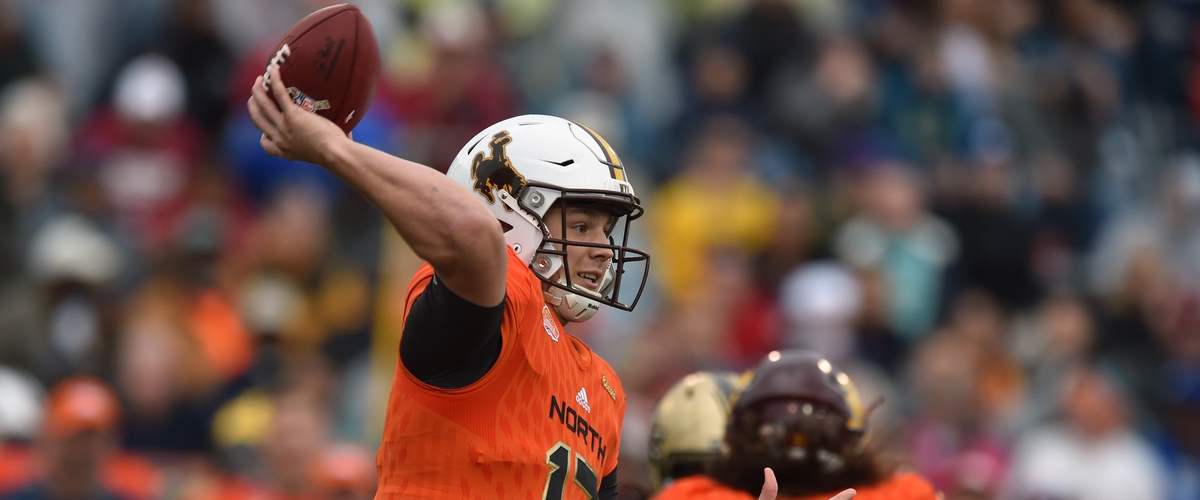 Josh Allen is thought, to this point to be a top 5 quarterback and potential top draft pick. So far he can be anywhere from a top 5 player off the board to late or early 2nd round pick, but his combine will set his draft position in stone. It is certain that he is an incredible talent, but he has some key weaknesses that could side track his NFL future.
Weaknesses
The biggest weaknesses, by far that stands out about Josh Allen is his accuracy on the move. Being a mobile quarterback that loves to scramble, it is key to be able to complete throws on the run at a high rate. At this point he cannot do this and it is concerning with him rolling out of the pocket as much as he does. On top of the accuracy issues on the move, he does not do very well when reading coverages and forces passes. Out of most of the top quarterback prospects he seems to force passes at a much higher rate, and throws a lower percentage and more interceptions than most as well. On top of this his inability to take velocity off his passes lead to drops and overthrows, but this is very fixable going forward.
Something that comes back to his inaccuracy on the move and his forcing passes at a high rate, he needs to tuck the ball and run more often. He has a keen ability to run and get out of bounds and he seems to find space for 3 or 4 yards, but forces a pass downfield instead. It is fair to say that everyone loves the big play, but Allen loves it anytime and all the time. The last problem at this point is some inconsistencies in his throwing motion and footwork. Being 6'5" and more mobile it is fitting that these are problems and he will need to fix them going forward.
Strengths
While his accuracy is a problem, his arm strength is absolutely incredible and gives him the ability to make any throw on the field. His frame gives him great ability in the pocket and allows him to launch the ball anywhere he wants with great velocity. With his ideal size, mobility and arm strength for a quarterback he also has tremendous potential as a pocket passer in the league. While his mechanics are not great yet, a little work could turn him into a very dangerous threat from inside the pocket.
Emphasizing on his pocket ability, he handles pressure very well and does get out of sacks and sack situations very well. This will carry with him greatly in the next level, as long as he quicks forcing things on roll outs. It is also apparent at this point that he can read defenses at a moderate level, but looks off defenders and uses a pump fake very well. With some more work on reading coverages and handling blitzes he will be a force in the league.
Final Thoughts
At the end of the day, Allen is just another quarterback with the perfect size and arm strength at the position. He is raw with his mechanics and needs to throw his checkdowns and run a little more often, and cut down on the forced passes. As far as it all goes, he has great upside compared to his base value. However, his base value right now is low being that of a backup at best with the potential to become a decent starter at best.
His drafting spot is still as a high first rounder potentially falling mid to late first round. Personally, I would like to see him land in Miami at the eleventh spot in the draft. This would give a team with playmakers at receiver a decent offensive line with potential and a running back in Kenyon Drake that can make plays out of the backfield.