The Breakdown : Josh Rosen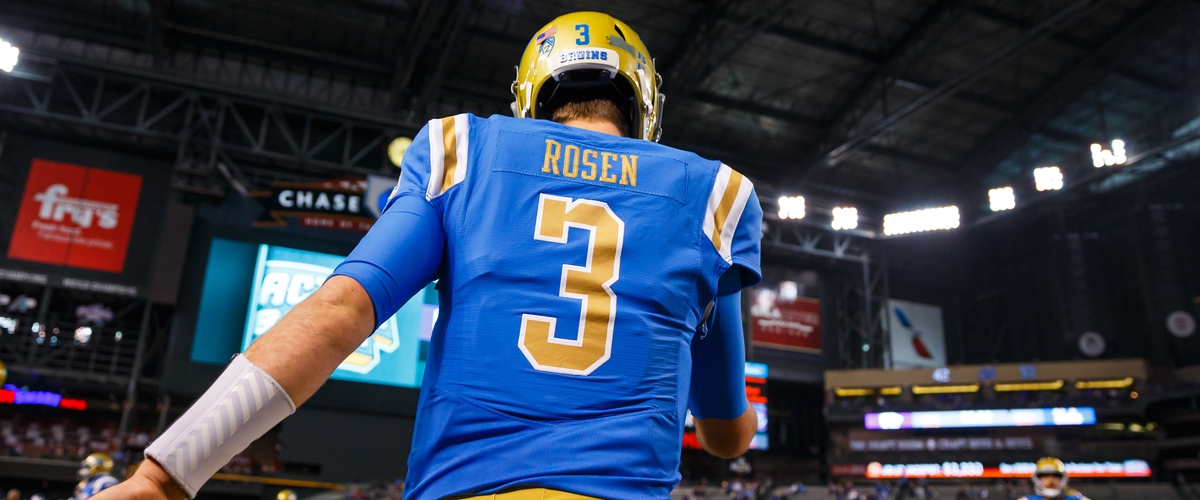 To this point in The Breakdown we have gone over: Baker Mayfield, Lamar Jackson and Sam Darnold. None of the previous 3 have as much talent or potential as our 4th breakdown Josh Rosen. The UCLA product has been look at to potentially be a top pick in the NFL draft since his spectacular Freshman year where he won the Rose Bowl. However with the talent he has, it comes down to his ability to improve on and overcome his downfalls to become that star he has the potential to become.
Rosen is the typical pocket passer, 6'4" around 225 pounds and absolutely magnificent base mechanics. His frame seems smaller than most would like so bulking up a tad is probably first and foremost upon being drafted. But, outside of that he is every general manager and quarterbacks coaches wet dream.
During his time at UCLA his mechanics were incredible, and his ability to stay true to them throughout the game is also impressive. He, when given time, keeps his mechanics and delivers a perfect ball in perfect form seemingly every single time. Rosen can make any throw from the pocket and has the arm to go as deep down field as he wants. This is rare in a college quarterback, and his accuracy which is incredible in the pocket with time is unbelievable.
However, when he gets pressured he will move his feet and lose his footwork and without a strong base he loses accuracy. This is typical in college quarterbacks and unlike the majority he does stay composed most of the time. He does seem to stay level headed however and while his footwork diminishes he does stay composed. If anything it is normal to see a quarterback move around and leave the pocket with pressure. But, Rosen is calculated and will not lose his head giving him incredible upside in this aspect of his game.
With his mechanics comes superb accuracy and ability to hit targets anywhere on the field at almost any time. This is all made available to him because he can read coverages both pre snap and post snap very well. Nothing seems to surprise him as far as coverages go and this is something that will carry with him well to the next level. The downside here is that he seems to struggle greatly understanding blitz packages and gets himself in trouble quite often. He will need to recognize blitzes in the NFL and be able to make the changes necessary to pick them up make the plays necessary.
While I have mentioned accuracy, it seems to be an overstatement to say he is perfect in this regard. It is clear he has elite levels of arm strength and accuracy, but he is very inaccurate out of the pocket and when heavily rushed. If Rosen is forced to roll out he will miss his target, and this is a slight problem. However, if he is rushed and forced to make a quick throw he can make the spit decision well but gets a little wild even on check downs. These are not full blown deal breakers just something that can improve on and will need to be improved on.
It is rare to see a player with the talent in the pocket that Rosen has, with his ability to read coverages. Yes, he does struggle against the rush and he has very limited mobility. These are things that over time can be improved on, and with the right coach he could turn into a pro bowl or higher level talent. But, it seems that he is a little difficult to coach and his leadership is not exactly something that anyone is going to brag about.
Josh Rosen has the ability and potential to become anything he wants to be in the NFL. But, it is a matter of what he wants to become at that level and how far he can push himself to improve. If he is difficult to coach or uncoachable then he will be just another top talent wasted to his own demise. And if he cannot become a leader in some way shape or form his team will not have the respect for him as a quarterback that is needed to become an elite tier guy.
All in all, I believe Rosen is coachable and can become a leader but it will take time and locker room of some veterans to get there. My ideal landing spot for Rosen is in Denver at 5th overall where he will have a great defense with proven locker room leaders on both sides of the ball. John Elway and his coaching staff can turn Rosen into the next great quarterback in the league.
Rosen is a top 5 quarterback with potential to rise and fall with his combine and pro day evaluations. At the highest he goes number 1 and the lowest he drops is 11, so going 5th is fair and his best shot in becoming great.