The Breakdown : Lamar Jackson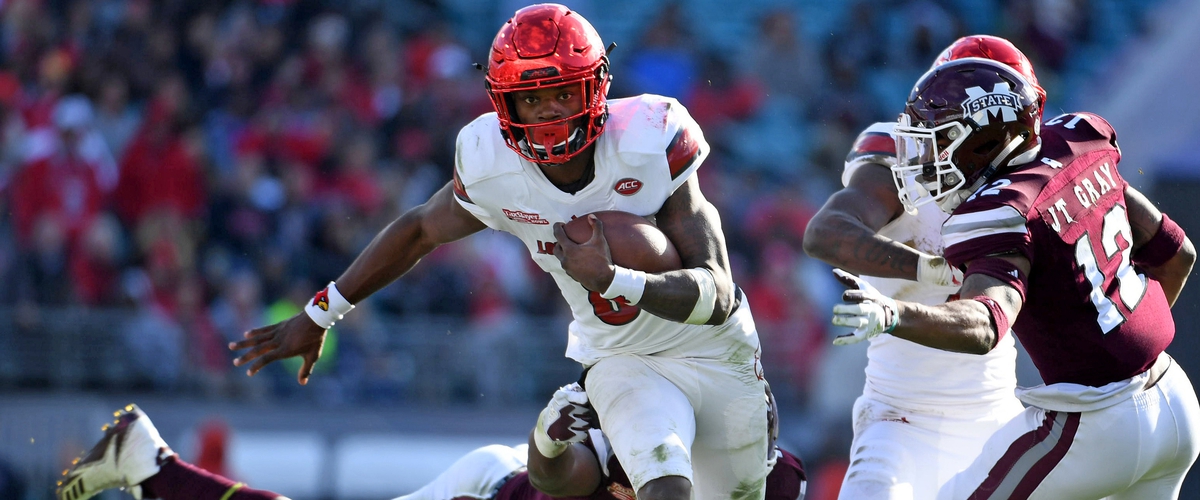 Out of all the top quarterbacks in the NFL draft Lamar Jackson had the most hype of any of them, last season. This was due to a mild season this year which while still being incredible just did not live up to his performance and explosive showings last year. Regardless, he won a heisman trophy in that magnificent 2016 season and was in contention this year. But is he slated to make some noise in the NFL, live up to the hype and rekindle the flame he had not so long ago?
It is well known that Lamar Jackson is a phenomenal athlete, his explosive runs and crazy arm strength are among the best in the draft. His running ability is the best pure running ability of any quarterback, making great decisions when deciding to tuck and run. However, he tend to carry the ball in a way reminiscent to Michael Vick which will lead to fumbles and lots of them.
While his running ability is second to none, his carrying style will need improvement. He also seems to turn almost every play into a scramble drill , and check downs are seemingly irrelevant in his progressions. If the big plays are not available, he will run and look for a broken big play, if that is unavailable he takes off toward the sideline. If he can learn to hit the checkdown more often and throw the ball away from time to time he should fair well moving forward.
Now my absolute favorite thing about Jackson, and again is very similar to that of Michael Vick, is his incredibly quick release. This kid can throw the ball anywhere on the field with top level velocity with nothing more than a quick whip of the arm. This is unteachable and something that not many quarterbacks have at any level. This quick gunslinger release in the right offense, with his running ability could make him virtually unsackable.
Jackson, as of right now, understands and progresses through plays at a very raw level. He is going to need some time learning to read defenses both pre and post snap and to progress through more than one read before he bails the pocket. To this point: he is an incredible running talent, huge arm with quick release, and a little raw as far as his understanding defenses goes. So, how does his mechanics and accuracy look?
Believable or not, Jackson has very solid mechanics in the pockets but will at times lose all form and accuracy. He struggles greatly throwing to the sidelines from the pocket which is a major problem. But, with his arm he is capable of making absolutely any throw on the field. His mechanics will need to become more established and attempt to get him to stay true to them at all times. For now he is solid at any level of the field and at least average hitting the deep ball.
Bottom line for Jackson is a typical mobile quarterback with a massive arm and incredible quick release. His potential is much higher than that of Sam Darnold and Baker Mayfield just based on how much he can improve on his pocket ability. Right now he is not a starter in the NFL, but if he works on his pocket presence and learns to improve in his passing from the pocket the sky is the limit.
For the time being Jackson is a second round talent with high potential, but I feel he ends up getting taken in the late first round. I can see him going to 3 different teams in the first round: 12th to the Cincinnati Bengals, 16th to the Baltimore Ravens or 28th to the Pittsburgh Steelers. the Bengals and Steelers are the absolute best sports for Jackson and both teams have their own upsides.