2019 NFL Mock Draft 4.0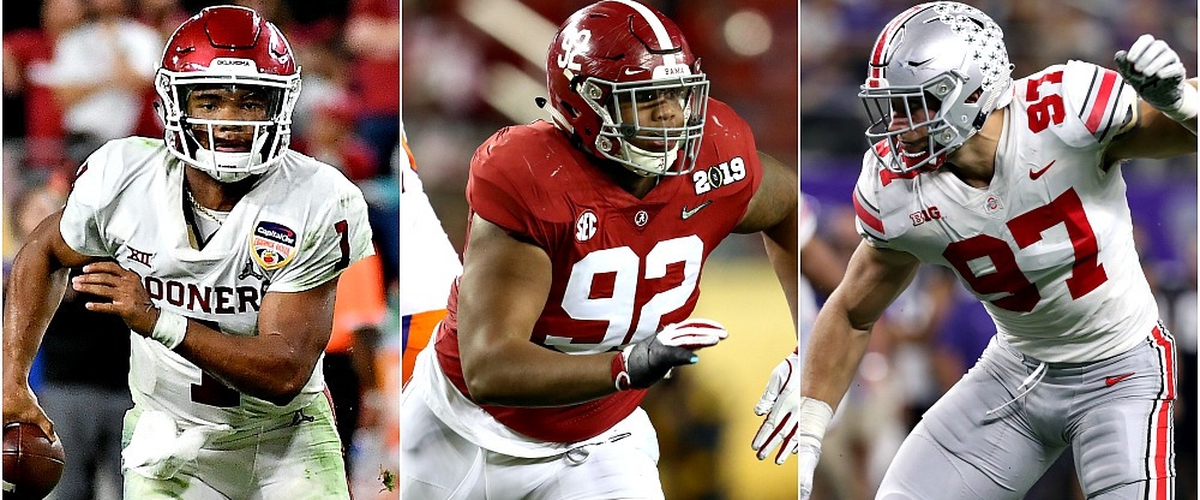 Round 1
1. Arizona Cardinals: QB Kyler Murray, Oklahoma
- The Cardinals continue to be linked to Murray who had an excellent Pro Day. If the Cardinals want to be successful, they have to get the quarterback that fits new head coach Kliff Kingsbury's system the best. Murray is tailor made for this system and gives the team a dynamic playmaker at quarterback. With some building blocks on the line, this offense can get way better with him at the helm.
2. San Francisco 49ers: EDGE Nick Bosa, Ohio State
- with Cardinals taking Murray, the Niners can take the best player in the draft here with Bosa. Bosa is a polished rusher that can hold his own on the edge. adding him to this loaded line, allows for this defense to take the next step. getting Paired with Dee Ford and Deforest Buckner will help to ensure that no one is able to get double teamed.
3. New York Jets: EDGE Josh Allen, Kentucky
- After losing out on Anthony Barr, the Jets need to find an elite pass rusher for their defense. Allen is a better fit anyways for this defense and should be a great addition to take pressure off the secondary. Allen is a ferocious edge player that attacks the ball tirelessly and has the polish to consistently pressure the quarterback in the talented AFC East.
4. Oakland Raiders: LB Devin White, LSU
- The Raiders have ferociously attacked free agency, which takes some of the pressure off their picks in the draft. This pick could easily be Quinnen Williams or Josh Allen, bu there they attack the one position that is weakest on their roster. White is a physical freak that can attack all over the field. he can be an All Pro on this defense and fills one of the biggest holes on the defense.
5. Tampa Bay Buccaneers: EDGE Montez Sweat, Mississippi State
- The Bucs need to start adding talent to their defense if they want to be successful in the NFC South. They need to add an elite pass rusher and can grab one of the most physically talented ones here. Sweat has all of the tools to be a monster in the league, and should help solidify this line. This pick could easily be Devin White if he is available here, bu tin this scenario they bolster their line with a player that has the skills to live in the backfield.
6. New York Giants: WR D.K. Metcalf, Ole Miss
- After trading their star receiver, they need a new weapon to compliment Sterling Shephard and Evan Engram. Metcalf is a physical freak that has the best combination of size, strength, and speed at the position since Calvin Johnson. He gives this offense a weapon that shouldn't be a distraction off the field. Metcalf is a great story that has all of the tools to be a perennial Pro Bowler on this offense.
7. Jacksonville Jaguars: OT Jawaan Taylor, Florida
- The Jaguars now have their quarterback and still have a very talented defense. They have to give their offense a better line if they want to get back to within a game of the Super Bowl. Taylor is a monster that can start right away at right tackle for the Jaguars. He is a road grader that will fit right into their power running game. He will hold down the right tackle position for the next decade for this team and should defeinitely make plenty of Pro Bowls.
8. Detroit Lions: DL Quinnen Williams, Alabama
- the Lions have a lot of holes to fill on both sides of the ball, but would absolutely love for this scenario to play out. They can grab one of the bets players in the draft here to bolster their interior pass rush. Williams will wreak havoc as a defensive tackle for this defense and has the tools to be flexible enough to attack from anywhere in this defense.
9. Buffalo Bills: DL Ed Oliver, Houston
- the Bills attacked free agency and filled a lot of their holes. But they still need to find a way to fill the hole left by the retirement of Kyle Williams. olive is slim for an interior lineman, but has shown that he has the strength to hold his own as one of the best run stuffers in college football over the last three years. This pick will give them a new stud to play 3 technique and attack in a role similar to Aaron Donald.
10. Denver Broncos: CB Greedy Wiiliams, LSU
- The Broncos have filled some needs in free agency and could easily grab Jonah Williams here to play guard. But here they grab the best corner in the draft to try and get this defense back to being elite. At 6'2" and 186 pounds, he can fill the void left by Aquib Talib. He has smooth technique that allows him to shadow receivers and the ball skills to appear in quarterbacks' nightmares. This pick will give the Broncos a very scary secondary.
11. Cincinnati Bengals: QB Dwayne Haskins, Ohio State
- The Bengals have been silent in free agency so far. So they have to hit in the draft if they want to right the ship. The team feels like it is ready to move on from Andy Dalton if the right situation plays out, and this is that situation. Haskins is from Ohio and has all of the makings of a franchise quarterback. He can sit behind Dalton for a year before taking the league by storm th efollowing year.
12. Green Bay Packers: LB Devin Bush, Michigan
- The Packers have filled their roster up in free agency and need to continue to build if they want to make as many runs as possible with Aaron Rodgers. Bush isn't on the level of Devin White, but he is still an excellent athlete with the skills to be an excellent 3-down linebacker. he is a ferocious leader that will give this defense the attitude they have been lacking.
13. Miami Dolphins: QB Drew Lock, Mizzou
- The Dolphins traded Ryan Tannehill today and now have nobody at quarterback. They still have plenty of talent at receiver and have some building blocks on defense. Here they can grab a quarterback with all of the talent to lead their team, but he just needs some time to figure it out mentally. He will have some growing pains, but could be a solid quarterback if they succeed in building a good team around him.
14. Atlanta Falcons: OT Jonah Williams, Alabama
- One of the only weak spots on this roster is the offensive line. Williams is a technician that can start from day one on the right side of this offense. He may be slightly undersized, but has all of the technique and strength to hold his own on the edge. Adding him here, will give this team a solid line to play behind for the first time siunce their Super Bowl appearance.
15. Washington Redskins: EDGE Clelin Ferrell, Clemson
- The Redskins seem sready to move forward with either Case Keenum or Colt McCoy under center. They can grab a quarterback from the loaded crop next year. Before that, they can load their team with talent to drop the rookie into. They solidified the secondary with Landon Collins, but lost a pass rusher in Preston Smith. Ferrell is smooth off the edge and has excellent technique. He will be an excellent edge player for this defense and should help make this defense very scary.
16. Carolina Panthers: DL Rashan Gary, Michigan
- This is a dream scenario for the Panthers who have absolutely no players on the edge. They already solidified their offensive line with Matt Paradis and the resigning of Daryl Williams. Now they can grab one of the most physically talented defensive linemen in the draft. he should slide right into the strong side defensive end spot and with proper coaching, should be a menace to offenses in the NFC South.
17. New York Giants (From CLE): EDGE Brian Burns, Florida State
- After grabbing a new superstar on offense with their first pick, the Giants bolster their pass rush here. They had a fire sale in free agency and now have to rebuild this defense. Burns has all of the tools to be a menace in the NFL and is a great fit in the New York defense. He measured with better weight than expected at the combine and should be able to hold his own against the run. He is a perfect fit to build around on defense.
18. Minnesota Vikings: OL Cody Ford, Oklahoma
- The Vikings need to improve up front if they want to improve on offense. Ford is a mean cuss on the line and should be able to slide in at guard and bring a new and much needed attitude to this front. At 6'4" he is a pit bull that latches onto defenders and refuse to get shaken off before finishing his man into the ground. This will be a great fit and serve to bring a much needed attitude and identity to this line.
19. Tennessee Titans: TE Noah Fant, iowa
- Delanie Walker isn't getting any younger. this offense needs to have two good tight ends and they have one with Jonnu Smith. Now they can grab the very talented Fant to fill their need. He can be split wide or attack from the line. He has all of the athleticism to give Marcuse Mariota a rare target on offense and should serve to open the passing game more for Mariota.
20. Pittsburgh Steelers: CB Deandre Baker, Georgia
- The Steelers need to retool this defense in order to keep up with the talented offenses of the AFC North. Baker is a physical corner that fits the attitude of this defense. He lacks top end speed, but has all of the tools to be a successful corner that is not afraid to come up and lay some wood on the ball carrier. The pick could easily be a middle linebacker if one falls far enough in this draft.
21. Seattle Seahawks: EDGE Jaylon Ferguson, Louisiana Tech
- The Seahawks are fighting to keep Frank Clark on their roster, but they need to add more pass rushers if they want to survive the loss of Earl Thomas in free agency. Ferguson needs to add more muscle, but has all of the speed and agility tools to bend the corner and harrass the quarterback. With good coaching and an NFL weight training program, he could develop into a stud for this defense.
22. Baltimore Ravens: LB Mack Wilson, Alabama
- After losing C.J. Mosley in free agency, this defense needs a new leader in the middle. Wilson may actually be an upgrade from Mosley as he had lost a step. Wilson is not your typical Alabama linebacker. He has the speed to make plays all over the field and is above average in coverage. After signing Earl Thomas, this pick will bring back memories of the glory days with Ray Lewis and Ed Reed.
23. Houston Texans: OT Andre Dillard, Washington State
- The Texans surprisingly made no moves on the top talent at offensive line in free agency. So here, they have to make a move to protect quarterback Deshaun Watson who was sacked 62 times last year. Dillard is a smooth tackle that is an excellent pass protector. He needs to develop his run blocking, but should be able to slide in on the blind side and keep Watson upright.
24. Oakland Raiders (From CHI): CB Byron Murphy, Washington
- After solidifying the middle of their defense with their first pick, the Raiders bolster their secondary here by grabbing maybe the best slot corner in the draft. Murphy is a good corner that ius built for the slot and should fit right into the starting rotation with Gareon Conley and Daryl Worley on the outside. He has the agility and technique to hold his own in the slot and isn't afraid to come down and make a hit.
25. Philadelphia Eagles: HB Josh Jacobs, Alabama
- The Eagles need to find their long term solution at running back to take the pressure off of Carson Wentz. They can grab the top back in the draft here, and even better he doesn't have too much mileage. Jacobs is a bruiser at 5'10" and 220 pounds, but has the feet to make people miss in the hole. He should take the spot of Jay Ajayi in the backfield and fill the majority of the snaps as he is also a viable option in the passing game.
26. Indianapolis Colts: DL Christian Wilkins, Clemson
- The Colts surprised the world last year as they made a charge into the playoffs. now they must continue to build in order to continue competing. Here they can grab a defensive lineman that perfectly fits the mold of what they are looking for. This team values character and leadership, both of which Wilkins excels in. It also helps that he is a tremendous run stuffer that has the ability to pressure the quarterback. This is a match made in heaven.
27. Oakland Raiders (From DAL): WR Marquise Brown, Oklahoma
- John gruden stated that he wanted the best group of receivers in the NFL when he traded for Antonio Brown. They then signed Tyrell Williams. But they can truly grab that title if they grab Brown here. Brown is an electric playmaker that is very similar to Brown in his play style. he can beat you deep, or take a slant to the house. Grabbing him here, gives this offense a trio of receivers that will terrorize the AFC West.
28. Los Angeles Chargers: OT Greg Little, Ole Miss
- The Chargers are committed to winning right now and have showed that by signing veterans like Thomas Davis and Tyrod Taylor. Now they can use this pick both to win now and prepare for the future. Little can slide in at right tackle and be a Pro Bowler as a rookie. He has the size and strength to bully ends in the running game, and the smoothness to hold his own in the passing game. He also has the skills to slide to left tackle at the end of Russel Okung's tenure.
29. Green Bay Packers (From NO): S Taylor Rapp, Washington
- The Packers have a loaded team now, but are lacking on the back end of their defense. Rapp can serve as an excellent center fielder for this defense and should help take some pressure off of the corners. he is the top safety and could be a steal here if he lives up to his potential. He has good instincts and is the leader that this secondary will need.
30. Kansas City Chiefs: CB Trayvon Mullen, Clemson
- The Chiefs are in the middle of completely rebuilding their defense with the release of Eric Berry and Justin Houston, as well as the trading of Dee Ford. However, their is now linebacker or edge player with this pick here. So they will continue to retool their defense with the selection of Trayvon Mullen. Mullen is a high character corner that has the skills of a number one corner. Pairing him with Kendall Fuller will give this defense two lockdown corners to pair with Tyrann Mathieau.
31. Los Angeles Rams: DL Jefferey Simmons, Mississippi State
- The Rams need to fill the holes of all of their players that left in free agency. They need help on the defensive line and in the secondary. With this pick they can grab a steal in Simmons. Simmons fits perfectly into a role similar to the one taken by Malik Jackson in Wade Philips' defense in Denver. he has all of the physical tools to be a stud, but needs a coaching staff that can get the most out of him. That is exactly what Philips does best, making this a perfect pairing to solidify this defense.
32. New England Patriots: TE T.J. Hockenson, Iowa
- The Patriots need to prepare for the retirement of Rob Gronkowski. With this pick they can grab an excellent player with a very similar skill set. Hockenson is a reliable target that finds ways to get open and has excellent hands. He also is a willing and able blocker that will be an assett in the running game. This pick could easily be a pass rusher or receiver to fill areas of need.
Round 2
1. Arizona Cardinals: OL Dalton Risner, Wisconsin
2. Indianapolis Colts (From NYJ): WR N'Keal Harry, Arizona State
3. Oakland Raiders: OL Garrett Bradbury, NC State
4. San Francisco 49ers: WR Parris Campbell, Ohio State
5. New York Giants: QB Daniel Jones, Duke
6. Jacksonville Jaguars: TE Irv Smith Jr., Alabama
7. Tampa Bay Buccaneers: S Deionte Thompson, Alabama
8. Buffalo Bills: OT Tytus Howard, Alabama State
9. Denver Broncos: OL Chris Lindstrom, Boston College
10. Cincinnati Bengals: WR AJ Brown, Ole Miss
11. Detroit Lions: EDGE Jachai Polite, Florida
12. Green Bay Packers: WR Hakeem Butler, Iowa State
13. Atlanta Falcons: DL Dre'Mont Jones, Ohio State
14. Washington Redskins: WR Deebo Samuel, South Carolina
15. Carolina Panthers: EDGE D'Andre Walker, Georgia
16. Miami Dolphins: DL Jerry Tillery, Notre Dame
17. Cleveland Browns: S Jonathan Abram, Mississippi State
18. Minnesota Vikings: DL Dexter Lawrence, Clemson
19. Tennessee Titans: WR Riley Ridley, Georgia
20. Pittsburgh Steelers: WR Mecole Hardman, Georgia
21. Indianapolis Colts: HB David Montgomery, Iowa State
22. Philadelphia Eagles: CB Julian Love, Notre Dame
23. Houston Texans (From SEA): OL Elgton Jenkins, Mississippi State
24. Houston Texans: CB Rock Ya-Sin, Temple
25. Dallas Cowboys: S Amani Hooker, Iowa
26. New England (From CHI): CB Justin Layne, Michigan State
27. Philadelphia Eagles (From BAL): LB Tre Lamar, Clemson
28. New Orleans Saints: EDGE Christian Miller, Alabama
29. Los Angeles Chargers: S Nasir Adderley, Delaware
30. Kansas City Chiefs: HB David Singletary, Florida Atlantic
31. Kansas City Chiefs (From LAR): OL Erik McCoy, Texas A&M
32. New England Patriots: DL Zach Allen, Boston College