5 Possible Trades for Derek Carr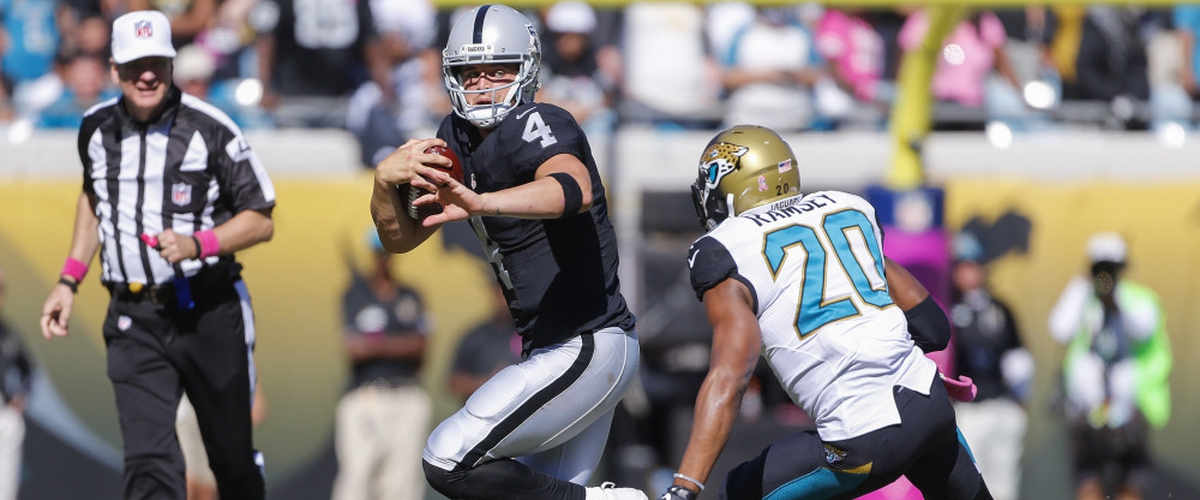 It has become apparent that there is a rift in the Raiders locker room. They are now in the middle of a fire sale to prepare for their move to Las Vegas. After already racking up 3 first round picks, the Raiders are ready to stockpile even more into the war chest for the future.
1. Jacksonville Jaguars
JAX gets =
- QB Derek Carr
OAK gets =
- QB Blake Bortles
- DE Dante Fowler Jr.
- 2019 4th Round Pick
The Raiders NEED young edge rushers on this defense. The Jaguars need a quarterback to lead their offense. Bortles could use a new scene to prove himself. This deal gives everyone what they need. The Jaguars give up one of their many pass rushers but get the missing piece for their Super Bowl run. The Raiders get a young, talented quarterback that they can dump after next year with only taking a $5 million hit. the Raiders also get a talented young pass rusher that can help their woeful defense and free up lanes for Arden Key and Maurice Hurst. Lastly, they get another pick to add to the war chest. This deal could all hinge on Fowler Jr. agreeing that he will sign an extension after the season. But this would be great for both teams.
2. Miami Dolphins
The Deal:
MIA gets =
- QB Derek Carr
OAK gets =
- WR Davante Parker
- CB Cordrea Tankersley
-QB Ryan Tannehill
- 2019 4th Round Pick
The Raiders need young players all over. Parker has proven to be a great receiver when healthy. Tankersley has not had the playing time to shine; but was talented enough to be taken in the 3rd Round last year. This would give the Raiders talented young players at two positions of need while also netting them a day 2 pick. They would also get a more experienced quarterback that does not have the ego to oppose Jon Gruden. Gruden has done his best with average quarterbacks that he can beat down and mold into what he needs. Tannehill can still play and could get a late renaissance under the watchful eyes of Gruden. The Dolphins would get a talented quarterback just entering his prime that needs a new environment to thrive in. He should gel well with Gase and give him the most talented quarterback he has had since Peyton Manning.
3. Denver Broncos
DEN gets =
- QB Derek Carr
- S Karl Joseph
OAK gets =
- QB Case Keenum
- RB Devontae Booker
- S Will Parks
- 2019 2nd Round Pick
The Broncos have an excellent defense that is being wasted with terrible quarterback play and an offense that can not hold its own. That could all change if they go after Derek Carr. With this trade, the Raiders can add young talent and a journeyman quarterback that is perfectly suited for John Gruden. Keenum is more talented than Brad Johnson, but is the same type of journeyman quarterback that Gruden has proven that he works best with. This trade will also net them a talented young running back in Booker and a young safety that has shown solid cover skills in Will Parks. For Denver, they get the talented leader they need on offense while adding a talented safety that is a former first round pick oozing with talent that has found the bad side of Gruden. Plus, Carr gets reunited with Offensive Coordinator Bill Musgrave, who led Carr to his best career year in 2016. Overall this trade gives both teams a solid payout, but could be hard to finish because of the inter division nature of these two teams.
4.New York Giants
NYG gets =
- QB Derek Carr
OAK gets =
- DE Olivier Vernon
- CB Janoris Jenkins
This would be a huge trade for both teams. For the Giants, this would signal the end of the Eli Manning era. But they would get a signal caller entering his prime to pair with new superstar, Saquon Barkley. This would shorten their rebuild and give them the chance to allow Eli to ride off into the sunset. For Oakland, they would immediately bolster their defense with two studs that they can build around that are 28 and 29 years old. This would give them key pieces at two of their biggest areas of need. They can easily get 4 good years out of each of these players while building the talent around them to create a dangerous defense. The thing holding this trade up is the Giants unwillingness to trade Eli and whether they are willing to let go of two of their biggest defensive players.
5. Cincinnati Bengals
CIN gets =
- QB Derek Carr
- OT Donald Penn
OAK gets =
- QB Andy Dalton
- CB Darquezze Dennard
- HB Giovanni Bernard
- 2019 3rd Round Pick
Once again the Raiders can get a haul of solid younger players while getting Gruden the journeyman he needs to make his team function. Dalton was electric early in his career with a solid offensive line. In Oakland he will have one of the league's best to play behind and rediscover his confidence. The Raiders would also gain dynamic rusher Giovanni Bernard who can make a difference in the passing and the running games. The last player for Oakland is the talented Dennard who has yet to fully come into his own. But his physical style of play will fit right in in Oakland. the Raiders also add draft capital on Day two. The Bengals get the gunslinger they need to give this offense a new dimension. They also gain more talent at tackle opposite of Cordy Glenn in order to provide the offense with two talented tackles for the first time in years. This trade would work wonders for both teams, but seems unlikely with the team seeming to fully back Dalton.
---