No punches pulled - Another NFL suspension blunder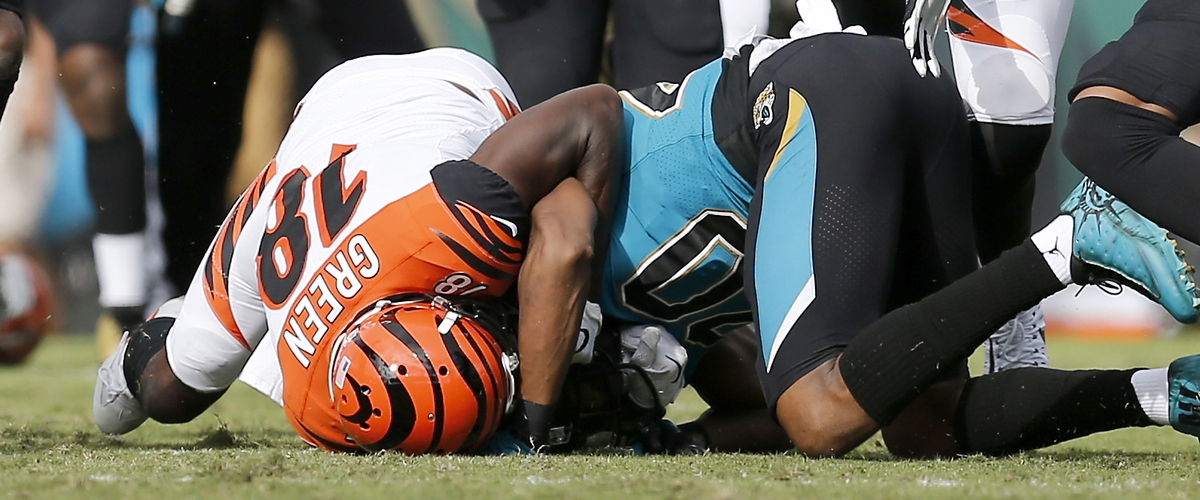 Football is brutal, however for all the violence on show, play after play, a fray will rarely break out on the field.
Last Sunday though, showcased one of the uglier sides of the NFL as not one, not two, but three full scale brawls erupted onto three separate fields of play. The result was five ejections and one suspension (yup, just the one).
Tampa Bay Buccaneers Star wideout Mike Evans wasn't ejected for his fight inducing hit on Saint DB Marshon Lattimore, however he has since been suspended by the NFL for one game. Prior to that A.J. Green and Jalen Ramsey (pictured) were booted for their part in starting a bench clearing fight. Finally the Arizona Cardinals' Haason Riddick and Frostee Rucker were ejected after a dust-up involving San Francisco 49ers starting running back Carlos Hyde.
Aside from Evans, no one else was suspended, not even AJ Green, and he did this.
That was a spectacular take down by Green, Ramsey didn't stand a chance. Although it could be seen as a cheap shot by Green, it is a rather magnificent cheap shot.
He punched Ramsey's helmet for Christ sake.
Green expressed regret after the incident stating that "As a player, as a man, as a father, it's a reflection of me". He did say that "cheap shots" from the Jaguars DB is what triggered the violent reaction.
What makes this outburst so bizarre is that AJ Green barely gets agitated on game day. He is the epitome of focus and control.
The late afternoon brawl was born out of a late hit on 49ers QB CJ Betheard whilst he was sliding to the ground. This is quite common in the NFL, o-line players especially don't like it when their quarterback is hit late on a play and will quickly rush to his defence.
That's what 49ers guard Laken Tomlinson did when he shoved Cardinals safety Antoine Bethea to the ground. Interestingly in this situation is the Frostee Rucker/Carlos Hyde ejections as this fight seemed to have formed as a breakaway from the original scuffle.
The second incident last Sunday was by far the most bizarre. It would appear by all accounts that Buccaneers QB Jamies Winston, who at the time of the incident was sidelined due to injury, was either not happy with Saints CB Marshon Lattimore, or was trying to get a message across to someone else, it's not very clear.
What is clear is that Lattimore didn't take too kindly to being poked in the helmet by Winston and gently pushed him in return. To which Buccaneers WR Mike Evans responded in kind again by slamming Lattimore to the deck and start wailing on him.
This attack was completely unprovoked yet Evans remained in the game.
The NFL probably thought they got one right by retroactively suspending Mike Evans for one game for the hit on Marshon Lattimore, this in response to Evans not being ejected during the game.
This, however, is where the NFL have shot themselves in the foot. They suspended Evans because he wasn't ejected during the game. Others' including AJ Green and that take down, were ejected during the game, meaning seeking to punish them further with suspension, would likely see their suspension overturned citing the Mike Evans suspension.
AJ Green should't be playing this Sunday, neither should Antoine Bethea and this suspension debacle is just one reason why violence is such a double edged sword in the NFL.
Big hits and smash-mouth running are two key components to the success of the NFL but the negative on the pitch fallout of this inherent violence will always shine a light on the issues surrounding the management of the sport at the league office, and how they are failing to discipline players either very well, or very fairly.
---