Remind me again, why has no one signed Colin Kaepernick?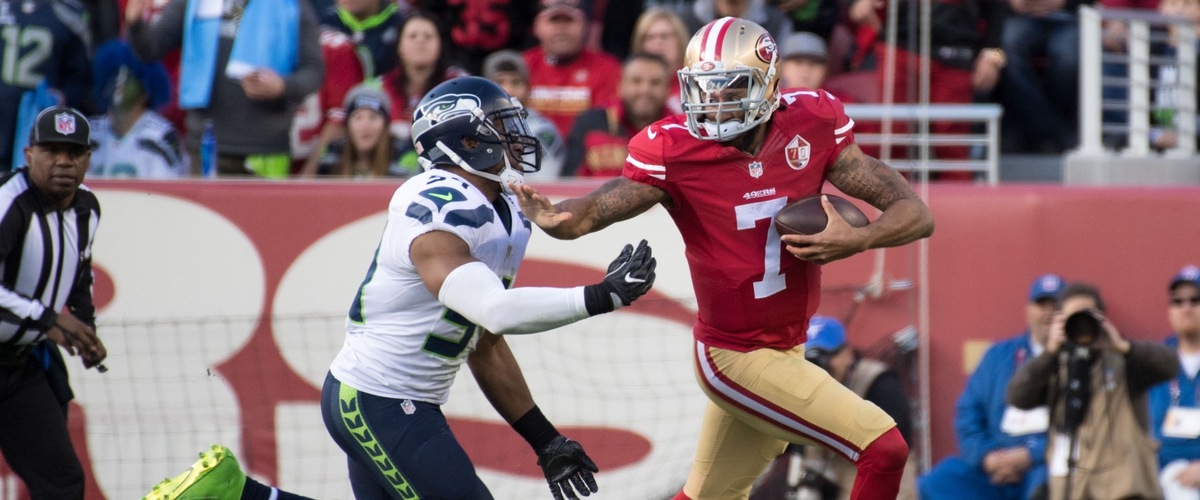 So the first half of the NFL season has been very interesting.
Teams that were considered dark horses at the start of the season have become the front runners of the league, we're looking at you Philly.
Injuries to the NFL's crop of superstars (OBJ, Aaron Rodgers, JJ Watt and David Johnson just to name a few) has decimated some teams chances at the play-offs, those poor G-men just cannot catch a break.
The Jets can't even tank a season properly, going 3-5 and all but destroying their chance for a number one pick in next years draft.
QB's once considered 'elite' are now struggling on the field. Ravens QB Joe Flacco has practically forgotten how to play the position. In fact many teams across the league are having their own QB crisis. I won't call the mess in Cleveland a crisis at this point, as it's been going for almost 20 years.
And finally, the President of the United States of America has launched a full scale war on the 1st amendment by attacking NFL player's rights to peaceful protest.
And it's from those last two points that I can seamlessly jump to this question;
Why has no one signed Colin Kaepernick?
I'm just gonna keep this stat line right here:
Games:12 Attempts:331 Completions:196 Percent:59.2 Yards:2,241 TD's:16 Interceptions:4 QBR:90.7
These are Kaepernick's stats from 2016, they are not earth shattering stats, however there are some key figures here that we need to note.
This was only a 12 game season for him, so his numbers over the season are going to be quite low, if he had played in all 16 games he would have been on course for a 3,000 yard season with 21 touchdowns and five picks. That's not awful, again it doesn't light up the board but it's a solid outing for a QB over a season.
However the most telling of his stats is his Quarterback Rating of 90.7. As of right now, that QBR is better than 17 other starting QB's. That list includes Matthew Stafford, Cam Newton, Ben Roethlisberger, Philip Rivers, Marcus Mariota and the list goes on and on. Even if you only take into account his career average QBR of 88.9, that would still give him a better QBR than 15 other starting signal callers (only Matthew Stafford would be removed from my example above)
The QB's I did mention are in no real jeopardy of losing their job, they're billed as franchise quarterbacks and i'm sure that these guys, over the year, will figure their game out. But there are plenty of teams in the league that could easily put Kaepernick on their roster, there are even a couple of instances where I think he could start.
The Baltimore Ravens, specifically Joe Flacco, are having a terrible year. They might be 4-4 and off the back of a massive Thursday night win against the Dolphins. But don't let this slight upturn in results detract from the real problem here in Baltimore, Joe Flacco is inconsistent at best with a miserable QBR of 72.3 and 6 touchdowns to 8 interceptions on the year. His backup Ryan Mallet isn't much to shout home about either and it's only been that vaunted Baltimore defence that has kept this team in the mid-season playoff talk.
Kaepernick could easily backup here and at least push Joe Flacco into fighting for his starting job or go out and get the starting gig for himself, both would be a considerable upside to the situation Baltimore have going on right now. There are talented weapons on this Ravens offence and Flacco isn't making the most of them. Nothing should stop Baltimore from getting Kaepernick, it's not like they paid Flacco an outrageous sum of money to be there, right?
A wildcard in this Kaepernick situation are the New England Patriots. Now let me make something abundantly clear to you, I do not think that Colin Kaepernick can dethrone Tom Brady for the New England starting job. No one in their right mind would think that. There is a lot to be said though for New England's QB situation right now. There are rumours that Brian Hoyer is visiting the Patriots today for a workout, however based on the numbers that he put up this year in San Francisco it's no wonder they cut and traded for Garoppolo. Over six games, Hoyer threw 4 TD's, 4 INT's, 1,245 yards and, like Flacco, posted a miserable QBR of 74.1
It's not to hard to see that Kaepernick could be seen as a safer option in the position. But signing him will bring the questions that no head coach, especially Bill Belichick, wants to answer. The inevitable questions of Kaepernick's decision to protest, it's affect on the team and of course, how it would affect the peculiar relationship between the Patriots and President Trump who famously claimed a victory in not getting Colin Kaepernick hired.
These are questions that Belichick does not want to have to deal with and therefore will not.
Jacksonville, much like Baltimore, have a legit defence, like seriously legit. Jacksonville have also relied heavily on their defence, and some kid called Leonard Fournette, to stumble through to a 4-3 record. They have not relied on their quarterback Blake Bortles. He has not been called in to deliver late game heroics and snatch victory from the jaws of defeat. He has been asked to be competent, and he has failed to deliver mustering up a meagre 1,398 yards in the air with 9 TD's and 5 picks so far and is 25th in the league amongst starting QB's on 3rd down conversion.
His numbers are concerning but what's more concerning are the fact his poor numbers are directly affecting the team in win/loss column. Bortles lost against Tennessee, Bortles lost against New York and Bortles sure as hell didn't beat the Steelers.
Kaepernick could start here without question, with a run-heavy offence led by Fournette, he could easily slip into the system and even add the a more versatile option play with him.
However, no matter how many different teams could easily have Kaepernick on their team, there is one reason he won't get signed by anyone.
Politics.
At this point Colin Kaepernick's name will forever be associated with starting the kneeling down protest during the national anthem, an act that has since stirred a national conversation about race, the nature of protest and of course, disrespecting the flag (apparently). A conversation that has had Congresspeople, Senators and even President Trump chime in, and the latter causing a small boycott of the NFL, one that lingers on today.
And it's this boycott that is the reason owners at the top of the NFL food chain are steering clear of him.
Activism can be seen as divisive within a franchise's own fan base, especially on the topic of Colin Kaepernick.
And division amongst fans isn't profitable, the NFL league office knows it, and so does every owner in the league.