Mock Draft 1.0: Picks 1-10
In light of early free agent signings and trades, I am making a mock draft of the first 10 picks. This draft class is amazing, with depth at positions like quarterback and running back. This year, the quarterback is more important than anything else. This will be reflected in my mock draft, with 3 quarterbacks being taken in the top 10. Here is my mock draft: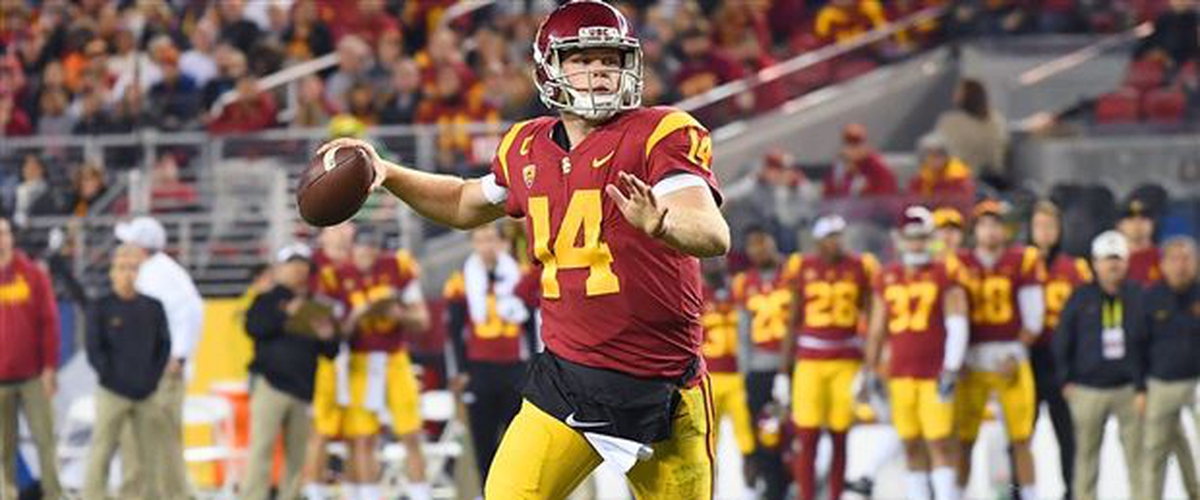 Cleveland Browns: Sam Darnold, QB, USC
I mean there is no way ANY franchise can mess this up, even if it the Browns picking. I mean there is no debate that he should be the number one pick. In a league that is quarterback based and quarterback driven, you must select Sam Darnold with the first pick. Not only does Cleveland need a qb, but also he is clearly the best qb in his draft class and has the size, arm, and leadership to be a NFL great. He was able to play very well at USC despite having average coaching, offensive line, and wide receivers. Darnold shined in his pro day and proved he was able to throw in tough weather conditions, as he threw in the rain. Darnold will be able to come into Cleveland and develop for 1-2 years behind Tyrod Taylor. When he becomes the starter, he will have a great receiving corps waiting for him that includes Jarvis Landry and Josh Gordon. Darnold is clearly the best qb in the draft and he will be the number one pick in this draft.
2. New York Giants: Josh Rosen, QB, UCLA
It's sad that Rosen was in this QB draft class. If he was in another draft class, he would be selected with the first pick. While many see him as the third best qb, I think that he is the second. When I watched him play this year, I was amazed by the throws I saw him make. He has great touch and is a very intelligent qb. I think that he might be the best and most polished quarterback in the draft. He is a true quarterback talent that the Giants cannot pass up on. The Giants will give him a year or two to develop behind Eli Manning and learn the Pat Shurmur offense. I think that teams realize the kind of talent that Rosen has, but the Giants do. Rosen has the poise and maturity to handle the New York media. The New York Giants get a franchise quarterback for the post-Eli era in Rosen.
3. New York Jets: Josh Allen, QB, Wyoming
Josh Allen has a lot of talent and has might have the most potential out of all of the quarterbacks. He reminds me of Big Ben because of his size and ability to throw a deep ball. I watched some of his pro day and the deep throws he was making were amazing. He has the potential to be a franchise quarterback. The Jets traded up for a reason and that reason was to take a quarterback. In a cold weathered division like the AFC East, Allen is tough enough to endure the weather and is used to it because he played at Wyoming. While he is not NFL ready currently, he will be able to develop for a couple of years behind Bridgewater. Allen is a great quarterback, but a risk because he played in a weak conference and is not as refined as the other prospects. However, he is a risk worth taking for the Jets and they will make the right decision by taking him with the third pick.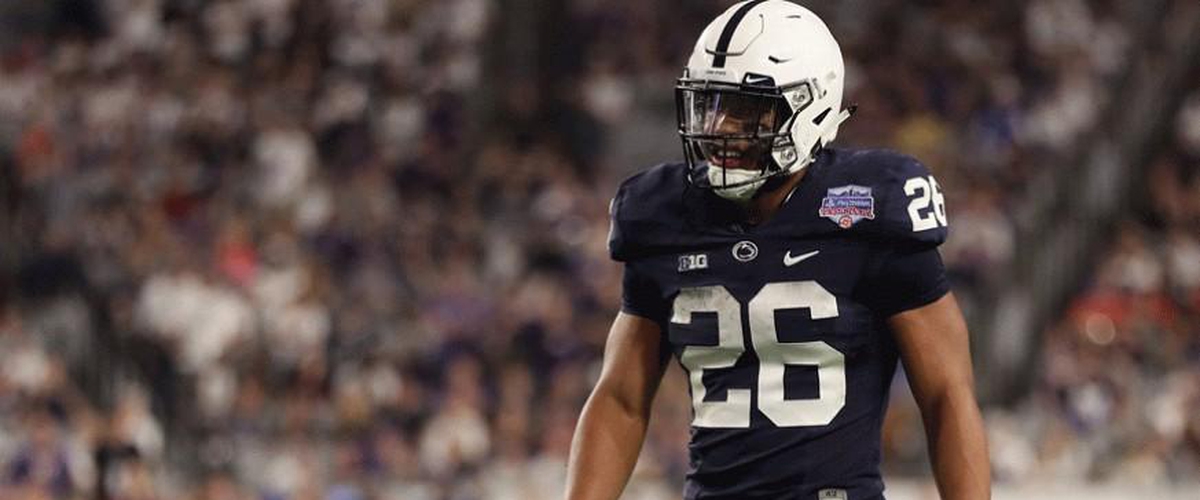 4. Cleveland Browns: Saquon Barkley, RB, Penn State
This draft day will be a great day for the Cleveland Browns, as they will take two amazing prospects in the draft. They will fill out their offense by taking franchise QB Sam Darnold and future star running Saquon Barkley. Saquon is a great pick and will help the Browns be a viable team during his career. Barkley is poised, diligent, and mature and is clearly one of the best prospects in the entire draft. I don't think you can base your entire offense around him, but he will be great in the passing game and have explosive plays every game. He is NFL ready and will make an impact the second he walks out onto the field. During his career, he will give Darnold help in the passing game and will make the Cleveland offense balanced. For once, Cleveland will have a successful draft day and give their fans something to be excited about for the future.
5. Broncos: Bradley Chubb, DE, North Carolina State
In an offense-based draft, Chubb is the first defensive player to be taken. In a league that revolves around quarterbacks, you also must find people who can stop them and get pressure on them. Chubb is that guy and is one of the most NFL ready prospects in this draft. Although the Broncos will be tempted to take someone else, Chubb is a can't-miss prospect that the Broncos cannot pass up on. Chubb will make an impact the second he is on the field and is a home run. With Chubb, the Broncos have one of the best defenses in the league because they will have Bradley Chubb on one side and Von Miller on the other. That duo would be a quarterback's worst nightmare and they will revive the Broncos defense, which has been slowly getting worse. With the addition of Chubb, the Broncos improve their defense and will have two of the best pass rushers in the league.
6. Indianapolis Colts: Quenton Nelson, OG, Notre Dame
When you have an elite quarterback in the NFL, you have to make sure that you protect him. The Colts have done the absolute opposite of that, which allows Andrew Luck to be easily injured. However, the Colts are going to finally realize their mistake and select Quenton Nelson with their pick. While Nelson is not as popular due to the position he plays, he is considered to be one of the best overall prospects in the draft. In fact, he is considered to be the most NFL ready prospect this year. His player comparison in the NFL is Zach Martin, who is considered to be one of the best guards in the NFL. Quenton Nelson will make an immediate impact with the Colts and will do a great job of protecting Luck, which in turn will keep Luck healthy. The O-line has become more and more valuable and Nelson is a great guard who the Colts must take.
7. Tampa Bay Buccaneers: Minkah Fitzpatrick, FS, Alabama
Tampa Bay has one of the weakest secondaries in the league and need to make sure that they improve it during the draft. They will take Minkah with the seventh pick in order to help solve their secondary problem. Fitzpatrick is considered to be a NFL ready prospect that will make an immediate impact in the league. Minkah is known to be the prospect with the least bust potential in this year's draft. He received playing time when he was a freshman at Alabama, which means that he is very talented because Saban does not like to play freshmen. Because he played for Saban, he is a no-nonsense and hard-working player who is a disciplined defender. He will provide leadership for a weak secondary the second he plays and will help improve the Tampa Bay defense. Minkah Fitzpatrick will be a defensive anchor, who will change the culture/attitude of the Tampa Bay defense.
8. Chicago Bears: Denzel Ward, CB, Ohio State
With one of the weakest secondaries in the league, Chicago needs some help in order to improve their defense. With Minkah gone, the only logical player to take is Denzel Ward. Ward's draft stock has been rising ever since he had a great combine, which included a 4.32 40-yard dash. Ward is clearly the best cornerback in the draft and will be a great cover corner in the NFL. Ward's only weakness is the fact that he is lack in size, but his tenacity and speed make up for it. He was coached by Urban Meyer, who is considered to be one of the greatest college coaches ever. Because he trained under Meyer, he will be disciplined and will provide some leadership the second he enters the league. Denzel Ward is the best cornerback in the draft, who will provide immediate help for a weak Chicago Bears' secondary.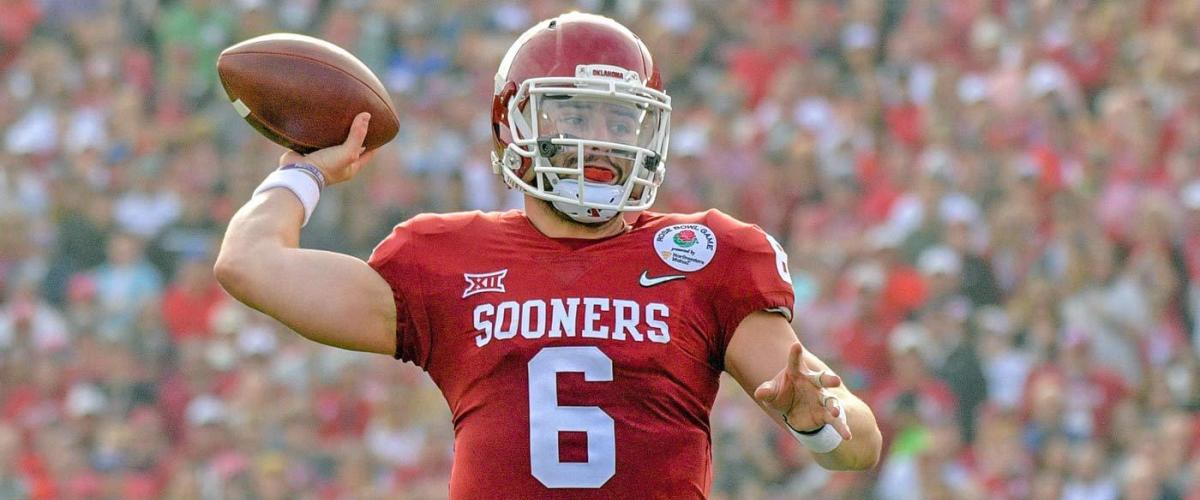 9. Miami Dolphins (Mock Trade with San Francisco 49ers): Baker Mayfield, QB, Oklahoma
In a mock trade, the Dolphins trade with the 49ers in order to move up and take a quarterback. The AFC East is up for grabs in a couple of years and the Dolphins want a young quarterback who can allow them to dominate the AFC East. The Dolphins are forced to do this trade after they find out that Buffalo is interested in moving up. In order to prevent the Bills from taking away the quarterback on their draft board, the Dolphins select Baker. While I do not think that Baker is worth trading up for, the Dolphins do see something in him. He shows great leadership and is a precise passer. I personally do not like his off the field issues, but the Dolphins are willing to draft him even with this baggage. They are taking a big risk by putting Baker in a city like Miami, where he can get into a lot of trouble. He is a better fit in Miami than Buffalo because Miami is a warm weathered city. It is a terrible pick, but the Dolphins see something in him that some people don't, so they choose him. Baker is the fourth quarterback taken in the top ten and gives Dolphins fans some hope for the future.
10. Oakland Raiders: Roquan Smith, ILB, Georgia
With the 10th pick, the Raiders decide to focus on the defensive side of the ball and select linebacker Roquan Smith. Smith is a great linebacker who played on one of the best defenses in the country and was coached by one of the best defensive coaches in the country. Smith is a fast and explosive linebacker who is a great tackler and has great coverage ability. Gruden decides that he needs to improve his awful defense and does this by taking Smith. Roquan Smith is NFL ready and will make an impact the second he steps onto the field. With Smith, the Raiders now have a great linebacker corps that includes Khalil Mack. While Mack will get to the quarterback, Roquan Smith will play in coverage, so together they will be a great duo. Smith is too good of a prospect for Gruden to pass up on, so he takes Roquan Smith with the tenth pick in order to improve his defense.
---