AAF Week 3 Recap: Rough Roads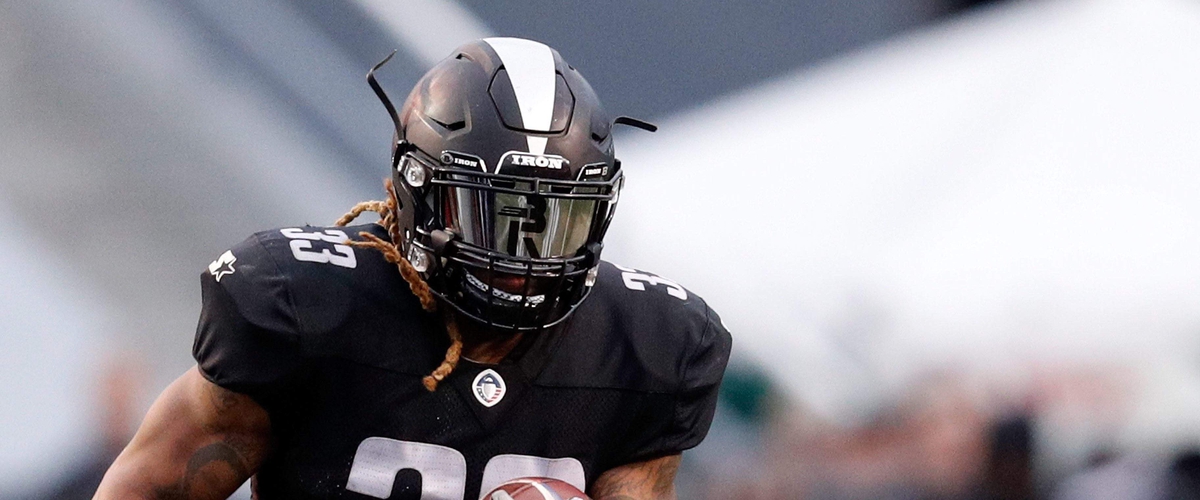 This was an interesting span of seven days. The Alliance of American Football was a staple in the sports news cycle this past week... just not the way those in charge had hoped. What transpired? Oh boy...
The website The Athletic reported that Carolina Hurricanes owner Kevin Dundon has invested $250 million into league just as that story's sources said that the league did not make payroll in Week 1. But that may not be how this story really played out. Early last week, The Athletic came out to report that Dundon, a Dallas billionaire that purchased majority interest in the NHL's Hurricanes last year, had ponied up a quarter of a billion dollars to finance the AAF, with league founders Bill Polian and Charlie Ebersol naming Dundon their new chairman. Correlating that report was anonymous sources saying that the league did not meet its payroll obligations in Week 1, giving the appearance that the foundling league was already in red ink. But Mike Florio of Pro Football Talk got a completely different story from Ebersol, who explained the issues that had been reported. In terms of Dundon's financial infusion, this was his move to invest in the AAF. He carried reservations about investing at first, Ebersol stated, but saw the product on the field, the ratings, and the gate on opening weekend, then felt comfortable in offering his resources afterwards. When it comes to players and coaches missing paychecks, Ebersol said that it was a mix-up due to changing payroll administration companies. Shortly after this, individual players got on Twitter and other forms of social media to announce that they were paid on time. After a little bit of time has passed, there are some reasonable conclusions that one could draw. In this instance, what occurred was a clerical snafu happened in the first week of the season, which is considerably bad timing, as it would question the league's solvency. The introduction of Dundon as a primary investor only lead to that hasty conclusion of the AAF being cash strapped. However, those Chicken Littles screaming that the sky is falling on the young football league seem to bypass one key flaw to that logic: when one amasses the level of wealth that Dundon has made, one does not simply throw cash away on a whim. He views this as a viable investment, seeing more benefits than pitfalls. Just to be clear, once the balance sheets and bottom lines are calculated to conclude the AAF's first fiscal year, it will end in a loss. It takes time for a business to turn a profit, let alone a sports league. And as long as the AAF is not hemorrhaging debt, then Dundon will have spent his money well. For proponents of the league to hope that this will be the last scare, good luck. Thanks to slow news days (and a particular bias toward the NFL product in this humble scribe's opinion), this may not be the final fiscal welfare story of doom this spring. But all the league can do is keep moving on and (hopefully for those of us who enjoy it) keep moving up.
Now that has been addressed, let's talk about what's really important: the games...
The Salt Lake Stallions played a return match against the Arizona Hotshots, this time in Utah, with the Stallions winning this game 23-15. In Week 1 in Tempe, AZ, this was the most entertaining game of the opening weekend slate. In watching that game, one could gain the sense that if these two met again, Salt Lake would be the victors. And that is precisely what happened at Rice-Eccles Stadium on Saturday. This really was a story of the quarterbacks. Stallions signal caller Josh Woodrum would return from injury in this game and lead Salt Lake offensively, making timely passes against the Hotshots' secondary, their weakest unit. On the other side, Arizona's John Wolford was knocked out of the game to start the second half as he would suffer a back injury on a throw that was intercepted. While his back-up Trevor Knight would play fine in Wolford's absence, the 'Shots were unable to get offensive momentum. Salt Lake would earn their first victory of the year (1-2), while this would be Arizona's first defeat (2-1). Would the Hotshots lose the Western Conference lead by the end of business on Sunday?
The Memphis Express would finally pull the plug on QB Christian Hackenberg and replace him with Zach Mettenberger, who gave the Orlando Apollos a run for their money in a 21-17 loss. Yes, this is a developmental league. Guys are learning how to play at the pro level. But there comes a time when a player has unequivocally proven he should not be out there. And after 2 & a half games, it was evident that Hackenberg needs to ride the pine. Like Hackenberg, Mettenberger has NFL experience as a short term starter for the Tennessee Titans. When Mettenberger came in, the complexion of the Express offense would change. He would throw 2 touchdown passes to get Memphis within 4 of the undefeated Apollos, who cooled off some from their scorching hot start to the season. But Orlando ran the ball well all game, and kept possession of the ball to run the clock out to remain undefeated (3-0). Memphis is still looking for that first league win (0-3), but with Mettenberger under center, that time may come sooner rather than later.
The Birmingham Iron snag four takeaways to render the Atlanta Legends feckless, as the Iron remain undefeated after rolling to a 28-12 victory. The Iron's black and grey color scheme may be very clean, but it does not have a flair like Arizona's bright yellow and green uniforms. And Birmingham has embraced that identity in how they play. Yes, it may not be very pretty, but it's effective. Their defense plays with zeal and relishes in causing turnovers, getting three picks off Atlanta's Matt Simms and recovering a fumble. On offense, QB Luis Perez has been an efficient passer, but has no TD throws to his credit. The man racking up the trips to paydirt is RB Trent Richardson, who rushed for 3 TD's and 42 yards (Not a typo). With many teams opting to play into the league regulated advantages of the offense, it certainly makes sense to build strength defensively as a classic foil. The Iron (3-0) remain tied with Orlando at the top of the Eastern Conference with their Week 5 meeting looming in the distance. The Legends stay winless (0-3), making mental errors that are compounding their on field problems.
The San Diego Fleet had the best offensive week as they would cruise to a 31-11 result over the San Antonio Commanders. When these two teams met in Week 1, San Antonio may have not been a group of world beaters, but San Diego was a discombobulated mess on offense. Ever since Philip Nelson took control under center for the Fleet, this team has found its groove. Against the Commanders, Nelson went 17 for 25, 193 yards, 2 TD's & INT (NFL passer rating of 100.9). Add that to the game RB Ja'Quan Gardner had (122 yards with a league record 83 yard touchdown run), and it would make this game academic. The Fleet have come alive, winning their last two to tie Arizona at the top of the Western Conference (2-1). San Diego will meet the Hotshots in Week 5 potentially for the conference lead. Meanwhile, San Antonio has slid down the standings thanks to 2 straight losses (1-2). The Commanders will need to figure out how to get back on track so they won't be left behind in a competitive conference.
---