No Doubts: 2019 NFC Championship Game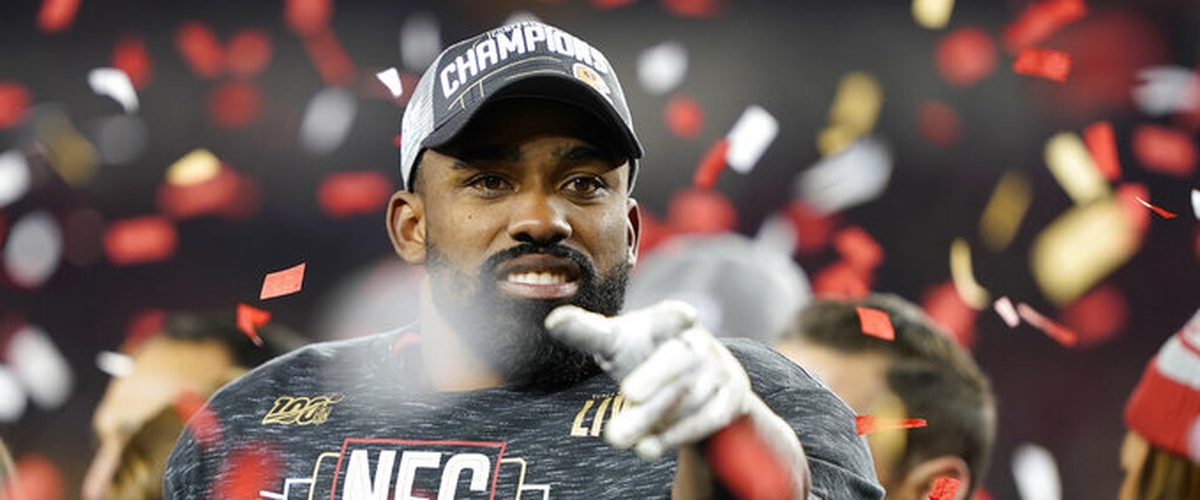 Same song, same verse.
The San Francisco 49ers laid to rest any doubt regarding their primacy in the NFC by throttling the Green Bay Packers 37-20, where the score does not indicate the level of dominance exerted by the Niners. The 49ers win their seventh George S. Halas Trophy in franchise history and will attempt to become the first NFC team to win 6 Super Bowl titles when they face the Kansas City Chiefs in Super Bowl LIV.
The 49ers game plan was not too dissimilar when they faced the Packers eight weeks ago: control both sides of the line of scrimmage to run the ball on offense and limit the opposition when the Scarlet and Gold are on defense. The Niners offense was essentially running back Raheem Mostert, whose 220 yards rushing and 4 touchdowns were conference championship game records. This was an incredible effort by one player to take over such a big game, and his performance on this day will be the stuff of legend. Defensively, they would pitch a first half shutout to go to intermission with San Fran holding a 27-0 lead. Green Bay QB Aaron Rodgers was sacked three times, picked twice, and fumbled three times, losing one. This is not an indictment on Rodgers. He played valiantly in defeat (31 of 39 for 326 yards, 2 TD's, 2 INT's for a 97.2 passer rating), but the 49ers defense turned in yet another stellar performance to secure their first Super Bowl berth in seven years. Congratulations to the 49ers organization and their fans for this great accomplishment.
The Packers beat many preseason projections by ending their season on the doorstep of the Super Bowl. This is the culmination of the sea change that occurred one year ago, with the hiring of Matt LaFleur as head coach and the roster machinations of general manager Brian Gutekunst. It goes to show that sometimes being stale is just as bad as being trapped in a perpetual cycle of losing, as both circumstances lead to the same outcome: no championship hardware. This infusion of young blood through the Packers organization has served them exceptionally well. Can they become conference contenders once again? The answer is absolutely. While Rodgers may not be the player he was at his peak, he is still very capable of being the field general they need to keep that offense humming. It would behoove Gutekunst to examine the free agent market for help at the wide receiver position. Outside of WR Davante Adams and TE Jimmy Graham, the receiving corps was about as green as the grass at Lambeau Field in September. Bringing in some experienced hands would be welcomed by Rodgers and LaFleur alike. Defensively, the free agent acquisitions of Za'Darius Smith and Preston Smith were inspired, as the duo provided a disruptive pressure plan for coordinator Mike Pettine. Improvements in the back half of the unit would only help its overall play. Run stuffing linebackers would give Green Bay a more dynamic defense, with more secondary depth providing more situational flexibility. The Packers certainly overachieved in 2019, but there is a framework in place to assure that this campaign is not a flash in the pan. The question now is how LaFleur and Gutekunst react to this sudden burst of success; do they stay aggressive and keep adding necessary pieces or do they stand pat?
---