Walkthrough: Coaching Hires This Week
As we stand on the precipice of the NFL's Elite Eight that is the Divisional Playoff round, almost all NFL coaching vacancies have been filled. The Cleveland Browns remain the lone holdout, probably due to a sweepstakes to name a winner. However, all others have named their new head men for 2020. Here's the rundown: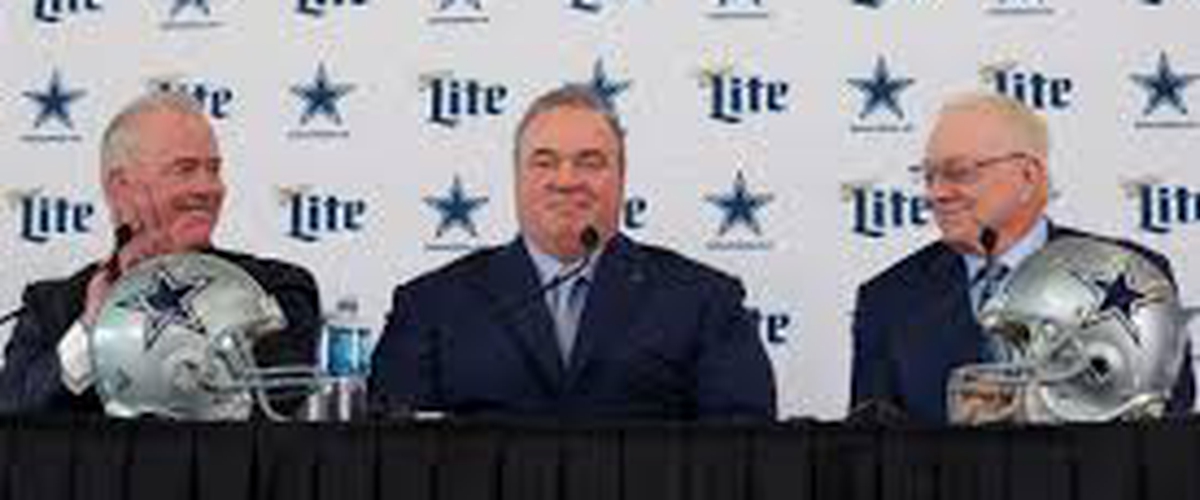 Mike McCarthy, Dallas This was still one of more bizarre episodes in a pro football coaching change in recent memory. After the conclusion of the regular season, it was anticipated that Jason Garrett would be relieved of his duties in the form of his contract expiring so owner & general manager Jerry Jones can find a replacement. But that didn't happen. In fact, it was reported that Garrett campaigned heavily to be retained, all the while Jones was said to refrain from declaring Garrett gone "out of respect". This past weekend, Jones interviewed former Bengals head coach Marvin Lewis and McCarthy, with the latter impressing Jones so much that McCarthy stayed overnight in Jones' estate. On January 5, it was publicly announced that Garrett was out, and McCarthy was named the Cowboys new head coach the next day. Oh, where to begin...
Jones has always done things his way as long as he has owned the Dallas Cowboys, even if it causes consternation elsewhere. However, if Jones was going to go with new (or recycled) blood in the coaching ranks, it was disrespectful to leave Garrett twisting in the wind, let alone left to essentially grovel to keep his job. One would hope Garrett gets the opportunity to be a head coach elsewhere to see just how he would do under a different structure. As for McCarthy, his resumé of a Super Bowl title and a strong 13 year run in Green Bay meant everything to get him this new gig, But to those fervent Cowboys fans, that resumé means absolutely nothing, since that 125-77-2 record and Lombardi Trophy was not done wearing the blue star. And that pressure to make the offense with Dak Prescott akin to those Packer teams in the early 2010's and to reach new heights with it will be on Day 1. With the coach decided, that leaves Jones. Congratulations, Jerry. You picked up a respected head coach to lead your franchise. When Jones said he wanted one more Super Bowl ring, it left many to wonder how serious his intentions were. Hiring McCarthy was a step in the right direction. But can Jones relegate his imprimatur strictly with talent procurement? In the past, the owner has influenced coaching decisions. If Jones has invested in McCarthy to bring Dallas their sixth Super Bowl championship and the fourth in the Jones era, he must give McCarthy the autonomy to do so. But can the Cowboys' grandiloquent owner be willing to take that step back for the greater good of America's Team?
Matt Rhule, Carolina Panthers owner David Tepper took some flak for firing Ron Rivera, even if it may had been time. So needless to say, many were very curious as to who would be the first coaching hire in this new era of Carolina Panthers football. And that first hire is an intriguing prospect. Enter Matt Rhule, whose experience is almost exclusively at the college level. His only pro level job was as an assistant offensive line coach in 2012. But what the powers that be in Charlotte saw was a man who turned around the Temple & Baylor football programs, one that gave the Owls their first American Athletic Conference championship in 50 years and led the Bears to the Big 12 Championship game and a Sugar Bowl berth in his fourth year at the helm. Rhule has become a turnaround specialist. But can he do it at the pro level? The NFL landscape is littered with collegiate coaching legends who were rendered mortal in the grind of the professional football environment. Tepper has inked Rhule to a seven year contract worth a reported $60 million, a hefty payday for an unproven commodity. But if Rhule meets or exceeds expectations, the Panthers will look shrewd. Otherwise...
Joe Judge, New York Giants Not often does a coaching hire touch off such a kerfuffle, but it did. Just to be clear, this was through no fault of Judge, but a generalized backlash against league hiring practices. Specifically, the paucity of African American head coaches being hired by NFL teams lags far behind their contemporaries in other sports. With African American players making up 67% of the player pool, it seems peculiar that only 3 of the 32 NFL head coaches are black (Mike Tomlin, Pittsburgh; Anthony Lynn, LA Chargers; Brian Flores, Miami). Your humble scribe will cover this topic in detail in the very near future. But today, the focus will be on Judge, who parlayed a five year run as the New England Patriots special teams coordinator into a Giants head coaching gig. So, according to the Chicken Littles, which negative do you wish to scrutinize, his descendance from the Bill Belichick coaching tree or his perceived flaw as an ineffective wide receiving coach from this past season? Yes, the track record of Belichickean assistants is the exemplification of caveat emptor. But is Judge being brought in to develop a culture or simply coach? And as for his track record, it is worth reminding the Peanut Gallery that current Baltimore Ravens head coach John Harbaugh (and Super Bowl XLVII champion) was previously a special teams coordinator. And seeing the fact his Charmed City Blackbirds are in prime position to add to their trophy case, it's not a stretch to declare that hire a success. Unconventional paths to these premium positions are not an indicator of success or failure. Judge will be graded on what he does, not where he's been.
---