Who Fed It And Who Ate It: 2019 Week 11
Well, this was an eventful week, and maybe not to the league's liking. The belated nature of this post is due to potential developments from previous events. It is not the nature of your humble scribe to focus on stories that receive ubiquitous coverage by traditional outlets, but special circumstances surround one particular subject, so The Gridiron Eye will hopefully put a different perspective than what may be readily available. That said, let us begin.
The Ass Kicking of the Week was delivered by the Baltimore Ravens on the Houston Texans, a 41-7 undressing that was no where near as the score indicated When one looked at the schedule entering Week 11, the matchup between the Ravens and Texans looked like a premier game. Two AFC division leaders going at it, each of them jockeying for playoff position and distance from their respective division rivals. What occurred was a proverbial separation of the men from the boys, as Baltimore dominated Houston from the opening kickoff. Ravens QB Lamar Jackson solidified his case to be NFL MVP, while Texans counterpart Deshaun Watson suffered his worst day as a pro. And just to make sure it's understood, Houston's lone touchdown was a garbage time gimme with the result of the contest long decided. The Texans' loss, coupled with an Indianapolis Colts victory over the Jacksonville Jaguars, have slid to second in the AFC South. While Houston is still in a dogfight with Indy, Baltimore just keeps slapping distance on the rest of the AFC North. The Ravens at 8-2 are currently 3 games ahead of the second place Pittsburgh Steelers, who sit at 5-5 and a heads up loss to these Ravens. The Charmed City Blackbirds are angling for a top seed in the junior conference, and are primed to take advantage of a New England Patriots misstep to secure home field advantage throughout the playoffs. And if you haven't seen the Ravens this year, clear your calendar this coming Monday night. They will playing the LA Rams on ESPN. Treat yourself to something special in the realm of pro football and watch.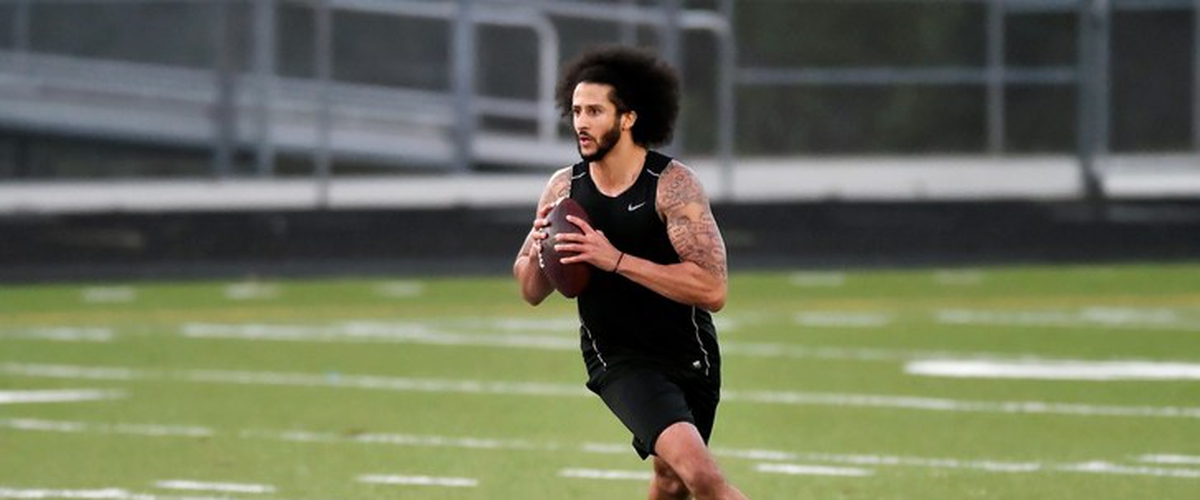 Colin Kaepernick was afforded a workout hosted by the NFL, complete with many franchise representatives on hand to watch and assess his capability to play.... With a whole lot of catches Kaepernick has experienced a unique journey through both his NFL career and his time outside of the NFL. A former NFC Championship winning quarterback, he has been unemployed for three years ever since opting out of his contract with the San Francisco 49ers while being the face of the movement of kneeling for the national anthem to bring awareness to social injustice occurring in African American communities. Kaepernick and teammate Eric Reid were able to force the NFL to settle a collusion lawsuit against the league, stating their protests were the factor where the NFL and/or its franchises worked in concert to blackball the pair from procuring a contract with any NFL team. While Reid was able to find a spot in Carolina, Kaepernick stayed on the outside looking in. Then, the news broke that Kaepernick would be given the opportunity to work out in front of NFL team executives. Essentially, it would be a pro day for a veteran player. where coaches and players are brought in to help him look as good as possible. On the surface, it looked like the NFL was taking an extraordinary measure to give a shunned signal caller an opportunity to impress someone enough to have them extend Kaepernick a contract. But looking a little deeper, this had Shield spin control all over it. Kaepernick was extended the offer on Thursday with a mere two hours to either accept or pass. The workout would be in Atlanta on a Saturday... In the midst of college football games being played with many high profile contests with national title implications. Kaepernick's workout might as well have been held on a dirt field in Montana for all the attention it wouldn't get. When the NFL looks to avoid attention, that's a massive red flag. On Saturday, things only got worse. When Kaepernick arrived, the NFL presented him with a letter of indemnification that was so overarching, it would give him zero recourse if Kaepernick were to even so much as stub his toe. On top of that, the league barred Kaepernick from using a camera crew he brought with him to film the workout. Again, one should be extremely leery when the NFL refuses to allow filming. Kaepernick's representatives read the NFL's waiver, decided it was not in his best interest to sign, and the league's involvement ended there. The workout was relocated to a nearby high school field, where 7 of the 24 committed franchise executives followed to attend at the other site. While no one walked away particularly impressed with Kaepernick (this type of activity is remedial for players with pro experience), but he at least had an audience of almost of the teams in the NFL to show what he could do. Let's just call this for what it is; a ham-handed PR stunt to ostensibly avoid a second collusion lawsuit by Kaepernick's people, since not one single NFL team invited him for an individual workout. So, the powers that be in league circles concoct this scheme to force Kaepernick to make a snap decision to accept an invitation to a workout under NFL control and conditions, then doubling down on that with a restrictive liability waiver that no lawyer worth their salt would not let their client sign. This is the NFL trying to have its cake and eat it too. Get Kaepernick to agree to this workout, bury him in paperwork that shields the league (pun intended), then pats themselves on the back when no team signs him, saying they tried. Dallas Cowboys Jerry Jones proclaiming that Kaepernick is more interested in his as activism than playing football leads one to believe that this may have been the narrative from the league all along. Remember the power that Jones wields within the ownership body. While proving such a theory may be nigh impossible, it is certainly plausible given the actions and behaviors of the executive arm of the NFL. As for Kaepernick, his career performance shows a sure upside and serviceable statistics that certainly warrant teams taking consideration into making him a backup, or even able to compete for a starting job. It's doubtful he'll be signed by a team based on that exhibition, but hopefully, teams will take a serious look at Kaepernick individually and give him the chance to earn a contract. Perhaps his play that led him to Super Bowl XLVII was simply lightning in a bottle, and maybe he has the ability to do it again. All this scribe can ask for is he given the opportunity to try.
T
---