NHL Fantasy Hockey Rumors: 5 Bounce-Back Candidates for 2017-2018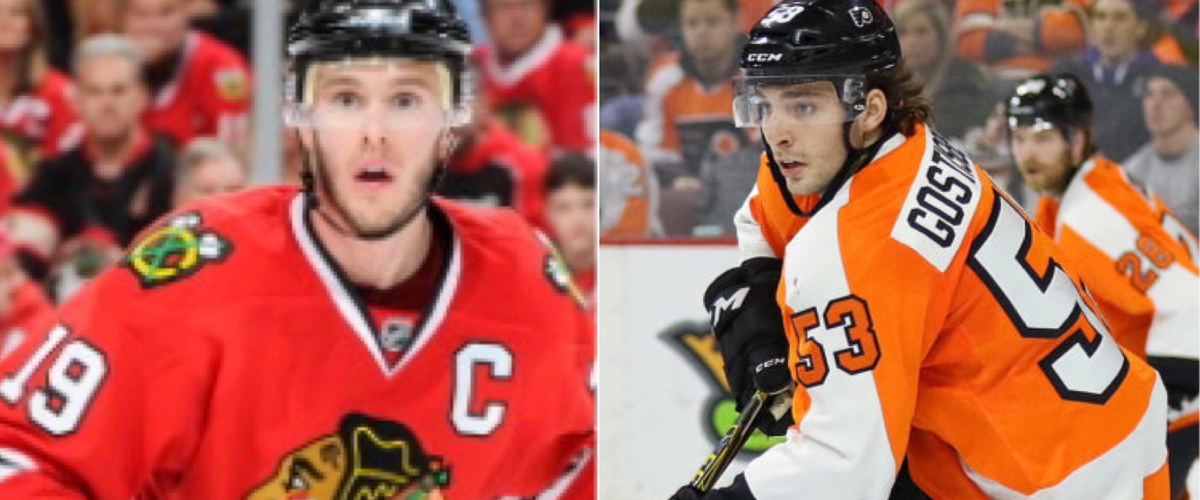 Find us @TheHockeyPress on Twitter & on Facebook: @TheHockeyPress OR at http://thehockeypress.ca.
Here are the Fantasy Hockey Bounce Back Candidates for the 2017-2018 NHL Season:
Name: Claude Giroux | Age: 29 years
Salary: 5 years | $8.275M
Team: Philadelphia Flyers
Overview: In the past 4 seasons Claude Giroux has declined in points ranging from 10-15 points less each year. Last year he only managed to get 58 points in 82 games, this is disappointing considering Giroux is considered to be one of the elite talents in the NHL. To put it into context, the last time Giroux had less than 14 goals was in a lockout shortened season where he scored 13. The only difference from last year is he wasn't taking enough shots. He only had 199 compare to his last 4 full where he's had 200+. I'd like to believe he will improve this coming year especially with Nolan Patrick joining the team which will ease the load for Giroux a little bit.
Projection: I'd project 70 points for Claude. Scoring a minimum of 25 goals. Take him with your 2nd pick.
Name: Jonathan Toews | Age: 29 years
Salary: 6 years | $10.5M
Team: Chicago Blackhawks
Overview: After a disappointing couple of seasons, Jonathan Toews has once again reunited with Brandon Saad after the Hawks traded Artemi Panarin for him. They way I see this is that they broke up one duo to reunite another, however I feel as if Patrick Kane will be able to adapt more easily to a new teammate than Toews. Last 2 seasons Toews only had 58 points, and while most of his stats stayed the same including shots the amount of chances decreased. His S% dropped by almost 5%. Before Saad was traded, Toews was able to achieve the 68 point plateau and almost scored 30 goals (28). I believe now that Toews will notice a familiar face on his team/line he will surely produce.
Projection: I project Toews to get 65-70 points next season and scoring 25 goals. I'd select him with my 4th pick because some people may sleep on him.
Name: John Klingberg | Age: 24 years
Salary: 5 years | $4.25M
Team: Dallas Stars
Overview: In the past 3 years Klingberg has been able to exceed expectations scoring 40 or more points. However last season was a little disappointing considering his points dipped by 9, he was a +2 compared to a +22, and his shots went down from 171 to 124. Although his S% almost doubled, that isn't something which is sustainable. There are some positives for next season though, Jamie Benn, Tyler Seguin, Alexander Radulov, and Ben Bishop are all healthy, Klingberg increased his blocks to 117 from 68 so if your league counts those categories than thats a plus.
Projection: I project Klingberg to get 45-55 points next season and his PP points will increase, plus his defensive game has been upgraded.
GO READ @TheHockeyPress NEW " NHL Fantasy Hockey Rumors: 5 Breakout Candidates for 2017-2018 " ARTICLE. Trust me it's worth it! Link: http://thehockeypress.ca/nhl-fantasy-hockey-rumors-5-breakout-candidates-for-2017-2018/
Name: Shayne Gostisbehere | Age: 24 years
Salary: 6 years | $4.5M
Team: Philadelphia Flyers
Overview: The Calder trophy nominee in the year of Connor McDavid only managed to put up 39 points last season even though he played 12 more games than the year before and still got 7 less points. Now he looks to rebound on a team that improved over the offseason getting Nolan Patrick. The Flyers performed worse than they actually are last season and I think they can be a Playoff team. Gostisbehere will be a big part of that being the Top Defenseman and being the guy on the 1st PP.
Projection: I project around 45-50 points for Shayne next season. Again possibly scoring around 15 goals.
Name: Cory Schneider | Age: 31 years
Salary: 5 years | $6M
Team: New Jersey Devils
Overview: The former Vancouver Canucks goaltender had his worst season last year, posting his second worst SV% of his career (.908) and a 2.82 GAA. Many feel as if the Devils did bad because of Schneider's play and while that may be true Cory is always looking to get better and it wouldn't shock me if he got back on the horse and showed why he's on of the most consistent goaltenders in the NHL. Devils added Marcus Johansson, Brian Boyle, and Nico Hischier. This seems like a team that will challenge for a Playoff spot and Cory will be a big part of that.
Projection: I project at least 25 wins, .915 S%, 2.50 GAA. While he has room for improvement I believe Schneider would be a great mid round pick. He could be a steal.
Other Candidates: Anze Kopitar, Johnny Gaudreau, Mark Giordano, Oliver-Ekman Larsson, John Carlson, Steve Mason, Roberto Luongo.
Note: @TheHockeyPress is NOT Liable for any Trade Rumors or News reported in this Blog. Do not quote The Hockey Press for misinterpreting the original articles. Some info may have been misinterpreted, and changed for purposes. This Blog falls under the Fair Use Law. Do not Quote because all information was reported by the Writers/Articles listed.
More to come, Stay tuned. What do you think? Interact with us & Stay Updated | Tweet us @TheHockeyPress | Share/Like our Page on FB [Blog Updates/Countdowns] Facebook: @TheHockeyPress | Find more Articles by us @IBN [More Trade Rumors and Fantasy Hockey!] | Check out Cutting Edge Cases for the BEST NHL, NFL, NBA, MLB, EPL Sports Designed Phone Cases. Amazing Products at a Low Price. Shop Now! | Check out our Partners on Twitter @HockeyCentraI & @BarSouthNCelly for the BEST Daily Dose of Hockey. Give them a Follow for NHL or Hockey Highlights, News, GIFS/Memes, and Polls. JUST DO IT! |
---