Indianapolis Colts Draft Preview: Running Backs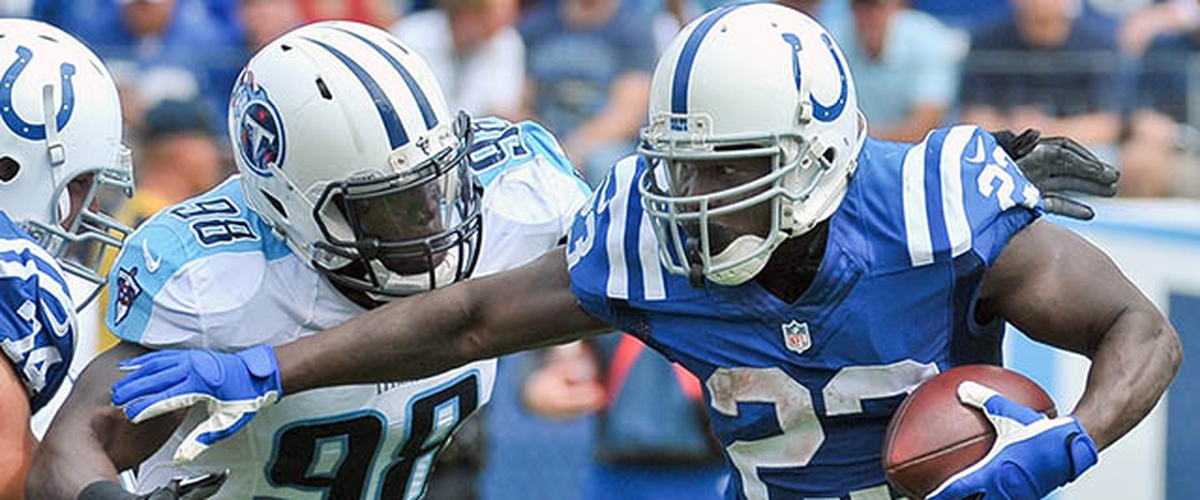 I was going keep this post about defense and preview some of the interior lineman prospects the Colts could look to take in the middle-to-late rounds next week, but with the signing of Johnathan Hankins, the gap in the middle of the defensive line seems to be filled. Hankins signed a 3-year, $30 million contract to fill up the front 3 of the Colts 3-4 defense. The signing of Hankins should bring David Parry's time in Indianapolis to a close, or at least his days of starting to a close, after Parry was charged with 2 felonies last month in Arizona.
So, what's next? We've covered some potential EDGE rushers and cornerbacks the Colts could look to take in the 1st. But what if Chris Ballard doesn't like any of those options at 15? What other position could he look to take if he decides to stay put at 15? Since the guys at the two biggest positional needs don't impress Ballard at this point, what's the one position on offense he could address? Running back.
Frank Gore turns 34 this year and this year's running back class is deepest it has been in years. Good reason to take possibly the running back of the future. We could see anywhere from 3-5 RB's taken in the 1st.We know the main suspects of Leonard Fournette, Christian McCaffrey, and Dalvin Cook; but who else? Let's meet them and look at the pros and cons of the top 3.
Leonard Fournette (6'0 240 lbs.) LSU
Fournette weighed in at the Combine weighing 240, but couple weeks later he weighed in at 228 at the LSU pro day. What does this show me? He's dedicated. There has always been some speculation about just how much he wants to be a football player. Well, doubters, he lost 12 pounds in a couple of weeks after he wasn't pleased with his Combine weigh-in. There's a lot to like about Fournette. He's got the size, the strength, the speed that someone for his size shouldn't have, and he doesn't go down easy. Put those things together and what do you have? An All-Pro running back who could be in Canton one day. What does he need to work on? Not much. A back of his size isn't going to shake anyone in the open field, he will just look to run them over or hit them with a stiff arm that knocks them into next week. Also, being his size limits his effectiveness in the passing game. Those two things are things you can work on, but Fournette might be one of the best prospects we have seen him Adrian Peterson came into the league in 2007.
Christian McCaffrey (5'11" 202) Stanford
I almost put McCaffrey at 1 based off his athleticism, speed, and ability to help in special teams. But, I also almost put Dalvin Cook here at 2 due to the question of whether McCaffrey can be a 3-down back in the NFL. Verdict? McCaffrey got the nod at 2 over Cook for reasons I'll explain shortly. But, onto McCaffrey. There might not have been a more polarizing player in college football the last two years than the junior out of Stanford. McCaffrey busted onto the scene his sophomore year in Palo Alto and capped off his sophomore campaign with a dominant performance in the Rose Bowl. The reason he went under-the-radar so much his junior year was, he didn't get any better. I don't mean that in a bad way, he was still sensational, he just didn't wow us like he did the year before because we had seen it all before from him. McCaffrey has some of the best feet you will see from anyone. He's shifty which gives him the ability to change direction, cuts, juke, whatever you can think of he can do it. He can run on the inside or the outside and protects the football while he does it. He's also an immediate threat in special teams which the Colts have lacked for a long time now (sorry Quan Bray, Josh Cribbs, and everyone not named Jordan Todman.) McCaffrey does lack the ideal size for an NFL running back which hurts him when he's bracing for contact as he slows down, making himself more susceptible to injuries which haven't been too much of a concern of him. McCaffrey's stock has gone up dramatically over the last couple weeks with him going as high as #8 to Carolina, but could still find himself available by the time the Colts pick at 15. Question is, is Christian McCaffrey a long-term answer at running back? Chris Ballard will let us know if McCaffrey is on the board at 15 next week.
Dalvin Cook (5'10" 210 lbs.)
Cook has seen his stock go up, up up, and then down, down, down this draft process. Some considered Cook to be the best running back in this draft for the longest time, once projecting him to go as high as 4 to Jacksonville. Now, some consider him maybe the 4th best back and might even fall to day 2. I once had Cook going in the top 10 to Carolina at 8 and now I have him going to the Giants at 23. For the longest time, a lot of mock drafts had Cook going to the Colts at 15 and I was fine with it, I still am. While Cook has some concerns about his knee and some run ins with the law, he still shows the potential to be a long-term NFL RB. He possesses similar speed to Leonard Fournette despite being almost 20 pounds lighter, but does have the ability to be shifty back and make people miss unlike Fournette who just barrels through his defender. Cook doesn't run between the tackles like Fournette or McCaffrey as he is more likely to bounce it to the outside. He's not the powerful RB some may desire and his injury history may be an indicator of why he isn't, but if his knee checks out he could become an immediate impact if he goes to a team that's missing that EB to put them in contention.
Joe Mixon (6'1" 226 lbs.) Oklahoma
No.
Alvin Kamara (5'10" 214 lbs.) Tennessee
Kamara isn't rated this high on my board (#6), but since I'm not a professional doing this and some professionals see enough in him to possibly go at the end of the 1st, might as well talk about him. Kamara went under-the-radar as former Vols RB Jalen Hurd got a lot of the attention, but became a solid prospect as Hurd went down with injuries and then left the program. Kamara has speed and burst to be an explosive part of a high-powered offense, he also doesn't go down easily as he can bounce off tacklers if they don't wrap him up right. Kamara could be a project for a team looking for a quick fix at running back. Kamara's vision could be better (Trent Richardson flashback). Kamara also tends to put the ball on the ground so that'll be another project for a team to work with. Is Kamara an elite prospect? No. But, he could be an intriguing prospect in coming years.