The NFL in 32 Questions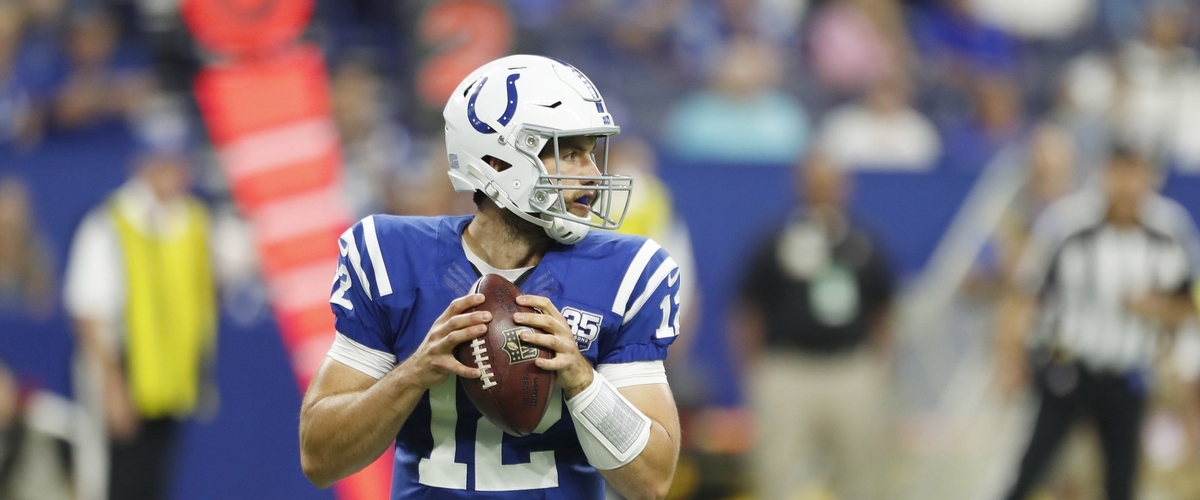 NFC West
1. Arizona Cardinals: If the Cards get solid QB play this year (from Bradford or Rosen) how far will they go?
2. Los Angeles Rams: Will all the deals the Rams made this off-season hurt them in the near future?
3. San Francisco 49ers: Is Jimmy G the savior this franchise has been looking for?
4. Seattle Seahawks: Has the Seahawks Super Bowl window officially closed?
AFC West
5. Denver Broncos: Does Case Keenum actually give Denver a fighting chance this year?
6. Kansas City Chiefs: Even if Mahomes meets expectations, will their deteriorating defense do well enough to hold onto leads this year?
7. Los Angeles Chargers: Can the Chargers stay healthy enough not to derail their season again?
8. Oakland Raiders: Has Jon Gruden already driven this budding franchise into the ground?
NFC North
9. Chicago Bears: Is Khalil Mack enough to bring the Bears out of the divisional basement?
10. Detroit Lions: Will the Lions have a 100 yard rusher at any point this season?
11. Green Bay Packers: If Rodgers stays healthy the whole season, will they go to the Super Bowl?
12. Minnesota Vikings: Will Kirk Cousins lead the Vikes to glory after decades of heartbreak?
AFC North
13. Baltimore Ravens: Is this the year Joe Flacco loses his starting job?
14. Cincinnati Bengals: Is this Marvin Lewis long awaited last year as coach of the Bengals?
15. Cleveland Browns: With Tyrod Taylor, Jarvis Landry, Josh Gordon, and a host of new faces, the Browns won't go 0-16 again, right?
16. Pittsburgh Steelers: Will the Steelers play second fiddle to New England again this year?
NFC South
17. Atlanta Falcons: In Year 2 of Sarkisian's offense, will the Falcons fly high or will they continue to have ups and downs?
18. Carolina Panthers: Is this going to be an MVP year for Christian McCaffrey?
19. New Orleans Saints: Was the signing of Teddy Bridgewater a high priced backup plan, or is Drew Brees edging near retirement?
20. Tampa Bay Buccaneers: If Ryan Fitzpatrick plays lights out like he has as a backup in the past, will there be a legitimate QB controversy?
AFC South
21. Houston Texans: If everyone stays healthy, are the Texans the team to beat in the AFC?
22. Indianapolis Colts: With Andrew Luck's return, how many more games will they win?
23. Jacksonville Jaguars: Will Blake Bortles sink their hopes of winning this year?
24. Tennessee Titans: With a new coaching staff will they take the next step?
NFC East
25. Dallas Cowboys: Without Dez and Jason Witten, who will be catching passes this year?
26. New York Giants: If their offensive line opens holes for Saquon Barkley, will a balanced attack be enough for the Giants to make it to the postseason again?
27. Philadelphia Eagles: Will Nick Foles be "playoff Nick Foles," or will he be "uninspiring regular season Nick Foles?"
28. Washington Redskins: Even if you believe Alex Smith is less talented than Kirk Cousins, will the lack of QB drama be considered an upgrade?
AFC East
29. Buffalo Bills: Despite making the playoffs last year, are the Bills in a full rebuild?
30. Miami Dolphins: Can Ryan Tannehill play recapture his solid form from two years ago?
31. New England Patriots: With a beat up o-line and a bunch of new faces on offense, is this the year the Pats lose their hold on the AFC?
32. New York Jets: Does Sam Darnold give them the kind of QB play they have needed for decades?