Why Russell Westbrook is Unequivocally NOT the MVP (hint: 41.9% FG)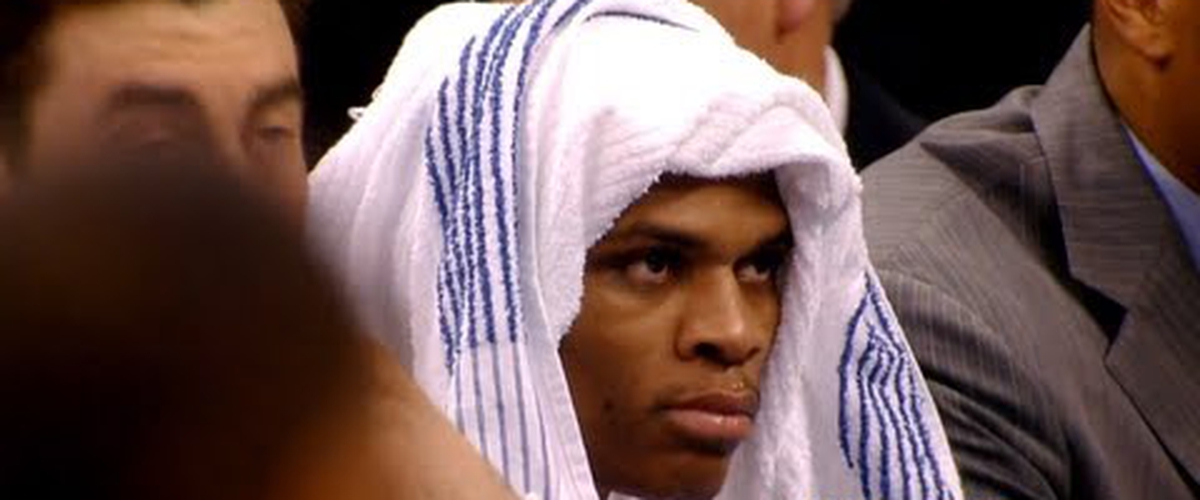 Here's Is Why Russell Westbrook is unequivocally NOT the MVP.
(1) He is shooting an abysmal 41.9%(!!!) from the field this year! Even frikken Kobe Bryant the hogger-of-all-balls-and-jacked-up-terrible-shots-guy shot 45.9% in his 2008 MVP season. Kobe also shot better than that (46.3%) when he was the only acceptable player on a 2006 Lakers team that had Smush Parker and Kwame Brown as his helpers. This fact alone is enough to show that Russ is wasting a ton of good possessions. KWAME BROWN.
Since 1958, the only player to win an NBA MVP Award to shoot 42.0% or below was ALLEN IVERSON back in 2001 (shot 42.0%), and this was only because he was a one-man team that led the 76ers to the BEST RECORD in the East. Not only was A.I. an Icon, but he was the top scorer on that team by a MILE. The second top scorer on that 76ers team was a dude named Theophalus Curtis Ratliff (he actually blocked a lot of shots) who averaged 7.2 points per game his whole damn career (12.4 points per game in 2001). When Oscar Robertson won the MVP with a near-triple-double, he had a FG% of 48.3%.
Russ has a 46.7% Effective Field Goal % while James Harden has a 52.9% Effective Field Goal %. (eFG% is calculated as (FGM+0.5*3PM)/FGA) so this stat adjusts for 3pt % as well). Russ also has a win share of 10.1 vs. James Harden's 12.8, which is the highest in the league. Sure one can argue that stats are just stats and not reflective of the real life impact, but it's the best way to compare apples to apples while aggregating a ton of data and factoring in many aspects of the game.
(2) Russ West's teammates shoot pretty well - taking bad shots when your teammates all shoot a higher FG than you equates to a concept of WASTED POSSESSIONS. Both Enes Kanter and Steven Adams are capable and reasonably skilled big men who shoot high percentages (56.6% and 58.0%). Even Oladipo, a quality teammate who can penetrate very well and cannot shoot for his life, shoots 45.4% from the field. Meanwhile, all of the relevant players on the Rockets shoot below 41.4% for some reason (Lou Will, Eric Gordan, Ryan Anderson, Trevor Ariza, Pat Bev) while the big men on that team are either 15 years old or incompetent. Capela??
(3) Another highly important point to note is that wins truly do matter, both in the history of MVP voting and in real life standings. No MVP since 1985 has won the MVP award on a team lower than the 3rd seed. Sure, no player is solely responsible for his team's entire record, but great players make other players better. Great players are true leaders that lead an organization. And being a 6th/7th in the west has to be taken into consideration. The Utah Jazz have not been relevant since Carlos Boozer and even they are ahead of the THUNDER.
On the other hand, James Harden is currently leading a bunch of buffoons to the 3rd best record in the entire league (46 wins 21 losses). The only two teams that have better records are the Warriors (who went from being a 73 win team to a 73 win team with KEVIN DURANT) and the Spurs (best system of all time). James Harden has led the Rockets to a record better than the CLEVELAND CAVALIERS so far (another super-team that acquires whoever LeBron commands them to acquire) – James has help from Kyrie, Love, Tristan, JR, Jefferson, Frye, and now Korver and Deron Williams as well.
LeBron, Kawhi and Russ have all been stellar this year. But James Harden is having one of the best seasons of all time – he is the MVP.
P.S.
This was a pretty good article that I stumbled upon recently that lists a lot of the important factors that should be considered by the judges when voting. Harden got robbed 2 years ago when Steph Curry was voted the MVP. Hopefully he is not robbed again this year: Link.