Tyler Trent: An Inspiration to Thousands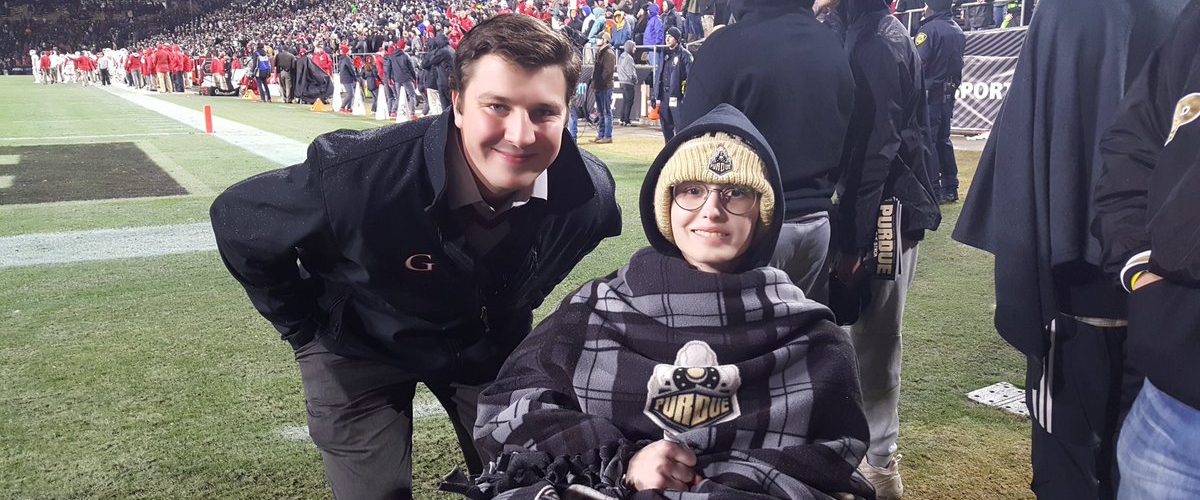 Photo Credit: Kelly Trent
Earlier this evening, the news broke that 20 year old Purdue superfan Tyler Trent had passed away. An inspirational figure to thousands of individuals around the country, Tyler was on his third battle with a rare form of bone cancer, osteosarcoma.
My first interactions with Tyler Trent came last season during the 2017 football season. I was in West Lafayette to cover the Michigan vs Purdue game for College Sports Overload and was walking around Ross-Ade Stadium during pregame. In the front row of the Purdue student section, there was a kid wearing black and gold overalls and showing his extreme passion for the Boilermakers. Little did I know, that kid had just completed a round of chemotherapy the night before and camped out in front of Ross-Ade Stadium to get an elite seat to the game.
Flash forward to October 20th, 2018. College GameDay ran a story of a Purdue student who was terminally-ill and battling cancer. The nation was introduced to Tyler Trent hours before the Boilermakers were slated to take on the No. 2 Ohio State Buckeyes. Throughout this clip, Tyler shared his hopes and dreams of how Purdue would take down Ohio State and shock the nation. Little did we all know, Purdue would do just that. And they did it convincingly with a 29 point beatdown over the Buckeyes.
A few short weeks later, I was blessed with the opportunity to watch a good portion of the triple-overtime thriller between Wisconsin and Purdue with the Trent family. While eventually the details from the game will fade from my memory, the time I was able to spend with Tyler Trent has left a lasting impact on my life.
Despite being in the midst of a battle for his life, Tyler Trent remained upbeat and positive. The game had me on pins and needles, despite not having a dog in the fight. Looking at Tyler, you would have never guessed that his beloved Purdue Boilermakers had blown a solid lead and were fighting to hang onto the game. Calm, cool, and collected – Looking adversity in the face as he had done several times before.
Tyler had aspirations to become a sports journalist in the future. In a piece that he wrote for the IndyStar while living in hospice, Tyler said, "Though I am in hospice care and have to wake up every morning knowing that day might be my last, I still have a choice to make; to make that day the best it can be. To make the most of whomever comes to visit, texts, tweets, or calls me./Yet isn't that a choice we all have every day? After all, nobody knows the amount of days we have left."
That nugget of wisdom has challenged me throughout the past several weeks. It's a constant reminder that no matter how rough my day has been or what is going on in life, it could also be my last day. A constant reminder that we need to make the most of every single day and every opportunity that we are given.
Stuart Scott said, "When you die, that does not mean that you lose to cancer. You beat cancer by how you live, why you live, and in the matter by which you live."
Tyler Trent fought the good fight and inspired millions of people along the way. He beat cancer in every sense of the way. Physically, he beat cancer twice. He beat cancer in how he lived. He beat cancer in why he lived. He beat cancer in the matter of which he lived. While our interactions were limited and brief, I can personally speak to all three aspects in which Tyler Trent impacted my life.
Tyler Trent, may you forever Rest in Peace.
"Don't give up. Don't ever give up." – Jim Valvano
---