Reviewing the Cub's opening Months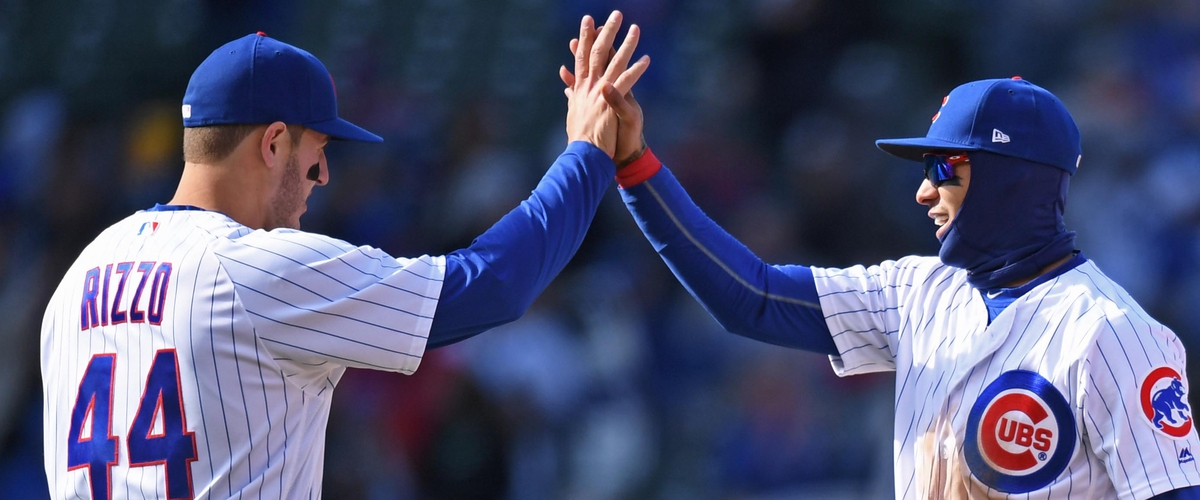 Baseball season is in full swing as May has now rolled around. We all know the Cubs 2017 campaign was a little shaky, although they did still make the NLCS for the third straight year. So, many were unsure of what we could expect from this club. Today I'll be reviewing the Cubs year thus far, the good, the bad, and the overall theme of the young season. Let's start out with the good.
The Positives
Al-Mago leading the charge
Ever since Almora and Baez were put at the top of the order, the two of them have ignited the offense. Both strung together 11-game hitting streaks. The two of them combined for 37 hits and 21 runs in the span of those streaks. Baez in particular has gone crazy this year with 26 RBI's and 7 HR's. The two of them also bring great defense at 2nd base and center field. It has been so much fun to watch these two explode in the past couple weeks, and we can only hope it continues.
New life for last year's cold bats
2017 was a year that Kyle Schwarber and Jason Heyward would like to forget. Schwarbs was struggling to stay above .200 nearly all season long after coming off of his ACL injury. Heyward wasn't much better. This year has been a different story. Schwarber has an incredible slash of .273/.385/.584 with 7 HR's and 17 RBI's. Heyward's numbers don't quite match that of Schwarber, but he has .368 with runners on. He is also 3rd on the team with RBI's with 14. This is the kind of production we have been waiting for from these two, and it's great to see it in action.
Sweet Relief
The Bullpen was the major focus for improvement after last year. I think it's safe to say they've turned it around. The Cubs' bullpen ranks 4th in the league in ERA with 2.65. They could lower their walks, but as long as runners aren't crossing the plate, they're fine. Morrow has been near perfect. He's 7/7 in save situations, he's given up just 6 hits in 10 innings, and he's yet to allow a run. As good as Morrow has been, you could argue that Carl Edwards, Jr. has been better. Edwards gave up one run, but he has the lowest opponents batting average on the team and he has as many strikeouts as some of our starters. Good relief pitching is a necessity in today's game, and the Cubs appear to be set.
Beating the Brew Crew
If you ask me, Milwaukee is the biggest threat to the Cubs in the NL Central. They put up a real tough fight last year, and they have gotten better. However, this year, the Cubs have their number. The Cubs took 7 of 8 games against them in the early stage of the season. Milwaukee was shutout in five of those games. Even when the Brewers were on an 8-game winning streak, the Cubs came in and swept them. These early wins could be huge when we get to September.
The Negatives
Slow start for Bryzzo
The heart of this team lies with Anthony Rizzo and Kris Bryant, alternatively know as "Bryzzo". However, we haven't seen a whole lot of that combination. Rizzo served 10 days on the DL already this season, and when he has been on the field, he isn't finding his groove. Rizzo is batting just .157. Bryant has been no slouch up to this point, slashing .289/.439/.487. But that was stunted when he was hit in the face by a high fastball in Colorado. Bryant wasn't seriously injured, but he did miss a handful of games, and has dropped off a bit since. The team doesn't feel quite the same when they aren't leading the charge.
Wild pitching
The Cubs' starting pitching, in particular Darvish and Quintana, had a rough start. Yu and Q, outside of playing Milwaukee, have allowed 31 runs on 27.1 innings pitched. The starting staff as a whole has surrendered 67 walks, 4th most in the MLB, and their ERA is sitting 3.84, 12th in the MLB. Luckily, the rotation has settled down in the last week of April. They made it one full rotation with a quality start from all five starters. Hopefully that trend will continue, but the inconsistency is a concern moving forward.
Winter weather
You could put a bunch of the blame on the crazy weather that this team has seen. I don't really like to do that, and clearly the teams they were playing had the same conditions, but I do believe that it has had some effect on them. It can't be easy, particularly for the starting pitchers, to perform well off of unusually long breaks and then play in cold, wet weather. Like I said, I don't like to focus on that too much, but I do believe we should see more consistent play as temperatures rise.
The Overview
The young season is resembling that of last year's campaign. It started with a lot of ups and downs, both offensively and defensively. The team flirted with .500, and just didn't look quite right. Then, out of nowhere, they snapped back into place. The Cubs ended April with a 5-game winning, which brought their record to 16-10 and gave them sole possession of 1st place in the Central. It was as if the team just wanted to remind everybody what they did in 2017. They showed that they are always in striking distance. This season will likely have plenty of bumps in the road, like any season for any team. But this team can always recover, and they never quit.