Road to Super Bowl LIII: A Hollywood Facelift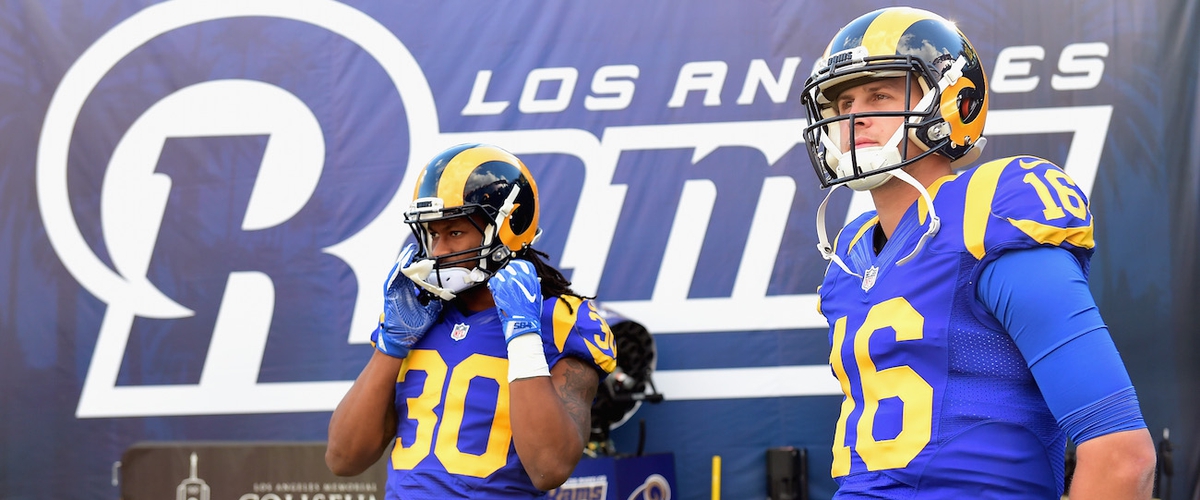 What a difference a few years and a new city can make. Let's go back four years ago. Remember the St. Louis Rams? A team mired in mediocrity and a far cry from the days of the Greatest Show on Turf. Almost every year without fail, this blog would point to them as the team with enough talent to have a breakout year. It never happened. Suddenly, the Rams were returned to the city in which they held nearly 50 years of history. Although they were back in Los Angeles, they were still the same mediocre team fans came to ignore in St. Louis. That was just two years ago. Now, they stand tall as the class of the NFC. But how? How can turn things around so quickly?
When the Rams re-entered the Los Angeles market for the first time over 20 seasons, promises were made to the fans and the city. Team Owner Stan Kroenke, Chief Operating Officer and VP of Football Operations Kevin Demoff, and General Manager Les Snead claimed they would bring world-class football and a world-class venue to Los Angeles. Well back in 2016, only one of those things looked to be true. The city of Los Angeles would indeed be getting a world-class venue. Some say it will be the premier sporting venue in all the world. Also, a venue of that magnitude will prevent the Rams from ever relocating again. So Rams fans had that going for them back in 2016. On the field, it was an entirely different story. The Rams, who couldn't break eight wins if their life depended on it, had hit rock bottom. After a 3-1 start to the 2016 season, the Rams would only win one more game. At 4-7, Jeff Fisher was given a contract extension. During his tenure as Rams Head Coach, Fisher would seemingly invent new ways to go 7-9. Then news came that the extension was secretly done months before the actual announcement. The city of Los Angeles and OG Rams fans had been fooled. They weren't getting the Los Angeles Rams. They were getting the St. Louis Rams who just so happened to be playing their home games in L.A.
To add more weird drama to the Rams disastrous return to Los Angeles, a public feud began to take shape. NFL Hall of Famers and L.A. Rams legend Eric Dickerson told a local radio station that he was banned from the Rams sideline. Yes, a legend for the city and the team was being cast aside by the team he carried during his playing career. Demoff tried to get ahead of the story and claimed there had been a "miscommunication" and Dickerson wasn't banned from the sidelines. The Rams legend stuck to his story and told the world that it was Coach 7-9 who was behind the ban. Things got so bad that the Hall of Fame running back said he'd have nothing to do with the team so long as Fisher was in charge. To make matters worse, fan attendance began to decline. As we all know, L.A. doesn't tolerate losers for long. And with a second team getting ready to crash on their couch, the Rams brass couldn't afford any more screw-ups. So they actually ripped up Fisher's extension and fired him. All it took was fan backlash and the words of a legend. The Rams would go on to lose the remainder of their games and finish 4-7.
During the 2017 offseason, the Rams would turn their attention to their future. The start of that future would begin by taking a chance on a 30-year-old wunderkind. Sean McVay was his name, and he was the offensive coordinator for the Washington Redskins. The move was called 'interesting' at best, but the job description was clear. Priority one would be to fix Jared Goff. The Rams had given up a small ransom to get Goff after passing on Carson Wentz. While Wentz and fellow rookie Dak Prescott were off to good starts, Goff looked terrible. There were times it looked like he couldn't even throw the ball properly. McVay surrounded himself with proven football minds on both sides of the ball and got to work. Meanwhile, he got some help from the front office. The Rams signed Robert Woods, drafted Cooper Kupp, and traded for Sammy Watkins. The Rams would also improve their offensive line. Andrew Whitworth was the most notable addition to that bunch. It didn't take long for the Rams new direction and mindset to pay dividends. McVay's play calling was an innovative breath of fresh air. An offense once described as a "high school offense" by Todd Gurley now looked like the second coming of the Greatest Show on Turf. They went from the absolute worst to the best offense in the league. The season would feature great highs like slamming the Legion of Boom's window shut and winning the division. Unfortunately, their run would come to an end in the first round of the playoffs. At least they weren't the St. Louis Rams anymore.
Coming into this season, it's clear that the Rams front office believed in the foundation McVay had established. The team believed in that so much so that they decided to push all of their chips into the center of the table. After paying their homegrown stars (Gurley and Aaron Donald), they got started on their all in push. They added Brandin Cooks, Ndamukong Suh, Aqib Talib Marcus Peters, and eventually would trade for Dante Fowler Jr. The big splash moves made by the Rams finally gave them that Hollywood feel. For the first time in a long time, the Rams looked and felt like a Los Angeles team. And they're not done yet. Their new mindset, their new culture, and their new roster have gotten them to Super Bowl LIII. Just a few seasons ago, no one thought a turnaround like this would be possible, but here they stand.
So how did it happen? How did the mediocre Rams of old turn into an elite team playing for the Super Bowl? It started with a shift a mentality from the top of the organization. As previously stated, the Rams top brass promised world-class football and a world-class venue. Originally, that was only half true. Even though they were back in L.A., the Rams continued to operate like the St. Louis Rams. They plotted to keep their coach despite him clearly being passed his expiration date, they were underachieving despite their talent, and their play was uninspired at best. It's easy to do that when you're plotting to pack up your team and move across the country. It's easy to take advantage of loyal sports cities. But in a city like Los Angeles, that won't fly for long without consequences. And it's even worse when ingratiating yourself to a market that's notoriously tough. In Southern California, fanfare can be fleeting. There are plenty of other things to do besides pay to see a mediocre team. The Rams finally understood they weren't in St. Louis anymore. So they took chances. They hired a 30-year-old head coach, stuck to their vision of Goff as a franchise quarterback, and went all in on a championship push once their foundation was set. Basically, they stopped being the St. Louis Rams and became the Los Angeles Rams. Not just in name, but in action.