Rangers Lose To Blackhawks 5-2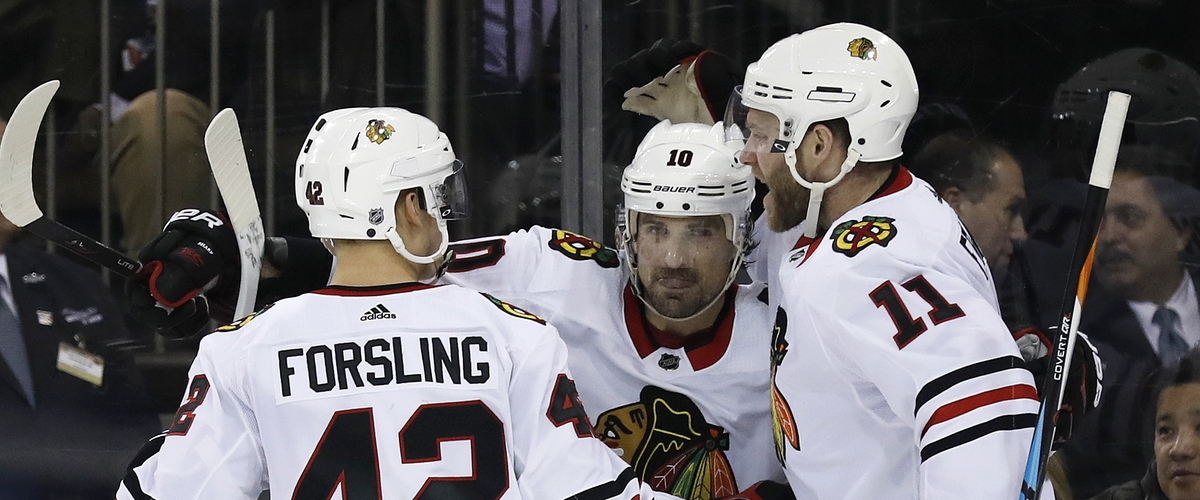 The New York Rangers lost to the Chicago Blackhawks last night 5-2. However, the score does not represent how close both teams play each other. Both teams were within a goal until the final minute where the Blackhawks added two empty net goals.
Patrick Sharp scored the game winner at 2:24 into the third period. Sharp took a wrist shot past goalie Henrik Lundqvist's glove that found the net for his fourth goal of the season. David Kampf and Alex DeBrincat assisted on the go ahead goal.
The Blackhawks got the scoring started in the first period. At the 16:09 mark, Vinnie Hinostrova scored to give the Blackhawks a 1-0 lead. Jordan Oesterle and Jonathan Toews both assisted on the goal.
Exactly two minutes later, the Rangers tied the game 1-1. Nick Holden put home his second goal of the season. Paul Carey and Boo Nieves assisted on the goal.
In the second period, the Blackhawks took back the lead at the 8:56 mark. Nick Schmaltz scored his eighth goal of the season giving the Blackhawks a 2-1 lead. Patrick Kane and Ryan Hartman assisted on the goal.
At the 11:14 mark, Jeff Glass of the Blackhawks took a delay of game penalty when he shot the puck over the glass in the defensive zone. Lance Bouma would go on to serve the penalty. Mika Zibanejand would then cash-in on the Power Play by putting home his 12th goal of the season to tie the game at 2-2 at the 11:32 mark. Pavel Buchnevich and Mats Zuccarello assisted on the goal.
Sharp would then put home the go ahead goal at the beginning of the third. In the final minute, the Rangers pulled Lundqvist for an extra skater. However, Toews would score an empty netter with 54 seconds left for his 11th of the season. With 5 seconds left, Kane would add another empty netter for his 17th of the season.
With the loss, the Rangers remain the top wildcard team. Had the Rangers won, they would've tied the Columbus Blue Jackets for third place in the Metropolitan Division. The Rangers are only six points behind the division leading Washington Capitals. The Rangers will travel to West this weekend as they play the NHL's worst team, the Arizona Coyotes, on Saturday night.
---