March Madness
Throughout March, my trivia team has been playing at Newburgh Brewing. Every week, we have been accumulating points to play in the Finale on March 29th, a bracket type elimination trivia contest. The first three weeks, we won every time and came in second the last week, this earning the coveted number one seed. Last night in Newburgh, it all came to fruition.
Dubbed "Hoodie's Hoodlums", our squad was named after Hoodie, the famous grey brewery cat. In the past, we all became charmed by her appearing in the taproom after a hard earned trivia victory. Just because we dominated in the weeks leading up to the finale, didn't mean we would breeze to an easy win in the finale. Sure, we'd be matched up against the lower seeds, but if we lost a round, we'd be eliminated and if the questions were in the wheelhouse of anyone who was a subject matter expert, we'd be crying in our beer.
The finale squad was made up of just the right people:
Nick Nappo, trivia maven/prodigy and a bard.
Leah Norris, sports guru and millennial genius
Paul Lococo, the goto guy for all things music and Baby Boomer
Adrian Candela, board game and video game aficionado not to mention tech and IT.
Ashely Rose Ford, geography, popculture extraordanaire
and me, the trivia savant.
We got there early enough but seating was hard to come by so we sat in a small table in the corner away from all the main tables. No one puts Baby in a corner. There was a play in round between the 8 and 9 seeds. Of course, they wanted 16 put only 9 signed up. It was the 8th seed, Quiz Khalifa vs the 9th seed, Our Couch Pulls Out. Suffice to say, the 8th seed won by default since the 9 seed no showed.
So it was us against Quiz Khalifa in the opening round of 20 questions. I stressed to Leah that we needed to get par. What par actually was, was 18 but she said we needed to get them all right.
1. March comes in like a Lion and out like a _______?
2. What candy in the 90's was called "The Freshmaker"?
3. In mythology the two twins Castor and Pollux were eventually made part of what constellation?
4.Katherine Johnson, Mary Jackson, and Doorthy Vaughan were three characters in what 2016 film?
5. What two word phrase means both premium liquor and a high goal in hockey?
6. Chuck Barris created the Dating Game and Newlywed Game, but what other game which celebrated bad performance?
7. Who eventually took the job from English person Pete Best?
8. Which NCAA team, (name either) has made it to the Final Four for the first time this year?
9. In the 1966 play by Tom Stoppard, Rosencrantz and Guildenstern are dead, the two titular characters are from what Shakespeare work?
10. In the 1979 song, Escape, what drink is in parenthesis after it?
11. Which daily newspaper edited by Bob Woodward, used the motto "Democracy dies in Darkness"?
12. Which state lost 3.76 billion dollars in revenue because it passed the bathroom bill?
13. What are the main ingredients in Chicken Cordon Bleu?
14. In Nashville, which famous abolitionist had their name misspelled on a park sign?
15. Which nursery rhyme has the line "Four and Twenty Black Birds baked in a pie"?
16. Which Amendment prevents unreasonable search and seizure?
17. In the Amazon TV series, Christina Ricci plays Zelda, the wife of what famous writer?
18. The treaty of what European city ended the Spanish American and Revolutionary Wars?
19. In South America Brazil touched 10 other countries except what other two?
20. Which was the term for the gaming code that uses : Up-Up-Down-Down-Left-Right-Left-Right B, A, Start
Well, we got 19 right, another team got a perfect round but we managed to advance to the final four. I was maddened by missing question 15. None of us could guess "Sing a Song of Six Pence".
The final four would be an audio round with five music and five Sports Movie questions.
We aced the music round: It was based on when the host was 17. Baby one more Time by Britney, Santana's Smooth, Backstreet Boys I Want It that Way, LFO's Summer Girls, and Third Eye Blind's Jumper. We felt good about ourselves but the Sports movies were a challenge.
We had to name the actor speaking the line and the movie. We got
Al Pacino from Any Given Sunday
Gene Hackman from Hoosiers
James Earl Jones from Field of Dreams
But missed Kurt Russell from Miracle and Sean Astin in Rudy.
At the end of round 2 we were tied with Flux Capacitors. The host called two people from our team up to the front for the tiebreaker. Category was Geography. I picked Nick and up we went. We had to guess a number and be the closest without going over. What is the length of the Mississippi River? I knew this somewhat. It was around 2200 I figured. So I stuck to that and Nick agreed. He suggested 2250 or 2300, but we settled on 2275.
Flux chose 1890. The answer was 2320 and we moved on the the final round. It was gut wrenching.
We were matched with the 7th seed, Rizzo and the Superfriends. The round was a visual round of twenty secondary villains from cartoons. I was psyched until I saw the sheet. Series like Silverhawks, Masters of the Universe, Voltron, Thundercats, Gem in the Holograms, GI Joe, Superfriends, Duck Tales, Transformers, D&D. I should have known the two headed guy from Masters of the Universe was Two Bad not Two Face. But guys like Chairface from Chippendales but Dr Scratchandsniff from Animaniacs was completely lost on me and everyone on the team. Out of 20, we got 4 right. And our opponent got 6. As far as I was concerned, we were in trouble with a capital T.
But we had two more rounds left and a puncher's chance. The next round was why Paul Lococo had to be on the team no matter what. And he delivered. Name all 13 albums the Beatles put out in Britain. I didn't even bother to try and help him. This was his time to shine. He seemed to know it and I was glad Nick went over to offer support. Before we handed in the sheet, Nick made one small correction and it paid off. We got 12 of 13 and Rizzo got 11 of 13. It was down to the final question. And we were down 1 point.
Who am I was the final question. In this, you have to answer the question based on limited clues. If you answer faster without needing more clues, you get more points. If you got it on the first clue, you'd get 7. We needed to get this answer on the first clue in order to win and hope the other team t answer or got it wrong.
This person was born in 1954 and named after a character from the Book of Ruth in the Bible. Their name was changed because of a mispronunciation.
I thought about the characters in the Book of Ruth. Not Ruth, but perhaps Boaz or Naomi? Naomi Campbell? Noomi Rapace? I couldn't be. And while we were agonizing over this, Ashley said Oprah. It it made sense. Orpah was Ruth's sister from the Bible. An unsung hero delivered one of the clutchest answers ever in our trivia history. She is the MVP.
There was no going back and we had to get the answer in before the next clue was read. Rizzo hadn't handed theirs in. Leah rushed up and almost came back but decided to do the right thing. This cannot be understated as the person with the pen ultimately decides our fate. I couldn't wait. I googled it after we turned in the answer. We got it. And all was right in the world. So after we waited with baited breath, the winners were announced, and Hoodie's Hoodlums are the 2017 March Madness Champs. There was a smattering of polite applause.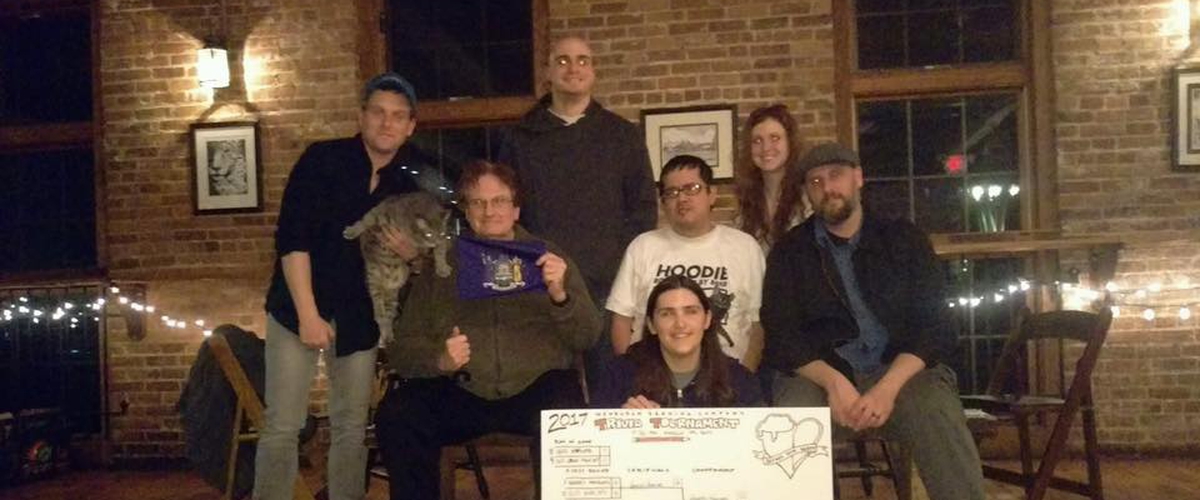 We won by one point. And what a team effort it was. One point was all that separated us. remember the same thing happening at Geek Bowl. Being on the losing end would have been devastating. But thanks to Ashley's clutch performance and the collective efforts of everyone, we had a storybook ending. It was one shining moment. But while we can celebrate, there is still a lot more to accomplish. We need to qualify at Copperfields for their May tournament and in one month, World Tavern Trivia Nationals 2017.
---