Look for more drama in the Final Four!
I have to admit, I'm still hurting from Kentucky's 75-73 loss on Sunday to North Carolina. I know some Wildcats are irate about some calls made by the officials, especially in the first half, but I'll give the Tar Heels credit – they weathered the storm when Kentucky came back late and Luke Maye hit a huge shot to secure a spot in the Final Four for UNC.

So today I find myself in Phoenix with the SEC Network for the Final Four, but not covering the team we most expected to be here – we're here to cover South Carolina's semifinal match-up against Gonzaga. I can't say enough about the job Frank Martin has done in Columbia. The Gamecocks play great defense, they're deep and athletic, and Coach Martin has given the team more freedom, offensively, in the tournament.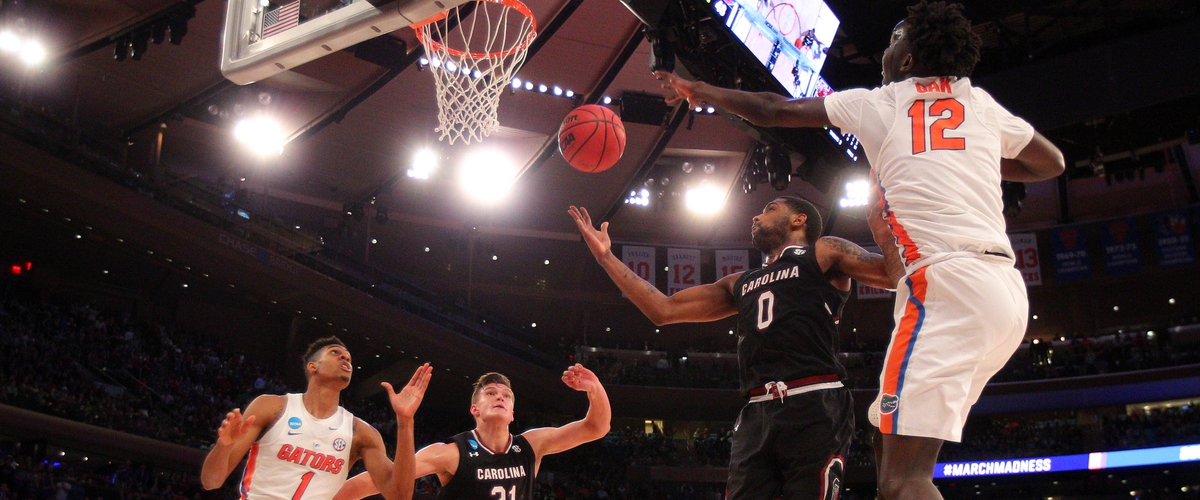 To me, USC's senior guard Sindarius Thornwell has been the best player in this tournament thus far. He has 103 points in the Gamecocks' four NCAA Tournament games, but it's not just his offense – he's one of the best two-way players in the SEC. Freshman Maik Kotsar has emerged as a nice inside compliment to Thornwell and USC's other outstanding guards, P.J. Dozier and Duane Notice. If Dozier and Notice can provide help to Sindarius, South Carolina will be tough to beat.

Gonzaga also has a big-time guard in Nigel Williams-Goss and he should match-up with Thornwell for much of the game. I can see Sindarius doing well guarding Nigel – he doesn't have NBA-elite speed, but he is elusive. Nigel is a smart player, a good outside shooter and he make plays for his teammates. USC can throw all three guards at Nigel and that could be a factor.
On the inside, Gonzaga will look to Przemak Karnowski, the 7-foot-1 Polish national, to continue his outstanding tournament. South Carolina's Chris Silva and Kotsar will have their hands full with Karnowski and need to stay out of foul trouble.
On the other side of the bracket we have a delightful match-up between one of college basketball's true blue bloods in North Carolina, taking on Oregon, which hasn't been to the Final Four in 78 years.

UNC really hit the boards against Kentucky. And Maye, who hit that painful game-winning shot to sink my Cats, was a bit of a surprise with 17 points. Kentucky Coach John Calipari knew Maye could hurt his team and, to his credit, Maye came through. I think guard Joel Berry needs to play well for the Tar Heels and his ankle will have had another week to heal by tipoff.
Oregon played great defense against Kansas in their 74-60 Elite Eight takedown of the Jayhawks. Forward Dillon Brooks was outstanding, as we guard Tyler Dorsey – the two combined for 44 points. But the real key was big man Jordan Bell, who blocked 8 shots and hauled in 13 rebounds. Brooks will need to help Bell on the glass against Carolina, because all five Tar Heels will be crashing the board.

It's difficult to pick a winner in either of these games – all four teams are here for a reason. Generally, I think there will be teams hitting their 3-pointers and teams shooting bricks. The teams that shoot bricks are in trouble.
I also think it's worth watching how the referees call these semi-final games. This tournament has had refs calling a tight game and if that's the case, it might be smart for penetrators to take the ball to hole, draw fouls and put themselves in the bonus early.
I'll also point to tournament experience and draw on my own time at Kentucky when looking at this Final Four. I went to the Final Four in 1993 and we lost in overtime to Michigan's Fab Five. In 1995 we lost to North Carolina in the Elite Eight and then we won it in 1996. You can't teach experience and our 1996 team was on a mission. There are similarities, experience-wise, between my 1996 team at Kentucky and this Carolina team.

It's been an incredible tournament thus far and the Final Four promises to deliver more nail-biting action down the stretch this weekend and into Monday.