How the WWE has failed the Women's Revolution.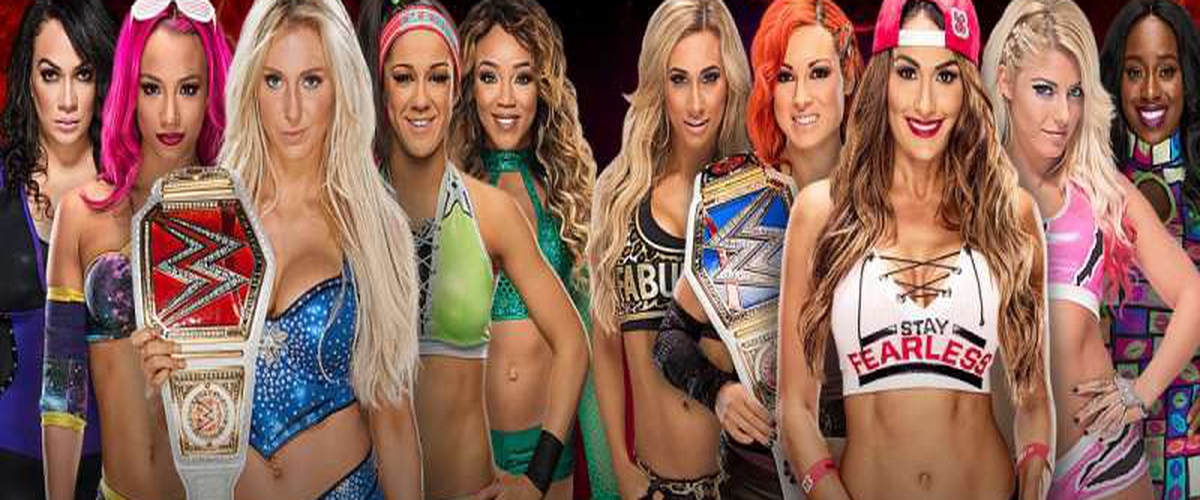 Alright so I'm just going to come out and say it…
The WWE's so-called "Women's Revolution" sucks!
And it doesn't suck because the talent sucks. It doesn't suck because the characters suck. It sucks because of how it's been booked for last the two years.
It seems like every month we get one of the mandatory WWE Women propaganda videos. You know the one…it has the voice over of Stephanie McMahon talking about "strong women"…
She talks about Ronda Rousey.
The Williams sisters.
Hillary Clinton.
The female US soccer team.
All in Hype mode for the Women's Divisions on Raw and Smackdown.
There is one difference between all those examples, and the women of WWE…they all had to earn their spot. Yes…even Hillary. You see, Rousey didn't just become an overnight sensation. It was her fighting and dominating competition that even allowed Dana White to sign her to the UFC. She then had to fight to get to the top of the card. Venus and Serena Williams had been dominating tennis for years! The US female soccer team had to battle so many teams in the World Cup. Hillary…well she'd been in politics for years before she was the Democratic nominee for President.
The women of WWE…well, if it wasn't for #givedivasachance wouldn't have gotten what a few deserved at the time.
Key words…"a few".
When fans started tweeting #givedivasachance it was not because of what they were viewing on Raw and Smackdown and they thought the Divas were being wronged…it's because of what they saw on NXT and the alternative to what was being fed to them. They were seeing classics between Paige, Emma, Natalya, Charlotte, Sasha Banks and Bayley. Meanwhile, back in main roster land they were seeing three minutes of garbage by models trying to be pro-wrestlers.
Raise your hands if you'd wanted to see an Iron Man Match between Kelly Kelly and Eve Torres?
How about a Hell In The Cell between Mayrse and Melina?
Just what I thought…
So the Divas/Women's Revolution kicked off…and it's been a mess since it's inception.
The WWE has tried to force feed history down our throats. I don't consider Charlotte vs. Sasha Banks feud of the year because I was sick of seeing it! It's up there with Orton and Cena. And while Charlotte was "the Queen of pay per view" she was the "jester of Raw" because she always lost the title on Raw…even to Bayley. Last I checked, there are more Raw's than pay per views in a year. Sasha Banks…"the Boss"…is only the boss of never being able to retain her title…not once. But hey they made history…main eventing Raw…first Women in Hell in a Cell…Iron Man match…but for what? What does all that "history" mean? Charlotte has done nothing since arriving to Smackdown, and Sasha Banks is busy feuding with Alicia Fox, and trading wins with her.
How about Bayley…probably at one point the number one or number two babyface in the company…and this is while in NXT, has become a forgotten after thought. She couldn't even be booked to handle a kendo stick! Now Bayley is actually getting booed! Two years ago that thought would have never crossed anyone's mind!
And while "the hugger" is too busy getting wailed away and beaten by a few kendo stick shots, the women on Smackdown are slamming each other with ladders…
That's right Internet…Carmella is made to look tougher than Bayley, because at least Carmella hung in the match. And of all the propaganda that took place for "the first ever" Women's Money in the Bank…a man is the reason Carmella won.
And I get it…it's part of the story being told…but unfortunately the story also being told is about how important the women are…and from my perspective…that's un-true.
It's not their fault…it's the writing staff for the piss poor stories, and it's the company for its narrative on the whole Women's Division.
Ironically, the few bright spots are women that were not part of the initial revolution.
Alexa Bliss has blow people away, me included, by just how good she's been since being the top female on Smackdown and Raw ("This is your Life" is the exception).
Carmella…while her in-ring skills are no where near her counterparts…her promo on last nights Smackdown was really good.
Hell, while she's not even that great, Naomi has at least done well for herself on Smackdown being a decent Women's Champion.
Even Lana is getting massive pops…and she's terrible.
All the while, the Horsewomen, are just floundering. The women that should be leading the charge…but instead…WWE blew their preverbal "load" too early and now all four are stuck in obscurity.
WWE I would love to #givedivasachance, but I'm asking you to let them do it their way…or at least how it was done in NXT.
Don't force feed us fans bull shit about "making history" just so you have an excuse to make history.
Give us a Women's Division we want…
Give us a Women's Division we deserve!