Jeff Teague to Pacers in 3 Team Trade
     On the day before the draft, it seems we have our first big trade to kick off this offseason. According to Yahoo NBA reporter Adrian Wojnarowski, a 3 team trade has been completed between the Hawks, Jazz, and Pacers. 
Three-way deal with Atlanta, Indiana and Utah, with George Hill going to the Jazz, league sources tell @TheVertical.

— Adrian Wojnarowski (@WojVerticalNBA) June 22, 2016
Sources: Utah is sending the No. 12 pick in Thursday's Draft to Atlanta as part of deal that sends George Hill to Utah, Teague to Indy.

— Adrian Wojnarowski (@WojVerticalNBA) June 22, 2016
Grading this Trade
Grades
Atlanta

Receive: 12th pick in draft

Trade: Jeff Teague

A

Utah

Receive: George Hill

Trade: 12th pick in draft

C-

Indiana

Receive: Jeff Teague

Trade: George Hill

B
Atlanta
    Atlanta seems to be the clear winner of this trade giving up Jeff Teague for the 12th pick in the draft. By executing this trade, they decide to settle with Dennis Schröeder as their point guard of the future. It was apparent that the front office was going to have to choose between Teague or Schroeder since both proved to be capable and good starting point guards. 
2015-16 Stats Comparison between Teague and Schröeder
| | | | | | | | | | |
| --- | --- | --- | --- | --- | --- | --- | --- | --- | --- |
| Teague | 15.7 PPG | .3 BPG | 1.2 SPG | 5.9 APG | 2.7 RPG | .837 FT% | .409 3P% | .439 FG% | 28.5 MPG |
| Schroeder | 11.0 PPG | .1 BPG | .9 SPG | 4.4 APG | 2.6 RPG | .791 FT% | .322 3P% | .421 FG% | 20.3 MPG |
   While Teague may have far superior stats compared to Schröeder, remember that Teague had these stats in more playing time than Schröeder and is older (28 years old vs 22 years old). Teague is in his prime whereas Schröeder is nowhere near it. This is a trade for the future and is evidenced by Atlanta getting the 12th pick in the 2016 NBA draft.  This is a great trade for the Hawks and I believe that they are the winner thus far of this trade.
Goodbye Teague. Hello Dennis.
Ken Blaze-USA TODAY Sports
   What stops this trade from getting an A+ in my book? Well, A is the maximum grade I give to trades. I believe that to have an A+ trade would mean that Schröeder and the 12th pick develop into HOF's and this trade is looked back on as one of the greatest trades in Atlanta's history.  It could happen of course, but there is no indication that this will happen. In fact I believe there is only one trade in NBA history that gets an A+. That is the famous Draft Day trade of 1980 where Boston acquired Robert Parish and the 3rd pick in the 1980 Draft (Kevin McHale) from the Golden State Warriors for the 1st (Joe Barry Carroll aka Joe Barley Cares) and the 13th (Rickey Brown) picks in the 1980 Draft. Boston acquires two HOF's for Joe Barry Carroll (thought of as one of the biggest busts in NBA history even though he had a respectable career and made an All Star team) and Rickey Brown (lasted 5 years in the NBA before finishing his career overseas). This type of highway robbery committed by Boston gets an A+ and so far, it's the only trade in my book that gets an A+
Utah
     The Jazz on paper are the biggest losers of this trade. They send the 12th pick to Atlanta and receive former Indiana and Spurs point guard George Hill.  Before we discuss George Hill, let's talk about the draft pick first. Utah missed the playoffs last year (albeit by 1 game) and with a high draft pick, they could acquire young talent to a roster that is full of potential and one or two pieces away from making the playoffs. Imagine if they had hung onto the pick. They could have drafted someone like Malachi Richardson or Henry Ellenson. 
     Instead they decided to part with that pick and acquire George Hill. Why do they acquire a 30 year old point guard coming off a terrible year when they already have talent at the position such as Dante Exum or Trey Burke (or even Raul Neto)? George Hill brings nothing to the Jazz aside from a veteran presence. In the Jazz's eyes, they view George Hill as a starter. The following shows George Hill's stats last year
George Hill 2015-16 Regular Season Stats
| | | | | | | | | |
| --- | --- | --- | --- | --- | --- | --- | --- | --- |
| 12.1 PPG | .2 BPG | 1.1 SPG | 3.5 APG | 4.0 RPG | .760 FT% | .406 3P% | .441 FG% | 34.1 MPG |
     It's no argument that the Pacers are better than the Jazz (Paul George and Myles Turner coupled with solid role players in Ellis, Solomon Hill, Miles, etc.). Yet George Hill has one of his worst years as an Indiana Pacer after having a career year in PPG the previous season (16.1 PPG in 29.5 MPG).  George Hill saw his minutes increase from last season, yet his PPG goes down by 4. This could be due to the fact that Hill only played 43 games last year due to injury. This still does not justify the Jazz's opinion that a 30 year old declining George Hill is clearly worth a lottery pick.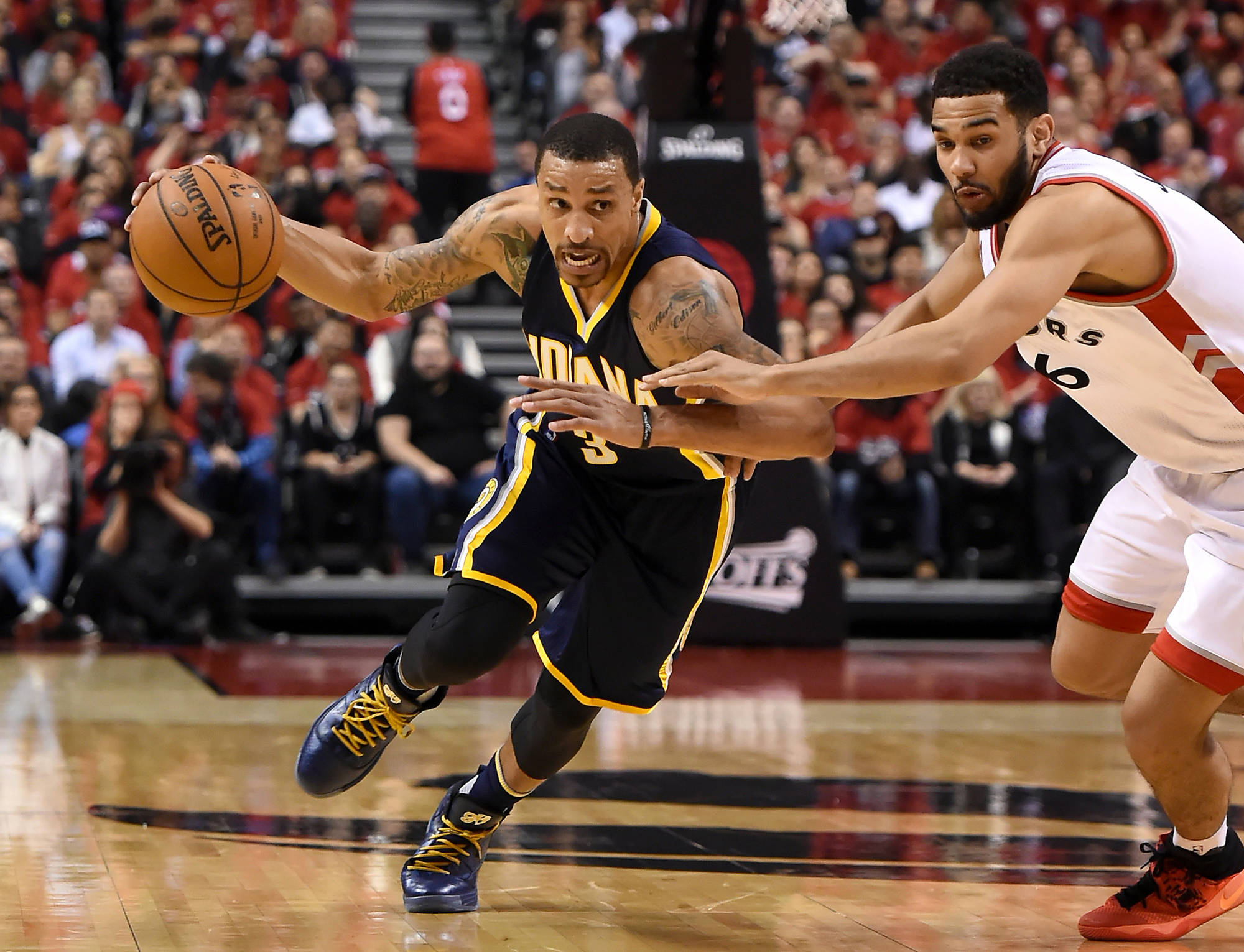 Is George Hill the answer to the Jazz's problems? I don't think so.
Dan Hamilton-USA TODAY Sports
Indiana
    The Pacers improved their point guard position by getting younger (and better) in Jeff Teague. They did trade George Hill to the Jazz but in getting Jeff Teague (an All Star point guard for the Hawks and 2 years younger than Hill), the Pacers show that they want to improve their team (of course) . 
George Hill vs Jeff Teague 2015-16
| | | | | | | | | | |
| --- | --- | --- | --- | --- | --- | --- | --- | --- | --- |
| Hill | 12.1 PPG | .2 BPG | 1.1 SPG | 3.5 APG | 4.0 RPG | .406 3P% | .760 FT% | .441 FG% | 34.1 MPG |
| Teague | 15.7 PPG | .3 BPG | 1.2 SPG | 5.9 APG | 2.7 RPG | .409 3P% | .837 FT% | .439 FG% | 28.5 MPG |
Teague has far superior stats than Hill in LESS playing time. In fact, Hill had roughly 5 more minutes on average than Teague.  The Pacers improved their worst position and for that I give them a B+.
Have any suggestions on improvement in any way? Leave a comment (positive feedback would be much appreciated) If you liked this, please follow TSP to show the support. Thanks!
---