Thaddeus Young to Indiana.
     Breaking news coming out of Brooklyn as they have traded PF Thaddeus Young to the Indiana Pacers. Yahoo NBA reporter Adrian Wojnarowski has the full details of the trade.
Brooklyn has traded forward Thad Young to the Indiana Pacers for the 20th pick and a future 2nd rounder, league sources tell @TheVertical.

— Adrian Wojnarowski (@WojVerticalNBA) June 23, 2016
     That is right folks. The Nets have acquired draft picks IN THIS DRAFT! Pinch yourselves folks, this is not a dream. The Nets are actually the proud owners of the 20th pick in this 2016 draft. WOW! Though this gain did not come without a loss. They had to send Young who averaged a respectable 14.5 PPG and 7.5 RPG in 101 games. So who won this trade? Who lost? Well, let's take a closer look at this transaction.
Grading
Indiana
     Indiana, so far, is on a major acquisition spree, having acquired Jeff Teague yesterday from the Hawks in exchange for George Hill (more info on that trade can be found right here on TSP). I am a big fan of this starting 5 on paper. I really think that the Pacers could be a contender for the ECF. Take a look at the new starting 5.
Pacers Potential Starting 5 2016-2017
| | |
| --- | --- |
| PG | Jeff Teague |
| SG | Monta Ellis |
| SF | Paul George |
| PF | Thaddeus Young |
| C | Ian Mahinmi / Myles Turner |
     This starting 5 could definitely win ball games. Lots of them. Though before you jump on the bandwagon, let's slow down our horses folks. Might I remind you of the 2012-13 LA Lakers with Dwight Howard (back when he was the best center in the league) and Steve Nash joining Kobe and Pau Gasol. Many NBA fans (including yours truly) thought that this team was making the Finals and would compete with LeBron's Heat for the title. What happened? Kobe and Dwight feuded with each other while Steve Nash got injured and what started out as a Finals contender barely made the playoffs as the 8th seed and was quickly dispatched by the Spurs. The moral of the story is to never judge a book by its cover. One has to see this team in action before making any bold predictions such as Pacers v. Cavs 2017 ECF. Though if all turns out well, that scenario may very well happen. While they may have lost a first round pick and a second round pick this year, the Pacers front office is showing that they are in win now mode. This Pacers team with a good (possibly great) starting 5 and solid role players such as Stuckey, Miles, and others only show that the Pacers are on their acquisition spree. They want to win, and they want to win now. I give this trade an A-.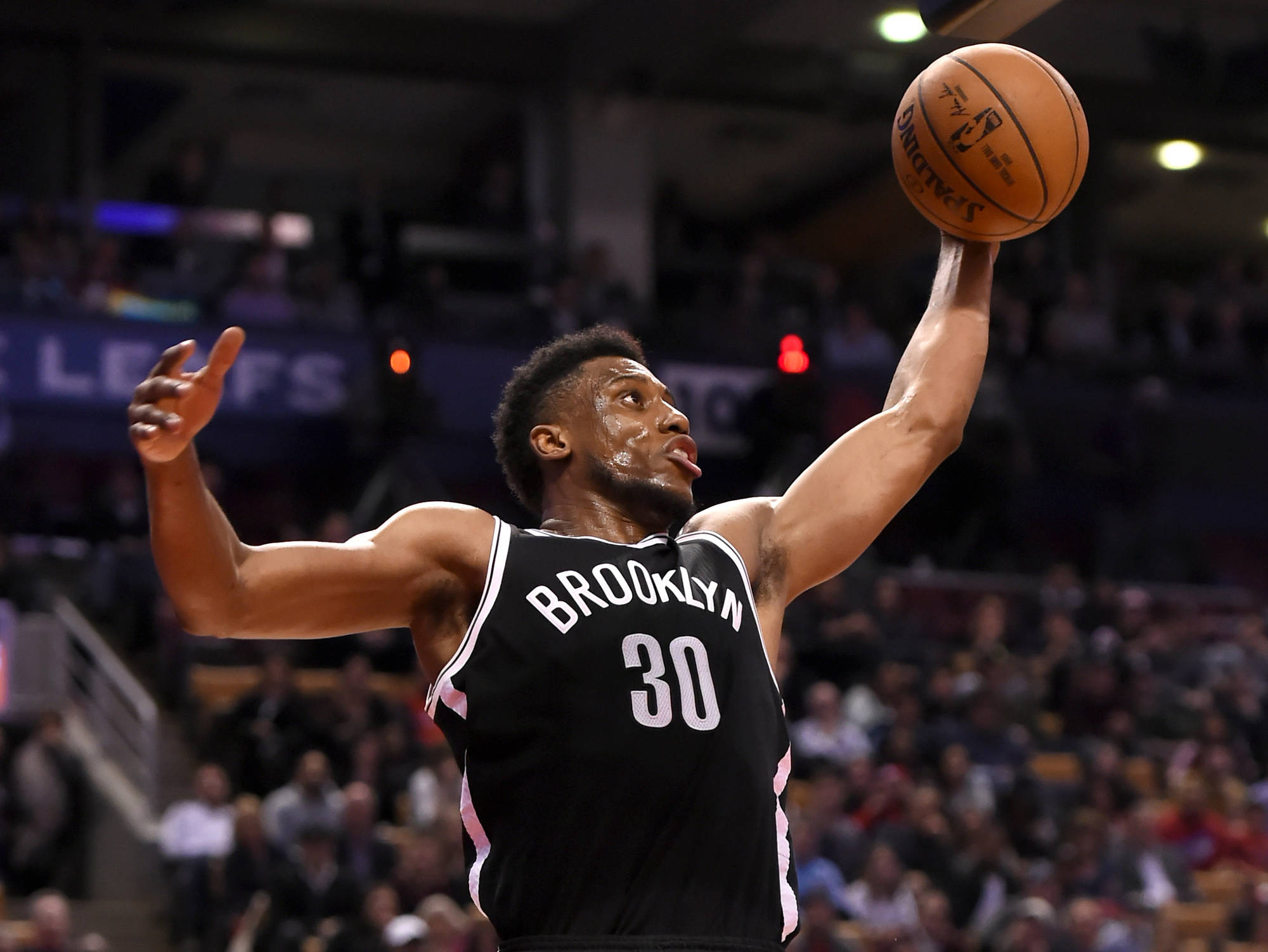 Will Thaddeus Young improve this Pacers squad?
Dan Hamilton-USA TODAY Sports
Nets
     Say it with me Nets fans, "WE HAVE A PICK! WE HAVE A PICK!". Finally, Billy King and the Nets front office realized that Draft picks = good. No draft picks = bad.  Billy King took a while to learn this lesson, but learn it he did. Nets fans are probably cheering right now. They  did not just acquire the 20th pick in this draft, but they also acquired a future second round pick which means even more assets. And when an NBA team has assets, other NBA teams want them which lead to trades which lead to improving / worsening the team. With where the Nets have been the last couple of years, I think there is no way to go but up. Think about it. They had no picks and no assets or young players to build around (except Lopez and Young I guess).  They did make the playoffs in 2015 in a terrible East (Miami was completely decimated by injuries and Indiana was without PG13 for much of the season), but what good is that when you can't improve since the team lacked picks or assets to sell free agents to the team. Honestly, the only thing Brooklyn had going for it was that it was a bridge away from Manhattan.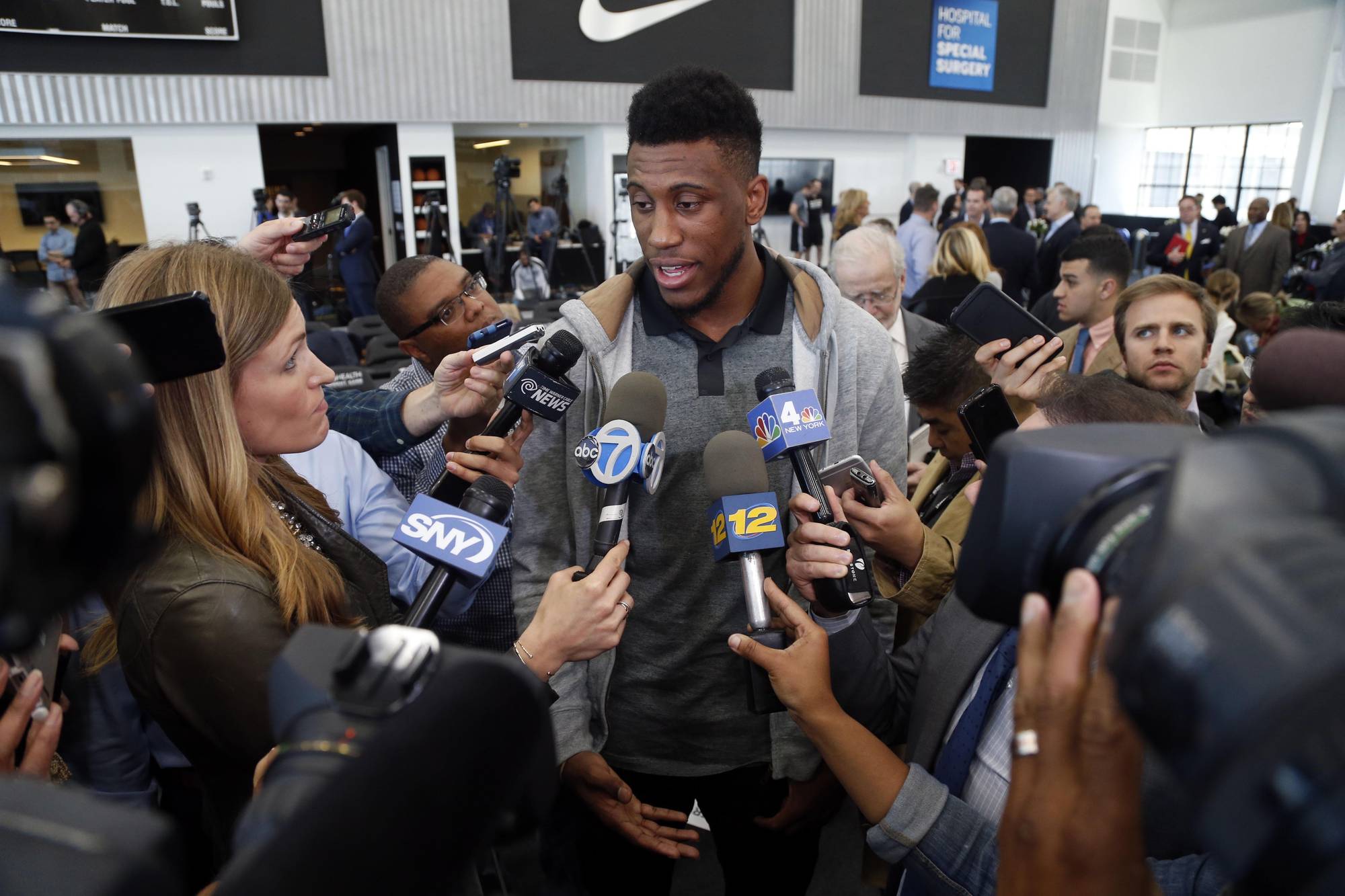 Goodbye Thaddeus... and HELLO TO THE FUTURE!
Noah K. Murray-USA TODAY Sports
     Anyway I am getting completely ahead of myself. Back to the trade we go. Though they did acquire a first rounder this year and the future second rounder, they still had to give up Thaddeus Young (second best player on the team). That stinks but in a situation like the Nets (who had no picks because Billy King is the GM), draft picks do not come easy. As such, they had to say goodbye to Young. One could make the argument that Young's stats are inflated from playing on a terrible team like the Nets. My counterpoint is do not be disrespectful to a solid player in the NBA. Young was averaging similar stats on the 76ers (back when they had Iggy and were a playoff team). Thaddeus Young is a good player in the NBA, but the Nets had to give him up in order to get picks and assets (I've said the words "picks" and "assets" a dozen times by now). This trade also serves as a salary dump, therefore freeing up contract space for Brooklyn. They can scour Free Agency for players to replace Young. I think this trade is a win-win for both sides. Sure, Brooklyn had to give up Young, but picks do not come easily in a situation like the Nets (Billy King got rid of most of them for Gerald Wallace, KG, and Paul Pierce. Why is he still around?). I give the Nets a B+. Though I gave the Pacers a higher grade than Brooklyn, that does not necessarily mean they got the better end of the deal. Both teams won this trade. I don't give the Nets an A- because it will be hard to replace Young's production on this talent deprived Nets team. But it's a great decision by Billy King and the front office (never thought I would say Billy King and great in the same sentence) to acquire these picks, and I believe it will help Brooklyn out in the long run.
Have any suggestions on how to improve my writing? My content? Any ideas are useful along with any tips. Thank you for reading. If you enjoy, please follow TSP for more news and articles regarding your favorite sports.
All stats come from Basketball-Reference. 
---